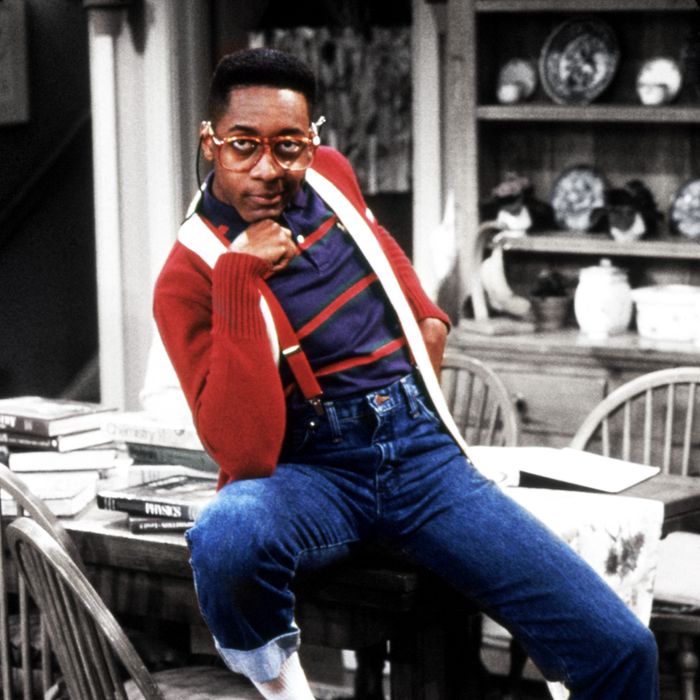 FAMILY MATTERS, Jaleel White, 1989-98
Photo: Warner Bros/Courtesy Everett Collection
The clues are all around us. He's in every "hey, black nerds!" trend story. He was mentioned on two relatively cool TV comedies in the last few weeks. And now, with the news that TGIF staple Boy Meets World is being revived, it seems only natural to wonder: Are we on the brink of an Urkel comeback?
Signs point to yes.
A new Family Matters would fit in fine on ABC Family, with shows like Melissa & Joey and Baby Daddy. It's not too far off from TBS's House of Payne or Are We There Yet?, or from ABC's Malibu Country, really. Later-era Family Matters, when Urkel started cloning himself, going to space, inventing teleportation devices, etc., would be right at home on Nickelodeon. A sitcom about a nerd with a variety of alter egos? Welcome to the Disney channel.
It's not that we think an Urkel revival is in the world's best interest, but it seems like there's a weird Urkel moment happening right now. New Girl had a whole Urkel-centric plot a few weeks ago, including repeated utterances of "did I do thaaaat?" (We're guessing the Urkel Dance segment will be a DVD extra.) On SNL this weekend, one of the "corrections" at the end of the Fox & Friends sketch was "Angela Merkel is not the female version of Steve Urkel." There's still a persistent, ambient Urkel awareness — he's part of the current lexicon in a way that, say, Balki Bartokomus is not. We're still thinking about his weird geek powers, and yet there is no love for Marie Lubbock, the nunnish daughter on Just the 10 of Us, or Mark Foster, the tragic dweeb who sneezed into his popcorn in the opening credits for Step by Step. So do it, Warner Bros. Television. Bring back Urkel. Because the truth is that he never really left.