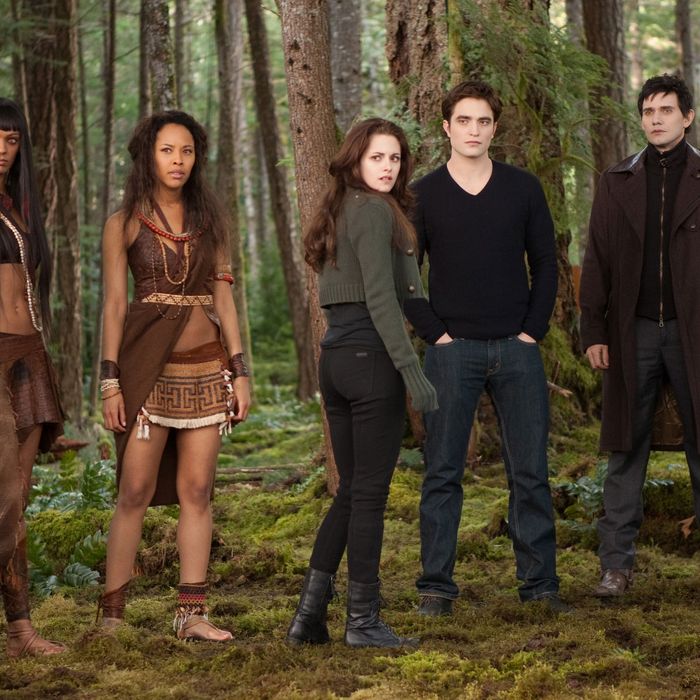 Photo: Andrew Cooper, SMPSP/Summit Entertainment
This Weekend's Winners: For those at Summit who'd fretted that K-Stew's summer of scandal would tarnish Twilight's last outing, there was relief. The movie delivered a reassuring performance with an estimated $141.3 million. Meanwhile, Bond No. 23 is a (for now, qualified) record smasher: By the time you're carving up your turkey on Thursday, Skyfall will have become the highest-grossing film in the 50-year-old franchise, thanks in no small measure to the $41.5 million it took in this past weekend.
In expanded release, Spielberg's Lincoln — growing from 11 to 1,775 screens — by far exceeded expectations with $21 million. (Only last week, rival distribution chiefs were handicapping it at $15 million to $17 million.) Finally, it was not a terrible start for David O. Russell's Silver Linings Playbook, but not nearly as auspicious an opening as the Oscar-magnet The Fighter: Though it quadrupled the number of screens (four) that 2010 film opened on, it met with an average haul that was well less than half of The Fighter's.
This Weekend's Losers: None! Everyone's a winner! See below for details!
How It All Went Down: Outside of summer, this time of year is what studios fantasize about: Kids are out of school (or about to be); families need something they can all agree on; and there are hours to fill. Enter, the movies: The top dozen films made almost a quarter of a billion dollars this past weekend, putting it in the top six highest grossing slots ever. What's more, box office overall was up almost 15 percent over the same time last year. (Not surprising, then, is the meteoric rise in stock price for most top theater chains: In the last year, IMAX and Cineplex's shares are both up 20 percent; Regal's are up almost 30 percent, Cinemark nearly 40 percent; and Carmike more than 50 percent.)
Much was made of Kristen Stewart's tabloid-ready affair with her Snow White and the Huntsman director and the potential damage it could have on the last chapter in a franchise so heavily reliant on fickle, lovesick tweens and teens. But in the end, it mattered almost not at all. While this final Twilight saw one of the largest male audiences in recent memory (21 percent), that's only a single percentage point more masculine than the penultimate film. In short, if the shift toward men indicated that some femmes were turned off by Stewart's infidelity to her onscreen and offscreen love interest, the losses weren't significant in aggregate.
As one leading distribution chief at a rival studio observed of what powered Twilight, "I guess it's the same crowd after all."
And as you don't need Mr. YBOE to tell you, it's not duck season or rabbit season: It's Oscar season. Right on schedule, the grown-up films are unfurling in the places they are expected to unfurl, blue states and urban areas. Silver Linings Playbook managed almost half a million by focusing on the top ten markets, while Anna Karenina grabbed a healthy $20,000 from each of the sixteen theaters it unspooled in. By Thanksgiving, Anna's number will only reach 27 theaters, and the goal there almost seems to be to create as much pent-up demand as possibles. Fortunately, if the box office is any indication right now, the one thing there's no lack of in the market is a desire to be entertained.