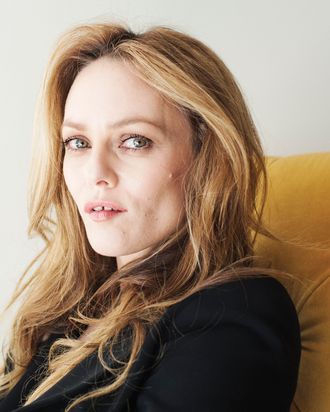 Photo: Christopher Anderson/Magnum/New York Magazine
"Love starts with a gut feeling, but that gut feeling better be nourished," says Vanessa Paradis, relaxing on a sofa in an apartment on the Upper East Side on a warm pre-hurricane afternoon in October. "When you hear a man speak and you think what he says is so wonderful, then you are in big trouble—I know I am. It's about words and action. Words are not enough." She's responding in general terms to a question about her new movie, Café de Flore, a love story, but it's hard not to read something more personal into her answer: Though Paradis is famous in her native France for acting and singing, she's best known to Americans as the former girlfriend of Johnny Depp, father of her two children, with whom she split in June after fourteen years together.
"New York is the city of freedom," says Paradis, 39, gazing out the window toward the East River. "When I left my parents' home at 19, it was the first place I lived by myself. In France, I had been famous for some years, but here I could be anonymous. I'm so happy [to be back] I get cramps in my cheeks because I keep smiling." She came in 1992 to collaborate on an album, her third, with then-boyfriend Lenny Kravitz. She's returned now to shoot Fading Gigolo, a comedy directed by John Turturro in which she stars alongside Woody Allen and Sofia Vergara, and to discuss her current film.
Café de Flore, from Canadian writer-director Jean-Marc Vallée (C.R.A.Z.Y., The Young Victoria), follows two seemingly unconnected narratives: In present-day Montreal, a nightclub D.J. (Kevin Parent) leaves his wife for a younger girlfriend, and in late-sixties Paris, single mom Jacqueline (Paradis) struggles to raise a son with Down syndrome and feels betrayed when he develops a crush on a schoolmate with the same condition.
"Jacqueline is a bulldozer of love and fear," says Paradis. "She is completely taken by the love she has for this little boy. She's got nothing and nobody else. In the sixties, the life expectancy of a person with Down syndrome was 25 years, and she is terrified to lose him."
Though the role won her a Genie Award (a Canadian Oscar equivalent) for Best Actress in March, Paradis doubts she was Vallée's first choice. "He wasn't sold on me," she says. "I had this glamorous image, and he was looking for the opposite of that. But [on the day we met], something had come up in my life that had upset and worried me, so I wasn't trying to be seductive or charming. I wasn't rude, but I wasn't fake, and I think this is exactly what he liked." Still, downgrading a Chanel model's looks to those of a regular, unglamorous person was a formidable undertaking that required "intense preparation," says Paradis. "We stripped her of any seduction, sex appeal, or femininity. That's why I had those brown-colored clothes, dyed my hair, had no makeup on, and wore uncomfortable vintage shoes that gave me a certain walk."
She didn't mind roughing it, though. "We shot for seventeen days, and when we were done, I wished we had six more months," she says. "Jean-Marc and I would speak about music all the time. He's also a D.J. He played music on the set every day." In fact, says Paradis, whose most recent album was released in 2010, if forced to choose between the two, she might opt for music over movies. "When you sing, you release your diaphragm, which is where the stress gets stuck," she says. "When I act, I'm someone else's interpretation, it's someone else's direction. But music is my world, it's my emotions, and it's my stories."
Paradis's stories might be too complicated and unpredictable to tell within the constraints of a two-hour movie—even an emotionally complex one like Café de Flore, in which the concept of romantic destiny emerges as a major theme. "The idea of a soul mate is a beautiful thing to put in a film or in a book, but in real life I'm scared by it," she says (while declining to discuss her recent breakup). "It's like putting a label on love. To say, 'You are, forever, my soul mate,' is almost like knowing the end of a story. When you fall madly in love, you think it is forever, and it might be and it might not be—what matters is not to label it."
Café de Flore Directed by Jean-Marc Vallée. Adopt Films. NR.