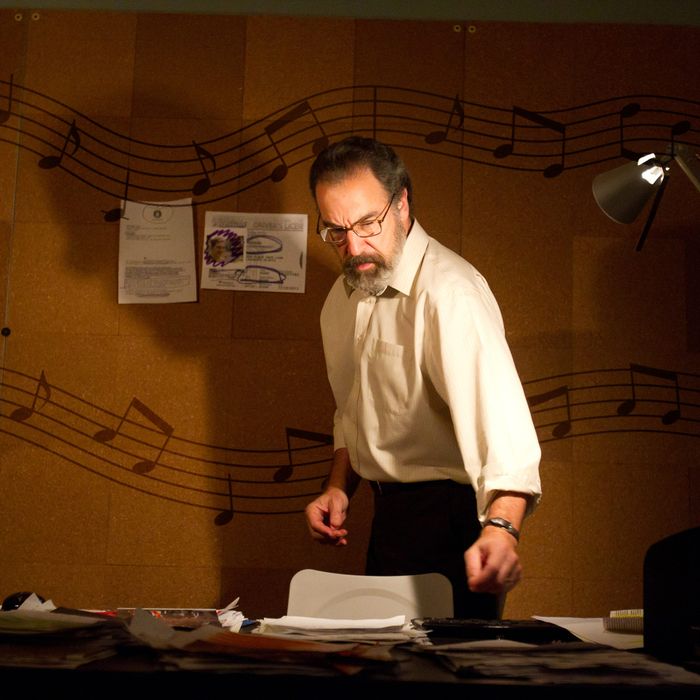 In most of his scenes on Homeland, Mandy Patinkin sits and speaks soulfully and calmly. Yet underneath that beard and more beard exists a grade-A, Anne Hathaway–level ham. Some people very much know of Patinkin's theater background, some have heard rumblings of such, and some know nothing other than he is Saul Berenson and/or Inigo Montoya. What a tragic existence for the latter two, because boy can Mandel Bruce Patinkin sing. He sings like the perfect Reform shul cantor of your Bubbe's dreams. Don't believe us? To celebrate it being his 60th birthday, follow us down a YouTube rabbit hole, tracing his singing career.
Let's start with a real silly one. Next episode, after Peter hands him his morning latte, he should sing, "The trouble with the world today, beyond a doubt, is coffee in a cardboard cup. And TERRORIIIIIIIIIIISTS!"
Patinkin's (and his beard's) breakout role was as Che in the 1979 Broadway production of Evita, for which he won a Tony. Does Estes know of his Communist past? ("Do cry for meeee, Brody-ina.")
He next performed on Broadway in Sunday in the Park With George in the Tony-nominated role of pointillist painter Georges Seurat. Man, Seurat would need a whole lot of dots to paint that beard.
New torture technique: Blast Patinkin's beautiful falsetto nonstop, forever. The terrorist will be so pleased that he will gleefully surrender any information. In this clip from 1989, Patinkin stops by Letterman after Cher canceled. Letterman played the "can't iiiiiii" ending for weeks afterwards, because it's hilarious and perfect.
That performance was the start of Patinkin's relationship with Letterman. It peaked in the 1994 bit in which Patinkin and Tony Randall would "interrupt" the show so Mandy could "rehearse" a song. Each performance ended with an ironic, post-ironic big last note, you know, because it was Letterman.
In 1994, Patinkin also released the album Experiment, which included both "I Dreamed a Dream" and "Bring Him Home." There isn't even a video component to this one, but this is Vulture, so here is Patinkin getting his Les Miz on.
By the nineties, Patinkin was a Broadway fact. He performed in The Secret Garden, Falsettos, and The Wild Party, and was undoubtedly the best.
Mandy Patinkin doesn't just play a Jew on Homeland, he's one in real life. If you had any doubt, watch him sing "Take Me Out to the Ballgame" in Yiddish on Rosie. (1998: When Mandy Patinkin singing on Rosie was television.)
Never one to take himself too seriously, the Patink-Man can pull off comedy by just doing what he always does but, well, naked. Which can be gloriously seen in this clip from Run Ronnie Run.
Last year was a big one for Patinkin. Not only did Homeland premiere, but he also starred with longtime friend Patti LuPone on Broadway in An Evening With Patti LuPone and Mandy Patinkin. As you can see, sporting his Saul beard, Patinkin acted like a real sillyhead. Aw, right?
'Tis the season, so we'll leave you with a little Christmas medley from Patinkin. You know, because, these days, he kind of looks like a Jewish Santa Claus.