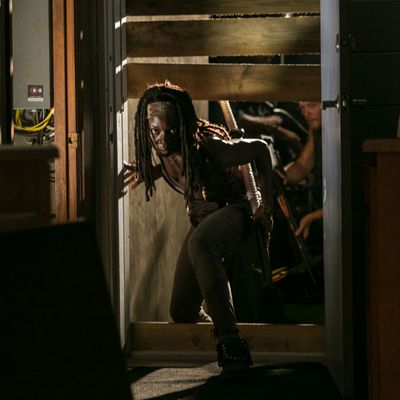 When Glen Mazzara took over showrunning duties on The Walking Dead last year from Frank Darabont, he spent half a season getting Rick's group the hell outta that farmhouse. The entirety of the third season has been his baby — and things are different. No more sitting around discussing morals and the importance of cooperation. No more navel-gazing. Under Mazzara's watch, what's left of the world is a war zone with nonstop blood and killing, and not just of walkers. In Sunday's mid-season finale (stop here and come back later if you haven't watched it yet) Michonne stabbed the Governor twice: once figuratively, through the heart, by killing his zombie daughter; then literally, through the eye. Rick's group got into a shootout that claimed the lives of several more, including Oscar, the noble-ish inmate who was just settling in. A few days ago, we checked in with Mazzara as he was putting the finishing touches on the season finale (airing next spring) to discuss the show's transformation and how he kicked things into high gear. He also provided intel on where the Governor's vengeance could lead, Merle's chances for survival, and, yes, the people responsible for summoning up those zombie gurgles.
This season so far feels different than what's come before: The world is bigger, there are more characters, more movement, the pacing is faster.
That was my intention. We have a bigger canvas this year and we have two themes going on. One is that nobody can survive in this world alone. Society has completely broken down and what we're seeing is a bit of primordial soup. All of these different molecules are going to start attracting each other and bonds are going to be formed and bonds will be broken. So just as the Andrea-Michonne bond is broken, Michonne is catapulted to Rick in another part of the soup. The Governor-Merle bond is broken and now Merle has to re-bond with his brother. So we have this idea of all of these different materials coming together to rebuild some new civilization. What that winds up looking like, we'll just have to watch.
The other [thing] is I really wanted this to feel like a historical novel written a hundred years from now about the first major war between humans after the fall of civilization, after the zombie apocalypse. That's what you're seeing. Look at how complicated [Rick's insurgency into Woodbury] is. History is not just clear agendas. There are a lot of accidents, there are a lot of circumstances, near misses, that sort of stuff. That's why the show is faster-paced and more surprising. It feels more real. I feel like we're trying to tell, or rather show, the fictional historical record. And what you see in this mid-season finale is the first battle, the first skirmish of a war. I believe that war will go on for some time.
Merle is now on everyone's shit list, which makes me think he's more valuable to the show alive, further complicating things. Right? Or is he just screwed?
Well, everyone on the show is screwed [laughs]. Michael Rooker does a great job with that character and I think the Merle that helped the Governor run Woodbury is not going to be the same Merle who could ever make it out of Woodbury or try to fit in with Rick's group or reconnect with his brother. I'd like to see him get out of this. Merle is a pretty uncanny guy. He's a survivor. Let's see how he reinvents himself.
When the Governor is turning Woodbury on both Merle and his brother Daryl, he invokes a lot of post-9/11 rhetoric in his speech about terrorists. Was that deliberate?
I believe it was. He's playing to people's fears. He needs them to be frightened so they'll support his agenda. The word "terrorist" certainly creates an "us" and "them" mentality, and he's drawing upon that common experience for all of us and what we've gone through as a nation. The attack by Rick's group is an act of terror from the perspective of the people of Woodbury because it's unprovoked, so it makes sense.
When we spoke with David Morrissey a few days ago about the interrogation of Maggie, he read it as the Governor testing his own limits. Did he know from the beginning how out-and-out evil the Governor was going to become?
He did not. David and I had very detailed conversations about the Governor's agenda and who he was and what he might be capable of. But the only act that I told him about upfront was the interrogation of Maggie. And it was just a pitch that I had, it wasn't written yet. That really illustrated for him who that character was because at that moment he doesn't need to use excessive force or rape to get the location of the prison. He can just threaten Glenn in front of Maggie after humiliating her and breaking her down. David's a very thoughtful actor and he really gave a lot of notes on that scene. He really liked coming in, taking the chair, and saying, "May I?" I had written a lot of dialogue in that scene and David thought he would command her with just a look or a gesture or shorter commanding sentences. When we designed that character it was more about the character's behavior and less about the huge act he may or may not commit later.
So we have things in the back half of the season that were a complete and total surprise for him. But he embraced them. He actually had no notes on those because I think he felt they were right in line with the character and how we built him to that point. His biggest actions in the back half, I think felt very natural to David.
[This next question involves a spoiler for those who haven't read the comics, and it's unclear whether it will become woven into the plot for the show. Spoilerphobes may want to skip ahead.] In the comics, the Governor rapes Michonne repeatedly early on, and she takes his eye as revenge. Why did you decide to pull back that behavior, even if just for now?
I felt it was important to develop this character. If he is a person who's into rape and mutilation, the audience may not buy into that. They may reject him completely and he would just be a villain and it would just be a matter of time before he's taken down. Now, I like this character, and I want this character around for awhile, so if he rapes Michonne immediately in the story and our formidable heroes do not eliminate that evil immediately, they look powerless. I felt that that was something you'd have to build to.
When he tells Maggie to take her shirt off, he's using it to terrorize her. Rape is an attack of violence, and he's using the threat of violence to terrorize this woman. When he realizes that she's not going to give up the information he wants, he figures it's a waste of time and he needs another attack. He's very thoughtful about this, and it's interesting to me to create a character who uses rape as a political weapon, not necessarily as an individual attack. If you look at some of the wars in Africa, you see rape is used as a political weapon, or has been. That's something I've discussed with Danai, who grew up in Africa. The idea of rape as a political weapon, as a larger political statement to be explored throughout The Walking Dead, is a tall order, and something that I could see the Governor using. But you have to plant a seed and develop that carefully. It's very difficult material to write and the last thing I want to do is be disrespectful and not take it seriously or do it just for sensational reasons. It would not be appropriate and it's not what I'm interested in. What we're setting up is that the Governor could see rape as a political weapon. It could be a means to an end. That's within his character. Now, if the story takes us to a place where he decides to rape somebody, at least we understand part of his motivation. I'm not saying it will or won't happen. It's a fundamental trait in the comic book character and it's something that we gave a lot of consideration to about how to do it on our show.
We still don't know much about Michonne. She was willing to leave Andrea when she felt something was off in Woodbury, and we saw a flicker of compassion for the hooded Penny — of course, that was before she realized she was a zombie. Are we going to learn any more about how she became this hardened, near-mute warrior?
You'll see her develop and try and integrate into Rick's group. That's important. We will allude to some backstory but I'm very, very interested in telling a story in which we're examining characters making decisions in their present timeline. I don't really like to go back and fill in spaces unless it furthers the story. We have talked about her backstory and we know what it is but there's no standalone flashback Michonne episode or anything. That's not what we do.
Plenty has been written about how polarizing Lori was. Why do you think she, and for that matter other justifiably angry wives like Breaking Bad's Skylar and Mad Men's Betty, have been so divisive? And why did you decide to kill off Lori when you did?
I don't want to speak about the other shows, although I'm a fan of both. I can say that on our show people felt Lori was playing one man against the other. I do think she was redeemed. The idea of killing her off was simple: It would break Rick. Rick at the beginning of the season is a great leader, he's formidable, he's kept everyone alive during the winter, and now he's broken at a time when the Governor is pissed off. Rick's hallucinating seeing Shane right when the Governor has lost his eye and his daughter and he's coming right at Rick. That is a great story. Rick is back on the ropes. He needs someone like Michonne. Killing Lori also put Carl into play in a very interesting way.
Right. Carl winds up saving Tyreese, another character from the comics, who is introduced in this episode leading his own group of survivors. (In the comics, he's an original member of Rick's group.) Why bring him in now and how will he change the dynamic of the prison?
We introduced Tyreese now because it will complicate Rick's life even further. We delayed introducing Tyreese until this point because we had a lot of new information for the audience. We had the Governor, Michonne, the reintroduction of Merle, the prison, Woodbury. Now that all that stuff is up and running and people understand the dynamics, I want to throw another curveball into the mix [laughs] just to make it completely challenging for Rick. So while he is away and at Woodbury and trying to rescue different people, now all of a sudden, a group of strangers are in the prison. This will be very important in the back half of the season as Rick doesn't trust anyone.    
Milton, the makeshift scientist and nerdiest of the Governor's lieutenants, is one of the few characters original to the series. What was the idea for him?
We were exploring the reality of what a zombie apocalypse would be like and we were really thinking that it's not plausible that everybody would become a badass zombie killer. There must be some people who are just not as physical, or not as able to defend themselves. And we started thinking about a character who would try to create a niche for himself in which he would be studious and try to study the walker problem and try to find some solution to make himself valuable to the alpha male of the group, the Governor. We felt like in a zombie apocalypse there would be people who would survive because of their usefulness and not necessarily because of their talent at killing zombies.
But it's complicated for him, right? He doesn't seem to be totally in line with the Governor's methods — or maybe he's not entirely aware of them.
Milton has more of a moral center than the Governor. I will say he buys into the Governor, he believes in the Governor as a decent person with a fundamentally good mission. He just thinks the Governor is losing focus and becoming distracted. Milton will want to not necessarily oppose the Governor but get him back on the right track.
We created a baby registry video for Judith on Vulture, so what are the chances that Judith will live to receive our gifts?
[Laughs] Well, Judith is really a symbol of hope. That whole group has rallied around keeping that baby alive. That would be a major loss losing that baby and certainly we are a show that experiences loss and is not afraid of showing loss, but right now, I'll say, at least she has a name now, right? One day at a time.
And now, a silly question! The zombies make very distinct raspy yet gurgly noise. Who tapes those? We picture a lot of people in a recording booth going "RRRRARRSHLUPSHLUPVRUMRRRRARRRR" for an hour.
They do, they do! It's three or four people circling a microphone making those noises. They circle for quite some time. It's very funny to watch. I participate in the sound mixes and sometimes when we have a scene in which somebody is fighting a zombie, sometimes someone will end up making noises like "Ow!" or "Ugh" and we have to take those out because a zombie would not be upset that it's being attacked. We have to be careful not to have any personality in the zombie stuff. This is only sort of related, but yesterday I was doing a sound mix and I actually gave the note, "When we're crushing the zombie skull, can we have more bone, less squish?" And the guys are like, "Sure. How much bone? A crack? A splinter?" And I went, "Yeah, something like that because this part feels very squishy to me." [laughs] Sound design is a blast.
New episodes of The Walking Dead return to AMC in February.