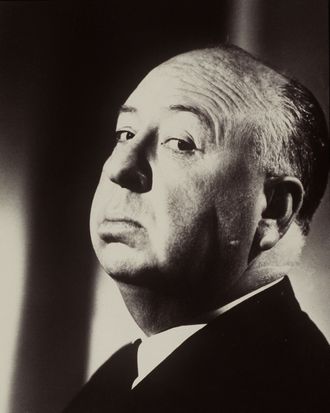 ALFRED HITCHCOCK
Photo: Corbis
When we ran into director Sacha Gervasi at the Hitchcock premiere and after-party on Sunday, he had a challenge for us: spot the clever little homages to Alfred Hitchcock embedded in Gervasi's new film. Not just the obvious references. Anyone familiar with the late director's fifties TV show will recognize the bulbous silhouette created when the movie Hitch (a paunched-up Anthony Hopkins) passes behind a translucent screen. And the re-creations of iconic scenes from the 1960 Psycho are an integral part of the film, which is about the making of that picture. No, Gervasi had more subtle things in mind — eight of them, to be exact. And he said if Vulture could identify them and the Hitchcock moves to which they alluded, there'd be a prize: "Some kind of special screening, with an actor that you like in the film." He might have been kidding, of course, but … well, ScarJo, this is for you.
1. Psycho
Duh. During one scene in Hitchcock, the director briefly peers through a peephole into the dressing room of Vera Miles (Jessica Biel), much the way Anthony Perkins, as the demented Norman Bates, once ogled Janet Leigh through a motel-room wall. Then there's the overhead shot inside Hitch's house that shows us the front door and staircase in exactly the way that Hitchcock himself framed the arrival of doomed investigator Arbogast in the spooky Bates mansion. "That's two of the three," Gervasi confirmed, meaning there's one more. "The third one is more obscure. You have to watch Psycho, and you'll see the shot." Got it.
2. Vertigo
At the time, this unexpected 1958 flop was weighing heavily on Hitchcock's mind. In Gervasi's film, we hear him wondering: "What if [Psycho] is another Vertigo?" In a scene that references that picture, Hitch awakens one night in a panic after having a dream in which a fantasy corpse turns out not to be dead. Also in the Vertigo style, the world swirls in around Hitch after he calls his wife, Alma (Helen Mirren), and suspects she's been talking to a lover.
3. Dial M for Murder
That phone-call scene was inspired by one in the 1954 Dial M for Murder, in which a wife gets a call from her husband and then is strangled from behind by a man the husband has hired to kill her. Here, though, it's the husband, Hitchcock, whose head we see from behind as his wife says, "What did you forget this time, Whit?"
4. Notorious
Hitch is getting paranoid about all the time Alma is spending with Whit, a writer with whom she's collaborating on a screenplay. His jealousy is inflamed when he finds sand (from the environs of Whit's beach house) on the bathroom floor, and slyly fills a pill bottle with it. This is a reference to wine bottles filled with sand in Hitchcock's 1946 hit. 
5. Foreign Correspondent
An early scene in Hitchcock takes place at the 1959 premiere of North by Northwest. Underneath the movie marquee, in another overhead shot, we're shown a sea of umbrellas dripping in the rain, clearly a salute to the director's 1940 film. 
Note: At this point, we asked Gervasi how we were doing. "The most anyone's gotten so far is four or five," he told us. Well, not to brag, but we were just getting started …
6. Saboteur
Gervasi gave us this one for free, although with no details. Could it be another foreground-background deal? "You have to tell me where, to get it right," he said.
7. Frenzy
In Hitchcock, the director, who's supposed to be on a diet, munches celery in the kitchen while Alma washes vegetables in the sink. His jealousy has now reached a peak, and as we push into a close-up of the back of Alma's neck, her husband's ominous mastication begins to sound like crunching bones. This is strongly reminiscent of the dinner scene in Hitchcock's penultimate movie, 1972's Frenzy, in which a woman munches breadsticks while she and her husband discuss broken bones. Right? "You're half right," Gervasi said. "You got one of the two. It's two films."
8. To Catch a Thief 
We think. When Alma finds a stack of head shots of the various blondes with whom she knew her husband was obsessed, she arranges the photos in a neat stack and then places one of her earrings atop it — to signal that she's found his photographic stash. The face at the top of the stack is that of Grace Kelly. This is admittedly a tricky, or possibly desperate connection. The linking of Kelly and jewelry suggests a reference to Hitchcock's great 1955 film. Unless it doesn't …
"You're at seven and a half," Gervasi announced. "There's eight. I want someone to tell me all eight. Go back and rewatch the movie, and come back to me with a full list." Any better ideas out there? Anything for a date with ScarJo.