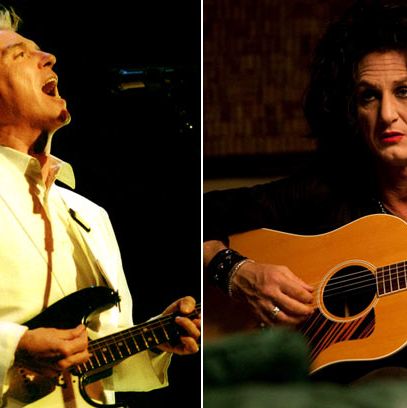 Photo: Corbis, Getty Images
The band Talking Heads is no stranger to movie soundtracks. That being said, the use of one of its most popular songs as the title of (and throughout) the new film This Must Be the Place, takes it to another level. But what does it mean? What does any Talking Head song placement — whether in the movie itself, on the soundtrack, or in the trailer — mean? In short: something. We looked at the Talking Heads songs that have gotten the most screentime to figure out what their use says about the films they are used in, other than that the music supervisor has good taste.
"This Must Be the Place" says, "Things are nice, but we're a little bit sad about it."
Used in: This Must Be the Place; Crazy, Stupid, Love; Wall Street; Lars and the Real Girl; He's Just Not That Into You
The song exudes a certain sort of cracking warmth. It's a love song about a person uncertain if love is really possible ("Home — is where I want to be/ But I guess I'm already there"). In most of its uses in film, it accompanies a happy character with a lingering (or impending) melancholy. That is the case in This Must Be the Place, as Sean Penn's character seemingly uses it as a bittersweet anthem. In Wall Street and later in its sequel (Wall Street 2: More Walls, More Streets), the song soundtracks the lead in a happy moment (decorating a new fancy apartment, a kids birthday party) that is on the verge of fading. In Lars and the Real Girl, it's played at a party that Ryan Gosling attends with his Real Doll girlfriend. Lars stands alone, dancing with himself, content but with a hidden sadness. 
"Once in a Lifetime" says, "Woah, who/when/where am I?"
Used in: Wreck-It Ralph; W.; Hot Tub Time Machine; Family Man; Rock Star
Do you have a protagonist looking to self-actualize? Do you want to send him on a crazy trip through time, space, and video games? Then "Once in a Lifetime" is a your song! Many of the lyrics concern a person uncertain about his modern life ("You may find yourself behind the wheel of a large automobile"). Hell, a lot of the lines are questions. The trailer for Nicholas Cage's Family Man basically plays it out line by line: "This is not my beautiful wife" — yes, Nicholas Cage, it is, and it's Tea Leoni. This weekend's Wreck-It Ralph, though lacking a beautiful wife and house, is also wondering, How did I get here? Still, it's a Talking Heads song, so it's also just fun. It's for when your character is confused but reaaaaal hip about it.
Psycho Killer" says, "Someone is a psycho or a killer, or the opposite."
Used in: Julie & Julia; Behind the Mask: The Rise of Leslie Vernon; Fierce People; Summer of Sam
"Psycho Killer" is a hard song to resist for filmmakers: It's bouncy and sexy; there's some French and some camp; there's that cool "Fa fa fa fa fa fa fa fa fa" part. So, yes, using "Psycho Killer" in a movie about a killer is obvious, but sometimes the song is worth it. (In the case of Summer of Sam, it was too much to resist, since the song and the movie are about the same psycho killer.) Also, there's a built-in irony to the jam, which brings a certain wink to the movie it's in. In Julie & Julia, it's all wink, as it plays over Amy Adams (Julie) adorably trying to kill some lobsters. As a song, it lets the audience know something's going to die, but we can still have a good time in the process.
"Road to Nowhere" says, "It's a documentary, but it's not boring."
Used in: Burning Man: Metropolis; Religulous; Bi the Way; Young @ Heart
Documentaries aren't all about paralyzed, blind Holocaust survivors. Some can be jocular and feature giant desert parties and/or bisexuals and/or singing old folk. Some can even feature a Talking Heads song. The quixotic nature of "Road to Nowhere" makes it a perfect pair for documentaries about  a person or group searching for truth or seizing the day. Young @ Heart, a documentary about an elderly chorus, just had them sing the song. On the other hand, Bill Maher used it to smugly knock on the aimless nature of organized religion. It lets the audience know everyone's having a ball being serious. 
"Burning Down the House," "And She Was," "Wild Wild Life," and everything else says, "FUN!!!"
Used in: Transformers: Revenge of the Fallen; 13 Going on 30; Look Who's Talking; Cool Runnings; and much, much more
Sometimes a song choice is just a song choice. And though Talking Heads was a serious band, it was also a seriously fun band. In Cool Runnings — arguably the most likable of Disney's nineties live-action fare — "Wild Wild Life"' brought an undeniable sense of merriment to the farcical training scene. Or have you heard "Burning Down the House?" It's a blast. Though in 13 Going on 30, it's a nerdy blast, which makes sense considering that the character that puts it on, young Matt, is just a dork trying to be cool. And in a way, that's what the Talking Heads were, and it's what most music supervisors probably are.