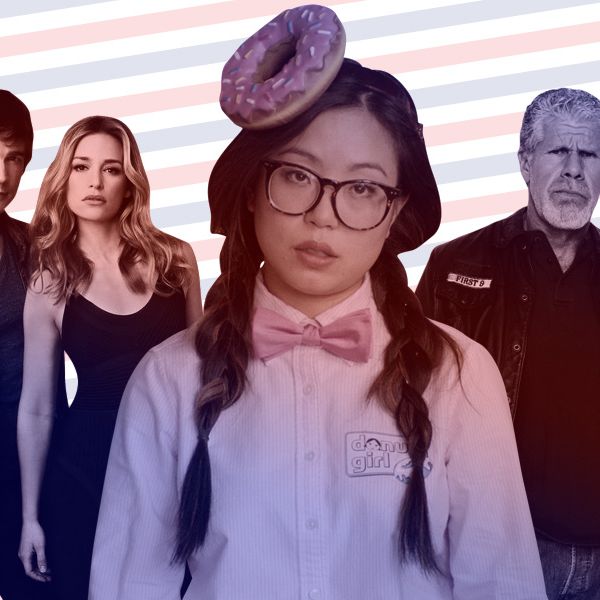 It's Election Day! Perhaps you've heard. Most of us will be watching results roll in tonight, but one cannot live on news alone. Here are a few other shows to flip to should you tire of the talking heads.
If you're feeling helpless, anxious, or old: Watch Underemployed, 10 p.m., MTV
You'll still feel old, but that'll feel like a hard-won prize. Underemployed is about a group of recent college graduates navigating the bumpy waters of adulthood, but mostly they just have sex and talk about having sex, in between bouts of panic. Watch and experience the sweet, sweet relief of knowing you'll never have to be a terrified 21-year-old ever again.
If you're feeling frustrated: Watch Chopped, in a marathon on the Food Network starting at 6 p.m. (Till 3 a.m. That is a lot of Chopped!)
Everyone on Chopped freaks out about the bizarre ingredients ("how am I going to combine sturgeon with yuzu juice?!?"), even thought that is the entire premise of the show. It's fun to laugh at these people, and it's even more fun because every episode involves people pulling off tasty-seeming dishes, despite the cockamamie ingredients. Good things can come out of annoying circumstances, friends.
If you're feeling like you live in a nation of strangers: Watch Bath Crashers, 10:30 p.m., DIY Network 
"Top 10 Most Amazing Transformations." You'll still feel alienated from mankind, but perhaps you will have learned something about the magical aesthetic powers of new grout.
If you're feeling fed up: Watch Sons of Anarchy, FX, 10 p.m.
Sons is tough to pick up in the middle, but don't let the confusion stop you from enjoying the show's swagger. Let the overwhelming violence and tribal drama carry you away!
If you're feeling trapped: Watch Alaska: The Last Frontier, four back-to-back episodes starting at 6 p.m., Discovery Channel
Fish fish fish, build build build, something about "the elements."
If you're feeling hopeful for the children of America: Watch Abby's Ultimate Dance Competition, 9 p.m., Lifetime.
Whatever optimism lives in your heart will be crushed by this vile, terrifying series that glorifies the emotional abuse of children. But hey! Dancing!
If you're feeling bored: Watch Covert Affairs, 10 p.m., USA
One serving of attractive people solving a crime or whatever.
If you're still feeling bored: Watch Tattoo Nightmares, 11 p.m., SpikeTV
There's a thrilling kind of Schadenfreude that comes from gawking at people's horrifically bad tattoos, and Nightmares provides that in spades. It also has outrageously terrible "reenactments" of the circumstances under which its subjects got their bad tattoos. Tonight's episode is called "Butt Pirate."