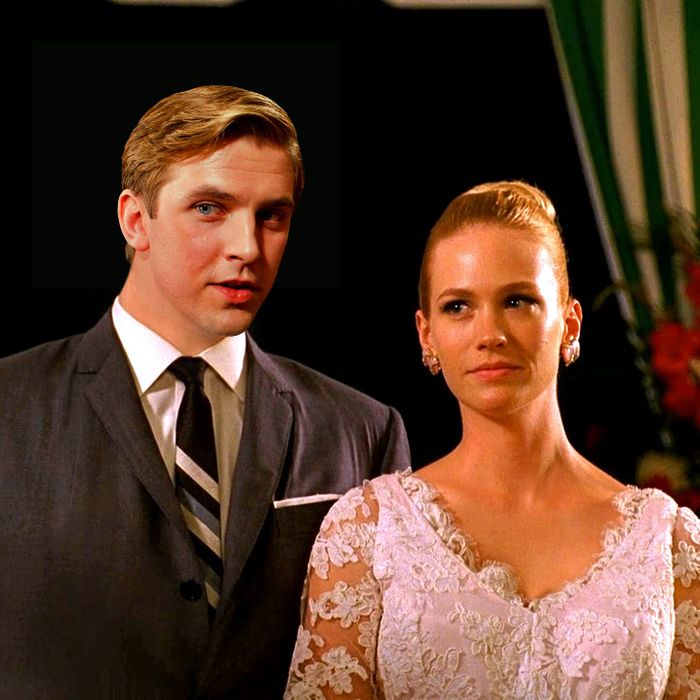 Photo: AMC, Nick Briggs/PBS
Last week's rumor that Dan Stevens, better known as Matthew Crawley, might not be returning for the fourth season of Downton Abbey is a royal bummer. Sure, there's romance to be found on the show outside of the Matthew-Mary pairing, but it's all secondary to this central courtship. While his departure from the series (if true) would be a huge loss for the show, it would be slightly less objectionable if Stevens left in order to pop up as a suitor on other TV shows, in full Crawley mode. Here are five ladies we'd be happy to see Matthew — sorry, Dan Stevens — woo in the privacy of their own programs.
Happy Endings' Penny: Imagine if Dan Stevens showed up as the new manager of the gang's hangout, Rosalita's, giving Penny the opportunity to drown herself in Anglophilia just to bag him. She'd do it all: shepherd's pie-eating contest, bedecking herself in Spice Girls paraphernalia, showing off an encyclopedic knowledge of the British royalty, and absolutely butchering a British accent. 'Twould be am-ah-zing.
Homeland's Carrie: There needs to be a third complicating figure circling around the head-fucking/actual-fucking duo of Carrie and Brody. If Rupert Friend's Quinn suddenly disappeared (called out of action by bus-based mysterioso F. Murray Abraham), why shouldn't another charming real-life Brit take his place? We can't picture Stevens stabbing anyone's hand, though. Perhaps he would try to make terrorists talk by doing what any Brit with a temper would do: spilling boiling hot tea on their faces just when they least expect it! It's a dirty move, not unlike a psychotic James Bond, but no one ever said the British were known for being a particularly kind people.
30 Rock's Jenna: She's engaged to drag queen Paul, but if anyone is to come between them, it should be Stevens/Crawley: If he's going to flee Downton Abbey, he might as well do it with a bang, right? Picture a lip-sync-off for Jenna's heart between a bewigged and befrocked Will Forte and Stevens, each trying to let love rule as they try to keep their stockings from riding up. It's a weirdly perfect fever dream that would leave even the Dowager Countess speechless.
Whitney's Whitney: Sure, Whitney Cummings's divisive throwback to the three-camera comedies of yesteryear is essentially based around her relationship with boyfriend Alex. But if Dan Stevens came into the picture, eyes all a-twinkle and smile all Crawley-size, it would certainly give her pause to reconsider what life might be like with someone who doesn't wear a leather jacket all the time. Maybe Whitney and Alex could go on a Friends-reminiscent "break," leaving Whitney putty in the hands of the gallant bloke from England who is also prone to slipping into an acerbic, biting tone that could make even Whitney sound sweet. To see Whitney, of all people, start quoting Love, Actually, would be an absurdly satisfying twist.
Mad Men's Betty: Betty is not a very supportive mother to Sally, and it's only going to get worse as the daughter hits adolescence and her vain mother begins to look at her as not just an inconvenience, but also as a rival of sorts. So imagine Dan Stevens entering as Ossining's newest bachelor teacher, crushed on by both Betty and Sally. A flirtation could begin between him and Betty at a parent-teacher conference; she is beguiled, even as he considers their patter purely innocent (Matthew Crawley — again, sorry, Dan Stevens! — would never be so gauche as to actively seek to destroy a marriage). When Betty sees Sally start to dress more and more provocatively to catch his eye at school, the mother is driven mad. Many spiteful words are spat, Sally acts out, and in the midst of all this mishegoss Dan Stevens quietly slips into the city, meets Peggy, and they get married and live happily ever after. The end.