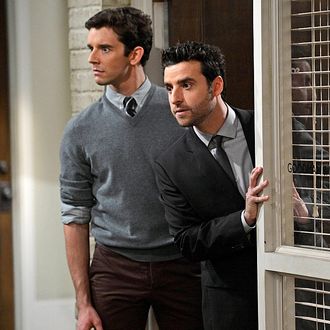 Partners, still partner-ing!
Photo: Darren Michaels/CBS
The Walking Dead isn't the only zombie show on the air this fall: CBS and Fox have Partners and The Mob Doctor, respectively, a pair of freshman Monday-night programs that soldier on even with disastrous out-of-the-gate ratings and continued Nielsen erosion that would normally have resulted in their execution after just two or three weeks. After all, the Eye killed Made in Jersey after just two airings, even though both episodes of the Friday-night drama drew more viewers than any of the six installments of Partners. And in the case of MobDoc™, its most recent airing (episode six) attracted only 3 million viewers and averaged a 0.8 among viewers under 50; that's 20 percent below the 1.0 rating that just two years ago prompted Fox to euthanize the critically-loved Lone Star after its second broadcast. So why do MobDoc™ and Partners continue to wander haplessly about the primetime landscape, even though most industry observers believe there's virtually no chance either will survive until the end of this TV season, let alone earn a sophomore pickup? CBS and Fox aren't commenting, but according to the best guesses of industry insiders surveyed by Vulture, three major factors may be at play.
1. Money
The first thing to keep in mind when trying to analyze the scheduling decision of networks is that advertising revenue plays a critical role in most decisions. Companies buy commercial time on shows shortly after the nets announce their new schedules at the May Upfronts, snapping up spots for the whole season priced according to guesses of how well they think the newbies will perform.  So, for example, if you're an ad buyer for Coca-Cola who bought lots of time on NBC's Revolution six months ago, you probably got a hell of deal: Expectations for the show were modest, which meant the Peacock had to sell spots on the cheap. (According to Ad Age, a 30-second spot on Revolution sold for around $97,000, about one-third the cost of an ad on The Voice and far less than the roughly $140,000 CBS charges for timeslot rival Hawaii Five-0 and the $125,000 ABC gets for Castle.) And while its numbers have been slipping a bit in recent weeks, Revolution actually turned into the season's biggest Nielsen success story, making it an incredible bargain for ad buyers.
On the flip side, CBS's track record for comedy success on Monday allowed the Eye to demand a whopping $162,000 per spot on Partners, according to Ad Age. Similarly, the magazine says Fox was able to get ad buyers to shell out around $168,000 for time on MobDoc™, a slightly higher rate than its more established lead-in, Bones. So while the new shows bombed in the ratings, at least in the short-term, it doesn't matter that much to either network's bottom line: They've already sold millions of dollars' worth of ad time at premium rates through the end of the season. And while CBS and Fox might have to offer some extra ad time to make up for the shows' weaker-than-expected ratings — so-called "make-goods" — that loss in future revenue is likely tiny compared to what would happen if they were to simply have pulled Partners and MobDoc™ off the air after their second or third broadcasts (when it became abundantly clear the shows were tanking). "If you have ad dollars booked against a show, and then you change shows, you give advertisers the opportunity to bail," explains one broadcasting veteran who's well-versed in the particulars of the ad marketplace. In other words, while the low numbers that come out for the two shows each Tuesday morning might hurt network pride, it doesn't cause much financial pain — at least in the short term.
2. Bench strength
That said, there are still times when it makes sense for a network to dump a Nielsen loser, despite the out it gives ad buyers who had committed to said dog. For one thing, if the show didn't sell all that well in the Upfront season, then it's possible replacing it with repeats won't make that much of a monetary difference. The aforementioned Made in Jersey was only pulling in about $71,000 per 30 second spot, per Ad Age, which meant CBS didn't give up that much revenue when it briefly subbed in repeats of crime dramas Fridays at 9 p.m. But even more importantly, CBS had a ready-to-go alternative waiting on its shelf to sub in for Jersey: Proven Friday performer Undercover Boss. After CBS gave its marketing team a few weeks to promote its return, Boss is now doubling Jersey's demo performance while attracting about 2 million more viewers. What's more, Boss fetches virtually the same ad rate as the canceled Jersey, making the swap even more painless (except for the cast and crew of the latter show). A similar logic applied when NBC stopped monkeying around and shut down Animal Practice on Wednesdays. The Peacock went into the fall with a slew of sitcoms — including Whitney, Community, 1600 Penn — all waiting in the wings, ready to be tapped in if needed. (Whitney got the call and debuted last night.)
In the case of Fox, however, its bench this season is exceedingly thin, particularly in terms of dramas. The only two scripted dramas that might have replaced MobDoc™ quickly are season two of Keifer Sutherland's Touch and Kevin Bacon's new serial killer series The Following. The latter has always been intended for a finite fifteen episode run on Monday nights starting in January. Had the show been a typical drama, network execs might have decided to move up its premiere date, perhaps to November, and then extended its episode order to make up for its early debut. But since Bacon is only contractually committed to fifteenepisodes per season, an extension wasn't an option. Shifting Touch from its planned Friday slot was also a theoretical possibility for Fox execs, but not a particularly attractive one: The show didn't perform all that well earlier this year, and given how hot NBC's The Voice is right now, there's little reason to have expected it would've done that much better on Mondays. What's more, given how poorly Fox's new Tuesday comedy block is doing, an early launch of Touch would've meant shifting marketing resources away from those shows in order to hype Touch. In the end, it seems as if Fox execs have decided sucking it up and enduring the weak numbers for MobDoc™ is a slightly better option than shaking up Mondays, particularly since the show actually generated decent pre-season ad rates.
3. Loyalty
It may sound radical, but it's true: Not every decision in TV is made from a steely-eyed financial perspective. That seems to be why Partners has remained on the air as long as it has over at CBS. While nobody at the network is talking, industry insiders tell Vulture that Eye entertainment chief Nina Tassler really, truly believes in the show and its creators (Will & Grace alum David Kohan and Max Mutchnick). While critics may have been brutal to the sitcom, and audiences have shown no enthusiasm for it, Tassler is known as an exec who fights for projects she believes in (she kept the underrated Swingtown on the air longer than many at the network would have liked).
The "Nina Likes It" theory seems particularly strong when you weigh some of the other reasons CBS might have killed the show earlier. While it fetched solid numbers in the upfront, meaning CBS would have to sacrifice some dough by killing it early, the Eye has a luxury no other broadcast network has: Several comedies that actually repeat very well with viewers. Slotting in encores of Two and a Half Men or The Big Bang Theory would probably give CBS a Nielsen boost while not costing the network all that much in ad revenue, given how well both shows do in repeats. And unlike Fox, which didn't have a strong contender to replace its Monday night laggard, CBS actually does have a comedy bench strong enough to allow for an original to replace Partners. The on-deck Rules of Engagement is a proven performer on multiple nights of the week and could easily be plugged into the slot with as little as two weeks' notice to promote it. The Eye also has a new half hour, Friend Me (about two friends working at Groupon), that might also have been given an early launch — though it seems unlikely CBS would want to rush an untested new show on the air. 
There are a few other considerations that may be contributing to the slow trigger fingers at CBS and Fox, and which might explain why other shows whose performances are less-awful-but-not-great (The Last Resort, 666 Park Avenue) have stayed on the air. We now live in the Age of DVRs, which means networks pay close attention to how shows do once recorded viewing is factored in. Since Nielsen takes up to two weeks to process that information, some execs argue it makes sense to wait a bit longer to see if a show is actually finding an audience that, while not watching the same day, is watching nonetheless. (However, by week six we've seen enough DVR intel to demonstrate that neither Partners nor MobDoc™ is getting much of a boost from time-shifting.)
There's also the embarrassment factor: As recently as a few seasons ago, a demo rating hovering at or below a 1.0 would've been seen as nothing short of a disaster and reason for immediate cancellation. (See: Episode two of Lone Star.) Now? "A bad number isn't quite as obvious as it was even two or three years ago," one industry vet says. "It doesn't stick out like a sore thumb the way it once did." It's sort of the way Team Obama spun the unemployment rate to voters: 7.9 percent ain't great, but it's better than the 10 percent-plus rates from a few years ago.
Of course, none of these factors will matter in the long term, or even the near term. You'd be hard pressed to find a single agent or rival network exec who believes CBS or Fox will order a single additional episode of its two troubled shows beyond the thirteen they've already green lit. Fox has already said The Following will replace MobDoc™ by January 21. And while CBS is still staying mum, this week's worst-yet ratings for Partners — and the impact its poor lead-in numbers are having on its follow-up, 2 Broke Girls — has some industry insiders wondering just how much longer the Eye's Tassler will continue to be patient. For now, though, Monday night remains safe territory for this fall's zombie shows.