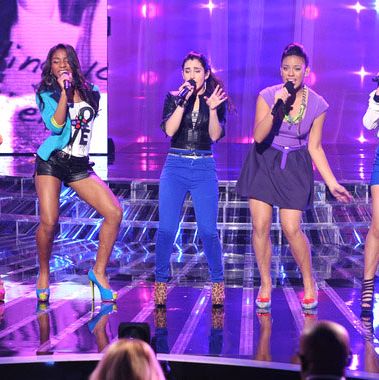 Fate has never been kind to The X Factor, but in the last couple of weeks, it's just been straight-up cruel. Tonight's first live show — in many ways the real start of the season — was originally supposed to air last week, but rain delays pushed it to tomorrow night, then a quicker-than-expected World Series scooted it up to tonight, a night when hundreds of thousands of people on the East Coast are still without power and millions more across the country are having to get up every two minutes and fork fun-size Snickers bars over to their neighbors' children. But here we are, spit-shined and ready to go. The X Factor is the Very Big Show That Could.
To add lack of chemistry to injury, tonight is the hosting debut of Mario Lopez and Khloe Kardashian. Oh, they actually do pretty well, even if there's no compelling reason for either of them to be here. They both seem to have been fully lacquered, and their styling and stilted banter suggests a Mex-Armenian Donny & Marie, except neither one is even a tiny bit country or rock and roll.
And let's meet our judges again! L.A. and Simon still look and behave like villains from Golan-Globus films; Demi is working some severe bangs; and Britney is wearing what I can only call a Space Pinafore. Tonight, each judge will have to choose which two of their acts will be safe, and which ones will have to Sing for Their Lives on tomorrow night's show. So the judges aren't really in competition with each other yet, but they each make a point of saying: "The rest of you guys are in trouble tonight." Also, Khloe repeatedly refers to Simon as "my sexy Simon Cowell," and when he finally relents with a limp "You look good tonight, too, Khloe," she shrieks: "Oh, you are FLIRTING WITH ME!" Is she always like this?
On to the performances: Paige Thomas opens the show with Haddaway's "What Is Love," dressed like the cover of that Janelle Monae album. It's decent and she's got charisma, though the verses are too low for her. The judges love it, though L.A. doesn't like the song choice. It takes a lot to rescue that song from Night at the Roxbury, but she almost manages it.
Arin Ray gets this advice from Britney Spears: "I see a vision for you. You should have a style." Solid mentoring, Brit. He does a weirdly tuneless arrangement of "You Keep Me Hangin' On" that doesn't really do him any favors, which is probably Britney's fault, but nobody really steps to her about it. There is zero interaction between Britney and any of the other judges at any point in the show. If you told me that they pretaped all her parts, I would have no problem believing you.
Oh, and the prize has been downgraded from "$5 million and a Pepsi Super Bowl" commercial to "$5 million and a Pepsi Grammy Commercial." Nice work, Melanie Amaro.
I could have sworn David Correy was some kind of rock guy last week, but tonight, he's all popped out. He does a really desperate, oddly squeaky take on Whitney Houston's "Your Love Is My Love" that suits him poorly. This is not the way to locate your birth mother, David.
Simon introduces Sister C thusly: "They are nice people." Ouch. One of them says: "We don't have a sad story to tell people, ours is really more a blessed story." I appreciate the honesty, but their luck runs out about halfway through "Hell on Heels" when there's some kind of set mishap and a pair of stagehands have to scoot out a lucite staircase to get them off of their upstage perch. The girls all have to look down as they cautiously descend, which kind of kills their energy. The judges are lukewarm about it, by which I mean they all call it "fantastic." The judges are short on judgment tonight.
And since it's Halloween, the producers occasionally kill the lights at the beginning of a segment and put a picture of a ghost on the big stage screen. "Ooh, anything can happen on Halloween," gushes Mario Lopez. Yep. Someone might vaguely reference Halloween on Halloween. You just never know.
Jennel Garcia has a great voice, but is somehow making less of an impression as the competition goes on. She does Motley Crue's "Home Sweet Home," and although it's basically flawless, I forget it the second it's over. The judges go bananas, though Simon correctly points out that Demi has styled her as a demi-Demi. Demi replies that that's ridiculous as "She's wearing chains and I'm not." Great argument.
Khloe does a little backstage reporting, talking to Carly Rose and Willie Jones, but the only thing that is important is that through it all, the lead Emblem3 guy does push-ups. This show is just one long tease for Emblem3's performance. 
Oh, I just love Diamond White, and here is how much: She does Train's "Hey Soul Sister" and I don't immediately sell my television, quit my job, and become a full-time Juggalo. In fact, I actually like her dancehall take on it, and I'm relieved to see her having fun and being youthful after weeks of leaden ballads. She's back! The staging includes a little one-on-one moment with a male dancer, and when Mario says: "You looked like you were having fun with your boyfriend," she protests: "He's not my boyfriend, my mom would kill me!" Khloe responds: "Don't let your mother kill you." This is the kind of ad-libbing that gets you the network gigs. Duly noted.
Vino Alan has a tattoo on his face that I think might be the Chinese symbol for "regrettable decision." And you know what? I like this guy, but the song choice is all wrong: It's one of those interchangable rock-radio songs that may or may not be Nickelback, and it's way too low for him in the verses. The judges agree, with Simon telling L.A. that he's "totally cocked it up," which the overzealous censors bleep out. Vino might be in trouble, but I think he'll make it through to next week. What can I say, I'm a [CENSORED]-eyed optimist.
Simon sends Lyric145 into what can only be called a hand job of a performance. They do "Boom! Shake the Room," which you probably don't remember as "DJ Jazzy Jeff & The Fresh Prince's 'Pumps & A Bump.'" As if that weren't enough of a pander, there's a snippet of "Gangnam Style" dropped right in the middle. Their charisma gets them through. L.A. isn't having it; he says to Lyric da Queen, "Tell me you liked that song," to which she replies, "I made you like it." Lyric da Queen has MOXIE.
CeCe Frey is working hard to overcome her "relatability problem." Generally, when someone on a show like this tries to overcome a relatability problem, it involves a lot of trying to cry. CeCe's case is no different. I am pleased to report that she has lost the facial cheetah spotting, but I must tell you that she is now a platinum blonde, which is more or less the same thing. Her version of "Because the Night" answers the eternal question: "What if instead of writing this song for Patti Smith, Bruce Springsteen pitched it as the theme to a soft-core live-action adaptation of Jem & the Holograms?" Lots of grinding, lots of writhing. Jillian Jensen wouldn't have taken us down this road. The judges call it interesting. She will almost definitely be safe.
Tate Stevens works on a road crew, and the intro package comes to us from his house, which is huge. Remind me to move to Benton, Missouri. He does one of those folksy-ass country songs about how tough his wife is, and you know what? It works. He might not win this thing, but he'll go pretty far, and he'll get a few club gigs out of it, which should be enough to get him an Infinity Pool back in Missouri.
Poor Beatrice Miller gets saddled with Jason Mraz's "I Won't Give Up." She does what she can with it, but it's a moist towelette of a song. Also, her hair is crimped and she is wearing everything. I'm rooting for her, but I think she might be in trouble.
Jason Brock wears a Bobby Trendy sofa for his take on Jennifer Lopez's "Dance Again." It is a very specific kind of gay. It is Palm Springs gay. It is Pride Weekend gay. It is "small town bar called Rumors or Illusions or something" gay. And honestly, more than any of the marriage-equality measures on next week's ballot, Jason's future on this show is a referendum on gay rights in this country. Jason is not Neil Patrick Harris. He is not Anderson Cooper. He is not even Adam Lambert. He's the gay guy in accounts payable. He's your gay neighbor who wants you to call him your "geighbor" and then laughs a little too loud. America either likes that kind of thing or it doesn't. We will find out. (The judges, for the record, do not.)
One quick soapbox moment: Jason asks Mario if he can pinch his butt, and Mario says, "Hey, we gotta keep this PG-13!" Which is fine, except that it's just moments after a long conversation about Khloe Kardashian's protruding nipples, which somehow wouldn't offend the theoretical ratings board. There is a double standard here, is what I'm saying. Or maybe Mario Lopez just doesn't want strangers manipulating his buttocks, which I guess is fair enough.
LYLAS has had to change their name for what Simon calls "boring reasons," which translates to "I forgot to check whether that name was available." They are now 1432, which means "I Love You Too," somehow. May I discreetly tell you that I don't understand anything anymore? They take on Taylor Swift's "We Are Never Ever Getting Back Together," which actually works pretty well, though the judges are lukewarm. Actually, what the judges are is tired; had this performance started the show, they would have loved it.
Willie Jones sings "Here for the Party," or at least I think he does, because I can barely hear him. For a singing competition, mentored by singers and music-industry professionals, way too many of these songs are in the wrong key. Is everyone just too exhausted to do their jobs properly? Hey, people who are making millions of dollars making this show: If you can't stay awake, neither can the people who are watching it for free. Brew some coffee. We are.
Britney puts Carly Rose in a schoolgirl uniform for "Good Feeling," as clear a passing of the torch as you're ever going to see. Carly is so polished it's a little unsettling; as great as she sounds, she doesn't quite look like she's having fun. It's the eternal problem of the precocious child performer. The judges agree.
Speaking of which, through this entire show, Britney says almost nothing and looks as though she'd rather be anywhere else on Earth. Here's your future, kids!
Emblem3 have had to change their name for legal reasons as well; they will henceforth be known as "Your Weed Hookup." Not really. They're actually now called "Fratpad." OH BUT SERIOUSLY FOLKS: They do Matisyahu's "One Day," and I feel physically roughed up by their level of charisma. They aren't the strongest singers in the bunch tonight, but watching them, you realize how trivial something like talent is in these situations. They are basically superheroes, and their superpower is being from Southern California. They are just impossibly handsome and enthusiastic, there's no way they aren't going to win. The only question is: Will it be Demi or one of the girls in Sister C who gets pregnant?
Tomorrow, four singers get cast out through some kind of mysterious process they won't even bother to explain. I think Arin, Sister C, David, and Jennel are in trouble, and I wish this show had happened last week when it was supposed to so I could have gone as lead Emblem3 Guy for Halloween. Tank it, bro.