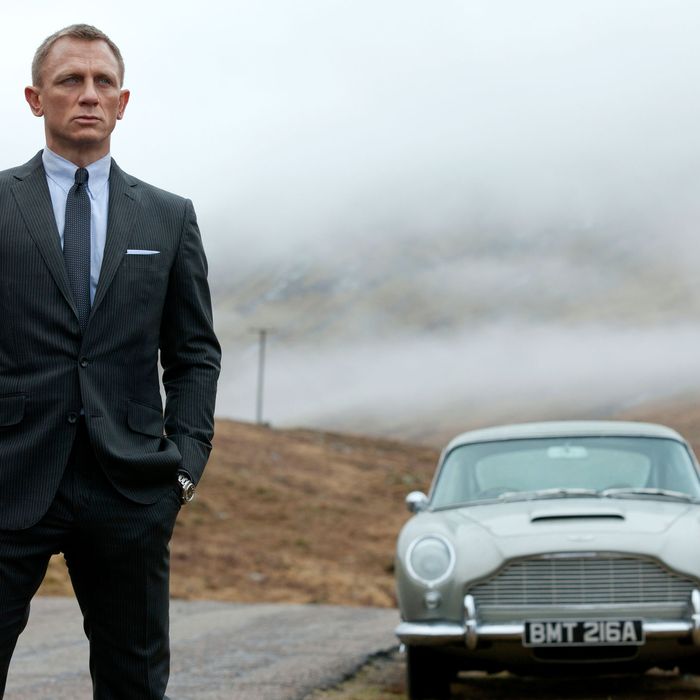 Photo: Francois Duhamel/Columbia Pictures
This Weekend's Winners: Skyfall was no. 1 with $87 million, reaping more than half of all tickets sold this weekend and setting a new opening-weekend record for the franchise. (And on a weekend that saw the limited but highly auspicious — $900,000 from just eleven theaters — debut of Steven Spielberg's Lincoln, it's amusing to note that it was actually Bond who grossed "four score and seven.") Disney's Wreck-It Ralph also threw down big numbers, losing barely a third of its opening-weekend audience to finish in second with a better-than-expected $33 million.
This Weekend's Losers: Flight, (no. 3 with $15.1 million) which lost 40 percent of its audience.
How It All Went Down: "Bond shows that, like Avengers, if you make a more-than-good movie for a franchise, people will come," explained one former marketing chief of several major studios.
When it comes to Flight, though, the problem is that, in such a dour economy, the audience for review-driven films is even more selective than it usually is, and so Robert Zemeckis's film is paying the price. "Certainly Bond is eating Flight," said one head of distribution at a rival studio. "But that couldn't be much of a surprise, which is why I don't know why they didn't go wider last week." (This was echoed by a second distribution capo at still another studio, who claimed to be "mystified as to [Paramount's] release plan. Opening on a scant 1,900 locations with a proven box office star and with Skyfall looming in week 2?")
Intriguingly, DreamWorks and Fox's latest effort at marketing Lincoln is taking on a distinctly rural theme, as evidenced by this recent, twang-y trailer — one that seems all the more "hayseed" when compared with the soaring orchestral strains of its international version. "Yeah," concedes one former head of marketing, "but it also feels pretty emotional, which is good. I think they used the election perfectly [to frame it]."
Still, despite the impressive early numbers for Lincoln, doubt remains about just how wide it will play when its rolled out nationwide. "It's only expanding next Friday to 1,750 [theaters]," notes this chief, "that's one third of Twilight: Breaking Dawn, Part II." Those modest screen counts for Lincoln mean that Spielberg's take on the sixteenth U.S. president will likely only open to $15 to $17 million domestically according to one rival distribution chief, which would be even lower than Argo.
Then again, Thanksgiving (a holiday whose date was actually codified by Lincoln in a presidential proclamation) actually comes the earliest it can ever come on the calendar this year, and so it may be that by starting Spielberg's movie out small, Fox is merely taking to heart Honest Abe's old adage about preparation. "Give me six hours to chop down a tree," Lincoln once said, "And I will spend the first four sharpening the axe."