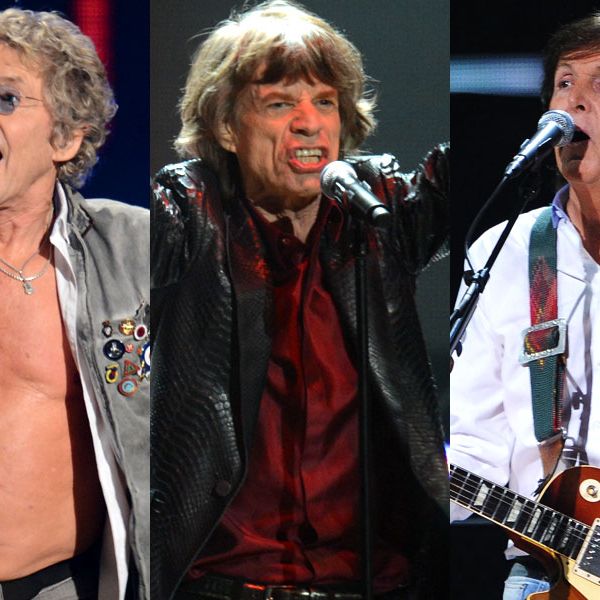 The lineup of last night's 12.12.12 concert for Sandy relief seemed assembled with one guiding principle: Get a lot of big acts that older rich white people with lots of money to spend on tickets and donations will love. And that meant that it was classic rock's time to shine. As Mick Jagger said (while leading his band through a rousing, two-song setlet), "This has gotta be the largest collection of old English musicians ever assembled in Madison Square Garden!" And Americans too: the Stones, the Who, Springsteen, Billy Joel, Roger Waters, Paul McCartney, Eric Clapton, and the relative young 'uns Bon Jovi. (Kanye West was included just to give the middle-aged crowd something to grumble about.) To play to the targeted nostalgists who had gotten entrée to middle-aged-white-person heaven (with extra-comfy comedy by Billy Crystal!), the musicians knew what they had to do: Get out there, play the hits, break out the up-to-50-year-old poses and stage patter that the audience had roared for as teens and demanded again, no matter how undignified they might be in a senior citizen. But who was the classic rockiest?
I scored each band on their Classic Rock quotient, giving credits for their most classic rocky of song choices, moves, and quotes, and debits for things that defied the agelessness that their audience demanded. (I only included the bands that played who are included in the classic-rock canon, as universally decided by classic-rock-radio programmers. Bon Jovi has been sworn into this genre sometime in the past fifteen years, perhaps finally displacing the Guess Who. Kanye West and Alicia Keys were not included in this scoring as they are not classic rock; they made the error of actually having some currency. Chris Martin got in by association.) So, who was more classic-rock than a Bad Company rock block with a deep cut on a threefer Thursday? Let's tally up the scores!
BRUCE SPRINGSTEEN
Classic Rock Credits
- Says "Let me see your hands!" 3 points
- Localizes lyrics in song "Wrecking Ball," changing "Now my home's here in these meadowlands" to "Now my home is on the Jersey Shore." Every good classic rocker knows changing a geographic lyric to fit the concert's locale will get a crowd roar. 8 points
- Guitarists Nils Lofgren and Steve Van Zandt run to Bruce's mic at center stage at end of a song to alternate singing refrain: They share the mic, then pull heads away as Bruce takes over, and then … switch places and repeat!  6 points
- Brings out Jon Bon Jovi, who kisses him on the side of the head. Not Bruce's fault, but still, 4 points.
- They sing "Born to Run." 12 points
Classic Rock Debits
- Plays relatively recent song "Wrecking Ball," which dates back only three years. As casual Bruce fans do not associate this song with it being on the radio as they aimlessly drove around as a teenager, it is considered fetal in classic rock years. - 8 points
- Finishes "My City of Ruins" with a few mournful, slowed-down bars of "Jersey Girl." If a song is not played identically enough to be picked up by Shazam, it does not count as a hit. - 2 points
Total: 23 points
ROGER WATERS
Credits
- Sticks to songs from his most iconic albums with Pink Floyd: The Wall and Dark Side of the Moon. 14 points
- Plays them nearly identically to their album versions, even as he is the only member of Pink Floyd on stage. 11 points
- Guitarist makes sex faces during "Money." 4 points
- Waters brings out Eddie Vedder (Pearl Jam having transitioned from alternative to classic rock sometime in the past decade), kisses him on the head as Jon Bon Jovi did to Springsteen. This move shall heretofore be known as the "Rock and Roll Smoochie Koo" in honor of  classic rocker Rick Derringer*. 3 points
Debits
- Waters constantly waves to audience, jogging back and forth to greet entire house. Considering that he and Pink Floyd played behind a wall in the original tour of The Wall, this gregarious crowdwork is like seeing Miles Davis run out and high-five the front row like Jay Leno. - 7 points
- Waters's backing band is a weird mix of musicians in their forties who look like Malibu bartenders and older guys who look like they were drafted out of a Dad band that plays in Jerry the dentist's garage every Tuesday night. -4 points
- Has group of young dancers come out and do number to "Another Brick in the Wall." What are young people doing on this stage? If the audiences wanted to see kids they'd have stayed at home and saved money on babysitters! -3 points
Total: 18 points

BON JOVI
Credits
- Richie Sambora has a talk box. 4 points
- Richie Sambora plays a double-necked guitar. 7 points
- When opening chords of "Wanted Dead or Alive" play, Jon Bon Jovi asks, "You know this one? Let me hear it!" 12 points
 - During "It's My Life," Bon Jovi accentuates phrase "don't back down" with well-timed hand thrusts … 6 points
Debits
- … however, during the same song, while singing refrain "It's … my … life," he underlines the words by doing squats and arm raises as if hosting a celebrity fitness tape. -6 points
- Has changed from the unbuttoned leather shirt he wore while dueting with Springsteen into a black turtleneck sweater, as if he had stepped out for a poetry slam. -5 points
- During guitar solo, Sambora's shirt button comes undone and his belly peeks through right above his guitar. And not in a sexy, eighties "I'm showin' some skin!" way, but more in an embarrassing dad cleaning the garage on a Sunday way. -8 points
Total: 10 points
ERIC CLAPTON
Credits
- Plays old Derek and the Dominos and Cream hits. 13 points
- Many, many solos. 8 points
- More solos. 9 points
- Has the blues. 5 points.
Debits
- Blues fetishism gets the better of him: Plays old twenties standard "Nobody Knows You When You're Down and Out" instead of established hit like "Layla" or "I Shot the Sheriff." -8 points
- However, this song is thematically in keeping with the theme of the night: People lost their homes. Pulling out an unexpected cover to suit the specific event (unlike playing the inappropriate "Cocaine," say) is very unexpected, like a new run in a solo, so Add 8 points back
- Then again, isn't all blues about people who are down and out? Perhaps this is not deserving of special mention, it just seemed appropriate in a blind-squirrel-finds-blues kinda way. -8 points
Total: 27 points
THE ROLLING STONES
Credits
- Plays "Jumping Jack Flash." 15 points
- Mick Jagger struts, slithers, and sways. 10 points
- Jagger points at audience in "YOU, YOU, YOU, YOU, YOU" gesture. 4 points
- Jagger asks the crowd, "How you doin'?" 4 points
- Jagger opens his shirt after first song, but has a black long-sleeved tee on underneath for safety: all the rock-and-rollness of a singer stripping down without the unpleasantness of seeing a 69-year-old man's stomach. 6 points
- Ron Wood does modified duck walk. 2 points
Debits
- While Jagger's strut is the same as it ever was, it is now difficult to unnotice that it also resembles the jerky walk of a crazy woman stomping through Times Square talking to herself. -5 points
- Band only plays two songs. -12 points
- However, what is more classic rock than charging many hundreds or thousands of dollars to rich guys (likely through some black-AmEx-card promotion) to see an old band play the same songs the crowd has heard a hundred times before, and very few of them at that? Add 12 points back!
Total: 36 points

THE WHO
Credits
- Pete Townshend windmills his guitar. 8 points
- Roger Daltrey swings his microphone. 7 points
- Band plays homage to late drummer Keith Moon, showing footage of him at his most animated and demented. 5 points
- Play many hits, including "Pinball Wizard" and "Love Reign O'er Me." 13 points
- Points for geographic/topical lyric substitutions: During "Baba O'Riley," Townshend subs in lyrics "It's only Sandy wasteland." 8 points
- Song "Tea & Theater" ends with lyrics "Will you have some tea?" Townshend then yells, "Have a fucking beer!" Profanity + encouraging of alcohol: 6 points
- Daltrey goes from having his shirt mostly unbuttoned to totally unbuttoned, baring his chest and belly … 4 points
Debits
- Daltrey's shirt and belly: a classic-rock move to be sure, but certain concessions must be made to being 68 years old. Even cast members of The Expendables would say, "Maybe you'd like to borrow Jon Bon Jovi's sweater?" -7 points
- Daltrey marches in place as if in an aerobics for seniors class. -3 points
- Playing the song "Bell Boy" with an extended homage to Moon (during which Daltrey turned his back to the audience and faced the video screen for much of it) might nod to the drummer's classic-rock legacy, and might have been an easy transition from the band's current Quadrophenia tour, but it seemed odd to place a long encomium to a man who died 34 years ago in the midst of a tribute to people who lost everything last month. -5 points
- During Townshend's arm-spins, we got a Sambor-ish peek at his belly. Granted, demure compared to Daltrey's full flash, but still unflattering for a senior citizen. -8 points
Total: 28 points
BILLY JOEL
Credits
- Plays all hits with a strong voice, including many New York–centric tunes: "Miami 2017 (Seen the Lights Go Out on Broadway)," "New York State of Mind," "Only the Good Die Young," "You May Be Right," "Movin' Out (Anthony's Song)," "River of Dreams." 14 points
- Says "I know it cost you a shitload to get in here … " Profanity bonus! 4 points
- Sax player sidles up to guitar player during "You May Be Right," acts out lyric "But it just may be a lunatic you're looking for" then grins conspiratorially. 4 points
Three sax players have a sax-off at end of "Movin' Out." 3 points
Debits
- Joel wears a very Dad patterned sports jacket. -5 points
- Plays snippet of "Have Yourself a Merry Little Christmas" with no rock inflection at all. Now it is just Billy Joel singing Christmas carols. Have we learned nothing from Bruce Springsteen's "Santa Claus Is Coming to Town"? -4 points
- Backing band members seem like they have all been rounded up from the same Long Island Cover-Band Mookatorium. -7 points

-Then again, Joel's bandmates have always looked that way. Give the points back! +7 points
Total: 16 points
CHRIS MARTIN
CREDITS
- Not classic rock yet (but inevitably will be added to the canon in about ten years). However, gets points by proxy for bringing out Michael Stipe: R.E.M. is now part of the playlist. 6 points
- Stipe puts his hand to his ear in "I can't hear you!" gesture when singing "Losing My Religion." 3 points
- When the song is over, Stipe gives Martin a Rock and Roll Smoochie Koo. 3 points
Debits
- Coldplay is not classic rock. -6 points
- Chris Martin dedicates "Us Against the World" to a man who "works in our building." No matter how wealthy it is assumed that you are, no matter how many rich people are in the audience, acknowledging that you live in "a building" in which people "work" is not very common man. -6 points
Total: 0 points
PAUL MCCARTNEY
Credits
- Was a member of the Beatles. 15 points
- Begins his set by saying, "I love New York!" 3 points
- Plays a mix of Beatles and Wings hits. 12 points
- Has two generic guitar players who often approach him in unison, flank him, make guitar faces, and quickly depart back to their corners. They are like rock band temp workers. 4 points
Debits
- Chubby bald drummer with half–Scott Ian–length chin tuft. More metal than classic rock. -3 points
- When introducing Nirvana members, his line, "The penny finally dropped, I realized I was in the middle of a Nirvana reunion" made him seem more like a confused grandpa than a rock peacemaker. As Nirvana has also been entered into the classic rock playlist (feel old?), this is a dangerous sign of a generation gap within the same "generation." Will the Beatles soon be shunted to the oldies station?  -14 points
Total: 17 points
THE MOST CLASSIC-ROCK-Y: The Rolling Stones! Sorry, Who, you were doing so well, but were felled by too many oblivious missteps. Stick to the hits, keep your shirt on and you'll get those Stones yet!
* The post originally credited the classic-rock staple "Rock and Roll Hoochie Koo" to Ted Nugent, when it is Rick Derringer's original version that is the radio staple. To atone for this mistake, the writer will now write the lyrics to "Cat Scratch Fever" on the blackboard 500 times.