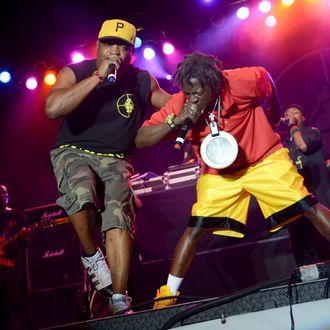 Flavor Flav, Chuck D. of Public Enemy performs at Wingate Park in Brooklyn New York on July 30th, 2012.
Photo: Alexander Michael/Retna Ltd./Corbis
Donna Summer, Public Enemy, Heart, Albert King, Randy Newman, and [cue loud overzealous fan weeping, but in a happy way] Rush. For those keeping track at home, that means N.W.A, Kraftwerk, Joan Jett, and Procul Harum (among others) were snubbed. This is a safe space to share your feelings; go ahead, let it all out.