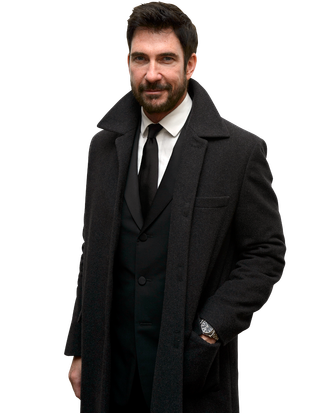 Even though in the past year he's been hilarious in the Will Ferrell–Zach Galifianakis comedy The Campaign and as Charlie's well-meaning dad in The Perks of Being a Wallflower, Dylan McDermott isn't sure anything can top all that weeping and masturbating he did as doomed philanderer Ben Harmon on the first season of American Horror Story. Still, he's hoping his turn as Bloody Face Jr., the fumbling heir to Zachary Quinto's skin-wearing serial killer, might produce something as, um, enduring. McDermott spoke with Vulture about returning to Ryan Murphy's crazy show last night and what's next (crack!). We in turn sympathized with his having to put up with life-long nemesis Dermot Mulroney.
Dermot Mulroney showed up for the Dylan McDermott or Dermot Mulroney sketch on SNL last weekend. Did you know that was happening?
Yeah, they asked me to come but I was working on American Horror. I didn't have a chance to go, but I can only imagine what they had in store for both of us on stage. Who knows what would have happened? [laughs]
It was weirdly dated. Here's a joke right out of 1991!
Yeah, I've only heard it a thousand times.
Right.
Yeah, why now? It was [a joke] on 2 Broke Girls as well. I'm not sure what's in the ether. You know, sometimes it takes ten or twenty years. I don't know.
Do you know Dermot?
I've met him a few times. Seems like a very nice guy. It's a long-running gag that continues to go on. What are you gonna do?
The crying masturbation scene from the first season of American Horror …
They call it cry-bating, actually.
Sorry. Cry-bating.
Yes, people like to bring that up, too. Dermot Mulroney, cry-bating, there must be another one in there somewhere.
They are your legacies.
Legacies, yes. The haunting legacies of Dylan McDermott.
Do you remember your first reaction to that scene, which you had to do in the nude?
Excited. [laughs] I mean, I always think when you're an actor you have to be the guy running into the burning building rather than running out of it if you want to make some noise as an actor. I was excited by the fact that it was different. I was a big fan of Ryan's. It didn't scare me, to answer your question.
Even on the day itself?
I was okay with it. If I'm in character and I'm trying to present what's on the page, and I'm in it, it's okay. If it's me, it would probably be a different story, but when I was Ben Harmon that's Ben Harmon's world. Was it comfortable? Not really. The whole crew was there. And I was weeping. That wasn't easy.
Evan Peters told us you had a gym on set because of those nude scenes, and that he wished he had asked for the same.
[laughs] I saw that. He should have just asked. I'm sure they would have done it for him. Or he should have called me. I would have arranged it for him.
Did you always know you were coming back for season two?
Ryan and I had talked over the summer and he said he was planning something. I wanted to come back. Then the day the show premiered he called me and talked to me about this Bloody Face thing and I was like, "Oh my God, that sounds amazing." The idea of having a father who's a serial killer who rapes my mother who's in an insane asylum and she wants to get rid of me with a coat hanger … I mean I was just like, "What? You gotta be kidding me. I love this. I'm in." [laughs] And you know why? Most actors are starving. Most of us are walking around with a flashlight and tweezers looking for evidence. When you have someone that actually writes an acting role, it's rare.
Have you filmed anything that tops cry-bating so far?
Hard to top that. What do you do? What the hell do you do that people would talk about? I don't know if I'm going to reach that level, but there definitely is a lot of insanity that is about to ensue in the next few weeks.
Given the coat hanger, it's seems safe to assume you'll have mommy issues just like Bloody Face Sr.
It's safe to say that. Johnny never knew Bloody Face as his father. I studied Zach's mannerisms and inflections and gesticulations, but he was never Johnny's dad. I have more issues with Lana than him.
What she did with that hanger was rough.
Yeah, I was watching with a group of people and a couple left the room, actually. We lost them early.
Was that Jenna Dewan's character in that very brief flash of you as modern-day Bloody Face ("Shut up! This is delicate work!")? It was hard to see.
It was her. She's a goner.
R.I.P. And are we going to see the woman (guest star Rebecca Metz) who walks into the dead therapist's office and finds you?
There was a scene we shot together, and I'm not sure what happened to it. Maybe it will show up in a later episode, but we did shoot a scene with her on the table and me doing my dirty work. I'm not sure where that goes.
The next episode doesn't premiere until next year. What else can you say about Bloody Face Jr.?
We're going to get a peek into his psychological history and his pathology, who he is and why he does what he does. At some point, I will be in a scene with Zach and a scene with Sarah.
Well, of course. Everything is possible on this show.
Anything. I get to smoke crack, too! Yeah, although it was Stevia. In an upcoming episode, Johnny hits the pipe. The problem with Johnny is that he's not as smart as his dad. He's really a blue-collar guy who was never loved. He was thrown away. He doesn't have the brains of his father and he knows it. That's why he goes, "Is it too late?" and the therapist says, "For what? To turn yourself in?" and he says, "No, to go to medical school!" [laughs] He wants so desperately to be his father, but he just doesn't measure up, and that really tortures him.