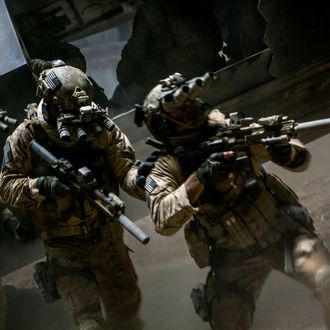 In the darkest hour of the night, elite Navy SEALs raid Osama Bin Laden's compound in Columbia Pictures' ultra realistic new thriller from director Kathryn Bigelow, about the greatest manhunt in history, ZERO DARK THIRTY.
Photo: Jonathan Olley
Though The Hobbit saw its box office receipts crash by 57 percent to $36.7 million, the Middle Earth epic remained the weekend's winner, well ahead of Tom Cruise's cop thriller Jack Reacher ($15.6 million) and Judd Apatow's This Is 40 comedy ($15.6 million.) New entry The Guilt Trip, the Barbra Streisand-Seth Rogen mother-son comedy, came in at sixth place with less than $6 million in ticket sales. Meanwhile, at the specialty box office, Kathryn Bigelow's critically aclaimed (and CIA-panned) Zero Dark Thirty earned $410,000, despite showing in just five theaters nationwide, while Michael Haneke's Amour (winner of the Cannes Palme d'Or) performed respectably with $70,000 across three theaters.