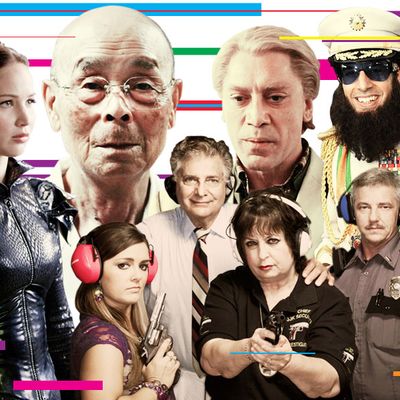 Photo: Clockwise from top left: Murray Close/Lionsgate; Magnolia Pictures; Columbia Pictures; Michael Buckner/Getty Images; AMC
We've told you plenty of our picks for the best 2012 had to offer — from movies to TV to music — but it's time to burrow in even further. For example, what was the best sweater featured in a piece of entertainment this year? How about the worst musical number on a TV show? What was the best thing Kanye West did in 2012, and what was the most ill-advised? In other words, it's time to break out the superlatives. Let us know if there are any we missed!
Blockbuster Where the Love Story Far Surpassed the Action: The Amazing Spider-Man
We've seen Spider-Man swinging around New York before, but we haven't watched Emma Stone and Andrew Garfield make cute faces over a whole branzino before. Stone and Garfield have serious chemistry, and it gave this movie the extra oomph its action scenes couldn't.
Blockbuster Where the Action Far Surpassed the Love Story: The Hunger Games
We love Jennifer Lawrence, but that doesn't mean we want to watch someone be in love with her for two hours. Move over, Josh Hutcherson, we're trying to watch Katniss act like a badass.

Best Dance Moves: "Losing You," Solange
This is probably best done in GIF form, but consider the half-moon Patty Cake, the high-heeled Charleston, and the Stop in the Name of Love (all to be found in the video below). The younger Knowles can move, too.
Most Surprisingly Touching TV Trope: Lovable weirdos in Georgia (Small Town Security, Here Comes Honey Boo Boo)
Honey Boo Boo and the gang could boast this year's breakthrough hit based around lower-class buffoonery in Georgia, but elsewhere in the Peach State (specifically, Ringgold), the nontraditional family at JJK Security made for an equally dysfunctional show that was touching, hilarious, and endlessly weird. ‪
Best Live Performance: Frank Ocean on Jimmy Fallon
Six days after Ocean confessed his love for a man in the album liner notes he made public on his website, he took to Late Night With Jimmy Fallon and doubled down by singing "Bad Religion," with all its telling pronouns. It was a shattering, soulful, hold-your-breath moment of magic.
Worst Live Performance: Lana Del Rey on Saturday Night Live
In the words of Saturday Night Live, "not ready for prime time."
Best TV Blockbuster That Could: The Big Bang Theory.
Maybe it's Chuck Lorre's karmic reward for enduring Charlie Sheen, or maybe the show has finally come into its own, but Bang has never been bigger: The nerd-com dominates Thursday in a way no other show has since Friends, and it's now threatening to end Modern Family's run as TV's biggest sitcom. Repeats on TBS, meanwhile, sometimes draw more eyeballs that original comedies on broadcast TV. All that, and it's helped boost the careers of two eighties child stars (Mayim Bialik and Wil Wheaton) without spilling even an ounce of tiger blood.
Worst Posture: Joaquin Phoenix, The Master
What do you get when you cross a chicken strut with the "broken pose" so beloved of fashion photographers? Something like Phoenix's scoliosis-inducing posture in this movie.
Best Bar Mitzvah: "HYFR," Drake
Drake is a man now, and we all got to celebrate the occasion with him. Thank you for sharing, Drake.
Most Outdated Reference: Edible underwear is sexy on The Newsroom
Edible underwear is not sexy. It was never sexy. Its only notable use is as a punchline … on sitcoms from the Golden Girls era.
Best Revenge Song Not Written by Taylor Swift: "Thinking of You," Ke$ha
This is Ke$ha's version of "Mean," except it's for an ex-boyfriend, and it involves the lyrics "suck my dick." That was not meant as a criticism.
Most Convoluted Scheme: (tie) Javier Bardem in Skyfall/Marion Cotillard in The Dark Knight Rises
They are our favorite Oscar-winning accented stars, and yet we could not make sense of what Bardem and Cotillard were plotting in their giant blockbuster sequels. If you're going to rely so heavily on main characters doing things no one could have predicted to put them in the exact position where you can enact an elaborate, escapable revenge … might we just suggest a quickly fired, point-blank gunshot next time? Much more effective!
Best Musical Number on a TV Show: Nashville
The Nashville pilot was packed with cowboy boots and potential, and the mournful duet of the Civil Wars' "If I Didn't Know Better" that closed out the episode really drove that home. Catchy, haunting, beautifully done, appropriate for the characters, reasonable backdrop for a montage — take note, everyone! This is how you do a musical number.
Worst Musical Number on a TV Show: The Bollywood number on Smash
Smash never quite nailed how to be about what it was actually about, and that was never more clear than in the misguided Bollywood number, all about the least-relevant character in the world, Dev. The Broadway musical numbers written for Smash were terrific — "History is Made at Night," "Let Me Be Your Star," even "The Higher You Get, The Farther the Fall" are all legitimately great.  But "A Thousand and One Nights" was pretty much a tornado of bad ideas.
Best AND Worst Musical Number on a TV show, All at Once, Somehow: "Let's Have a Kiki" on Glee
I mean! What is even going on here? The already-campy Scissor Sisters anthem gets the Glee treatment, which adds Sarah Jessica Parker, Shangela from RuPaul's Drag Race, Lea Michele chirping "hunty," a mashup with "Turkey Lurkey Time" from Promises, Promises … and it's horrifying. We watched it five times.
Most Shockingly British: (tie) Damian Lewis and David Harewood of Homeland
So you really got into Homeland, and you were cheering as Damian Lewis took the stage to accept his Emmy, and then your head nearly exploded when he opened his mouth to reveal that he's BRITISH I.R.L.! U.S. Marine Nicholas Brody drives on the right and calls his french fries "chips"? Blasphemy! Even more surprising, David Harewood (Estes) revealed that he, too, was British in a behind-the-scenes feature that began to play as the credits rolled. What's next: Mandy Patinkin revealing he's actually Korean?
Least Welcome Talk Show Guest: Sacha Baron Cohen
For his press tour supporting The Dictator, Cohen virtually never broke character, and the result was a panoply of awkward talk show appearances where hosts like Jon Stewart had to pretend they were interested in interviewing someone utterly fictional (and Cohen recycled several of the same punchlines throughout, adding to the lameness).
Movie Not to Watch While Hungry (Documentary): Jiro Dreams of Sushi
After this many close-ups of freshly made sushi from the world's top sushi chef, you're guaranteed to seek out raw fish (or plot a permanent move to Japan).
Movie Not to Watch While Hungry (Feature): The Hobbit: An Unexpected Journey
If you're hungry enough watching the dwarves completely destroy Bilbo's well-stocked pantry — so much food wasted! — just wait for the additional culinary moments to come over the next two and a half hours, including a vegetarian feast. Let's hope these characters can burn off those calories with all their walking quests.
Worst Waste of Reality Show Judge Talent: ABC's Duets
The Voice and The X Factor forced America to endure the rival ramblings of former Mouseketeers as they pretended to offer profound musical insights. Meanwhile, ABC's attempt at the singing competition gave us a quartet of current hitmakers (Kelly Clarkson, John Legend, Jennifer Nettles, and Robin Thicke) with actual insights and the ability to articulate them, so it's too bad Duets wasted this talent on mess of a show with confusing rules and zero stakes.
Most Enthusiastic: Japandroids, Celebration Rock
What's that? SORRY. YOU'LL HAVE TO TALK A LITTLE LOUDER. WE CAN'T HEAR YOU OVER THE FIREWORKS AND GUITARS AND YELLING ABOUT THE GOOD OLD DAYS.
Unluckiest: Taylor Kitsch‬
This Friday Night Lights alum came into 2012 with a trio of highly anticipated movies … and then both John Carter and Battleship bombed, while Savages did its lead actors no special favors.
Best Taylor Swift Controversy: The Kennedy wedding
Feel free to keep debating whether that new song is about Jake Gyllenhaal (spoiler alert: They are all about Jake Gyllenhaal); we far preferred the controversy that ensued when Taytay crashed that Kennedy family wedding that she didn't even RSVP for. It involved texts, Kathie Lee Gifford, and dragging! What more could you want?
Best Movie Monologue: Brad Pitt's final speech in Killing Them Softly
It bombed at the box office and its Oscar odds grow longer by the day, but writer-director Andrew Dominik gave Brad Pitt a powerful closing speech, with a gut-punch of a final couplet ("America is not a country, it's a business. Now fucking pay me") that's likely to be one of the highlights of every tribute reel when Pitt begins picking up his lifetime tribute awards about fifteen years from now.
Best American Horror Story Trend: Stillness
Listen, we love ourselves some crazy, cranked-up American Horror Story, and you kind of have to, since the Ryan Murphy anthology frequently pushes things the envelope as far as it will go. But after the second season began with frantically edited episodes that left no room for scares, later installments actually embraced an unnerving stillness never more than in the scene where Zachary Quinto's Dr. Thredson brings Sarah Paulson's Lana back to his house and offers her some mints from a skullcap. It's finally so quiet that you can hear your own accelerated heart rate.
Best Thing Kanye West Did: Remixing Rihanna's "Diamonds"
Kanye West quoting Fresh Prince of Bel-Air and touching on "Chocolate Rain"? Yes, that's exactly what that song needed.
Worst Thing Kanye West Did: Deleting his Twitter
Sure, Yeezy's since posted a few half-hearted tweets — mostly about Steve Jobs — but when he wiped his rollicking Twitter account back in October, he messed with history (and our hearts).
Best Film Savior: John Goodman in Flight and Argo
Whether you need a cocaine pick-me-up before your big court case or you're just looking for someone to answer the phone at your dummy film production company in order to fool the Iranian government, Goodman's your man.
TV's Best Use of Nudity: Hannah's parents on Girls
There's plenty of nudity on Girls, but none proved as shocking and ballsy (pun mostly unintended) as the R-rated flesh from Hannah's parents.
TV's Worst Use of Nudity: Jess on Homeland
Look, we all want to see Morena Baccarin naked, but we also want our television shows to not waste our time. Do we care about how Jess seduced Mike when there's a terrorist attack to deal with?
Best Sweater: Q, Skyfall
Which came first, Q's comfy-cozy sweater or his magazine-messy cascade of brown hair? Answer this correctly and we will snuggle with it.