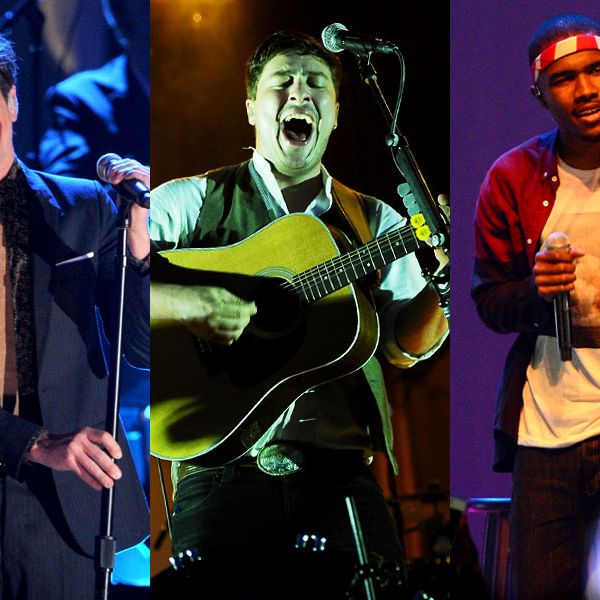 A few important things happened at last night's Grammy nominations concert: (1) Taylor Swift beatboxed (while LL Cool J sang a verse of "Mean") and (2) the actual nominees were announced. As always, the Grammys skew older, and the eligibility window (October 2011–September 30) continues to be a little puzzling (especially when Rihanna releases an album every damn year). But here are some quick thoughts on the list:
It is an especially bad year to be a teen at the Grammys.
The big news — according to Scooter Braun, at least — is that Justin Bieber was totally shut out, without even a pity "Best Pop Duo" Performance nod for "As Long As You Love Me." Believe, though a big seller, was not Bieber's strongest work, and it didn't launch a single to make his inclusion totally obligatory. But it is a little surprising that One Direction, who've managed two No. 1 albums in a year and are carrying the hopes of the music industry on their well-dressed backs, didn't even manage a Best New Artist nod.
Are we really going to call this Carly Rae situation a snub?
Look, no one rides harder for "Call Me Maybe" than the person writing this sentence, but two Grammy nominations for a random Canadian pop song feels like a win here. Best New Artist is a weird award, anyway (remember when definitely not-new artist Bon Iver won it last year?).

Speaking of Best New Artist, we have an upset theory.
Since both fun. and Frank Ocean are nominated for Album of the Year, one of them is probably your favorite for BNA. But! Alabama Shakes are a classic dark horse: They have a mainstream "who!?" quality that often appears in BNA winners (Esperanza Spalding), and their brand of updated soul music seems right within the Grammy sweet spot (Adele, Amy Winehouse, John Legend). There hasn't been a pop or R&B BNA winner without a major soul influence since Maroon 5 eight years ago.

And while we're doing wild, way-too-early predictions, do fun. and Mumford cancel each other out in Best Album?
Guitars: still very popular among Grammy voters! So much so that four out of the five Best Album nominees are somehow "rock" related, in a world where rock is the butt of most musical jokes. Do Jack Black White and Black Keys split the vote, though? What about fun. and Mumford (the radio-friendly "future" of rock, we guess is the thinking). What we're asking is, can we somehow engineer this math so Frank Ocean sweeps every category? Frank!
Your Most Amusing Category: Best Alternative Music Album
For a genre category, Best Alternative is all over the place: Tom Waits and Bjork; Gotye and M83; Fiona Apple, who ultimately makes classic singer-songwriter piano music. They should just call it "Best Music My Daughter Who Goes to Vassar and Reads That Pitchfork Site Listens To."
Your Cringiest Category: Best Urban Contemporary Album
Ooof to the embarrassing name, and oof to including you-know-who alongside the wonderful Frank Ocean and Miguel. 
It is a sad year for EGOTs.
The Best Spoken Word category is all politicians and newspeople — not that Rachel Maddow couldn't win a Tony and an Oscar, but we don't see it happening in the next four months.
No one get in Nicki Minaj's way today.
That is definitely a snub.