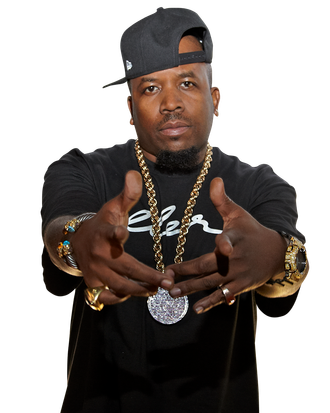 Big Boi.
Photo: Getty Images
Ask most Outkast fans and you'll hear the same story: The legendary Atlanta hip-hop duo, made up of Antwan "Big Boi" Patton and André "3000" Benjamin, has not released a proper album since 2000's Stankonia (2003's Speakerboxxx/The Love Below might as well be considered each of the rapper's solo debuts, and 2006's Idlewild, well, most would like to pretend that never happened). In the meantime, amid continued "will-Outkast-ever-record-together-again" chatter, Big Boi has successfully struck out on his own — first with 2010's brilliant Sir Lucious Left Foot: The Son of Chico Dusty, and now again with his latest LP, Vicious Lies and Dangerous Rumors. Vulture talked to him ahead of the December 11 release about Obama's pimp game and Brazilian waxes.
The album is titled Vicious Lies and Dangerous Rumors. What's the worst false rumor you've been the victim of?
The worst rumor? I guess the Outkast rumors — the whole breakup. Which is totally not true.
You said a few weeks back that you're done talking about that. But since you brought it up —
Yeah. I'm not gonna even answer those questions anymore. How many times can you say "Nah, that's not the case." It gets monotonous.
In many ways, if you count Speakerboxx, this album is your third solo effort. Is this the start of a long run of Big Boi solo material?
Oh, yeah. It's gonna be long-running. If they keep buying 'em, I'll keep supplying.
You have additional tracks laying around for a future release?
I just record. I always overrecord. To get it down to where you want it to be at, where everything starts sounding like one cohesive body of work, it takes time.
On the album's bonus track "She Said OK" [featuring Theophilus London], you rap "I like the pussy Brazilian waxed with the lips showin." Is it safe to say you're a proud endorser of estheticians everywhere?
Yeah, definitely! I like it, you know, smooth as can be.
It caught me a bit off guard to learn you were a diehard fan of Kate Bush. Any update on a Bush-Boi collaboration?
Yeah, we spoke on a phone a couple times. I sent her some records that she dug. But I was trying to meet a deadline for this one so hopefully on the next one, man, once I get over to London again, I can connect with her and kinda pick her brain and see what's goin' on.
Any other groups you're into that might surprise people?
I guess Mumford and Sons. That's like my favorite album this year so far. The Babel.
It's just called Babel. But it sounds better your way. You were also in the studio this year with Isaac Brock and Modest Mouse for some production work on their forthcoming new album.
Yeah. It turned out really good. I did a couple songs for them and I guess right now they're working on some logistical stuff. Hopefully they're gonna release those songs soon. But it turned out really dope though.
Was it a different experience working with a rock band?
Well, my band is a rock band. It's just dealing with different personalities and people with different tastes in music. It's a lot of fun, though. I've been producing for years. I guess people really just don't know that.
Have you checked out the new Kendrick Lamar album, good kid, mAAd city? It's quite reminiscent in its vibe to Aquemini.
I know. I bought it. But the only song I've heard so far is "Bitch Don't Kill My Vibe." The guys around the studio was playing it. And I thought it was the jam. The chorus sounds like a record they'd put on the radio. I can't really tell [if it's like Aquemini], you know what I'm saying? 'Cuz I'm so inside the music, inside of Stankonia [studio]. So I dunno. I guess it's up to the consumer to make those comparisons.
You've been retweeting Obama as of late. What do you think of Obama's pimp game?
[Laughs] He's the president. You gotta be on top of your pimp. All day.