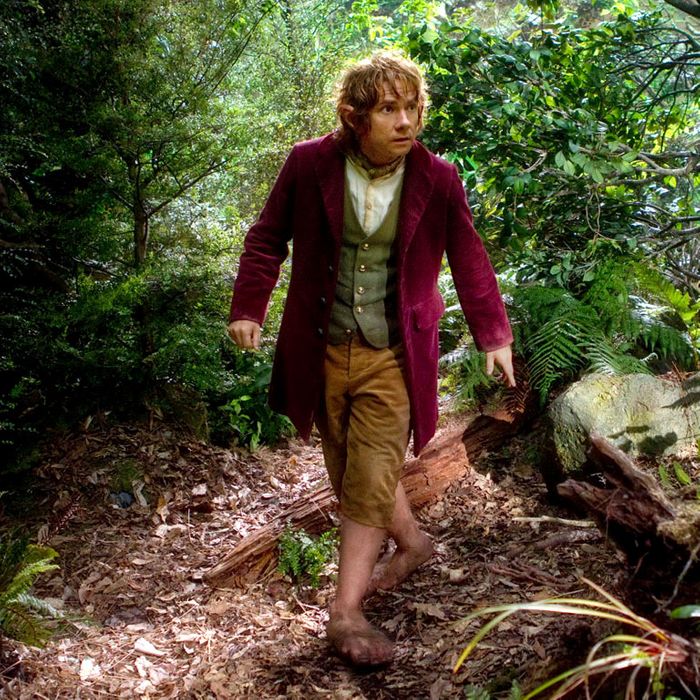 This Weekend's Winner: No surprise that The Hobbit: An Unexpected Journey (No. 1 with just shy of $85 million) ruled them all on its debut weekend. But what is a bit, well, unexpected, is that it didn't do even better.
This Weekend's Loser: It's not quite fair to call Life of Pi (No. 5 with $5.4 million, a decrease of a third of last week's audience) a loser — yet. But the hugely expensive Ang Lee film has grossed just $69.6 million here in the States, and may wind up a money loser for Fox unless international grosses end up picking up the slack. The next couple of weeks will be crucial, especially in China, where Pi has become the second U.S. film (behind the 3=D version of Titanic) to gross more in that nation than in America.
How It All Went Down: Lost in all the usual box-office hyperventilating about record-breaking grosses — Why, it's the biggest December Friday opening ever! etc., etc. — is the fact that there are only two numbers that truly matter: what The Hobbit cost to make, and what it ultimately will gross.
The true cost of The Hobbit may not ever be knowable, but two knowledgeable insiders surmise that it approaches $300 million just to make the movie. More, its financial prospects are certainly complicated by the fact that so many moguls will be just that much richer for having had their fingerprints on it at some point. Not just its actual filmmakers Jackson and Walsh, but former producers like its almost-director Guillermo del Toro, Saul Zaentz, Harvey Weinstein, and even the Tolkien estate must all have their palms crossed with silver first.
As a result, Vulture's go-to gaggle of experts is surprisingly divided on its long-term prospects. "This could still be one of those situations where, like King Kong, it grosses over $550 million worldwide and still loses money," cautioned one insider familiar with the costly fantasy project's path to production.
But one former studio marketing chief counters, "I'd take $85 million for one third of a film — even with $13 million of it on midnights [midnight showings]. It is going to play through the holidays, and nothing else is going to come close."
Still, it's worth pointing out that while $222 million in worldwide grosses is hardly dwarf potatoes, it is also a bit underwhelming compared with both what was expected for The Hobbit given the size and renown of the Lord of the Rings franchise: Its opening weekend ranks only 37th in terms of all-time opening weekends, and even fell short of 2003's The Return of the King, which grossed almost $91 million when adjusted for inflation. Indeed, just a month ago, the new James Bond film Skyfall opened in some 500 fewer theaters but still grossed $3 million more than The Hobbit.
Which raises the question, how come? One rival studio chief elucidated three compelling arguments against bigger box office for Bilbo. "One, backlash at 48 frames from the core audience right outta the gate," opined this chief, suggesting that there is such a thing as "too lifelike" for a fantasy-obsessed audience. "Two, poor reviews, and three, it looks like a remake not a new adventure. For example, if I weren't already a Hobbit fan, its marketing didn't tell me why I should be excited about this new adventure."
(To which we'll add that it's also worth noting The Hobbit carries an extravagant two-hour-and-50-minute run time, making squeezing in an extra showing hard to impossible for theaters.)
Meanwhile, back in reality, serious adult drama — long thought to be an endangered species on the verge of extinction — is doing tremendously well this holiday season: Spielberg's Lincoln (No. 3 with $7.2 million) and Affleck's Argo have both reached over $100 million in domestic grosses, and Zemeckis's Flight will likely do so before Christmas arrives.