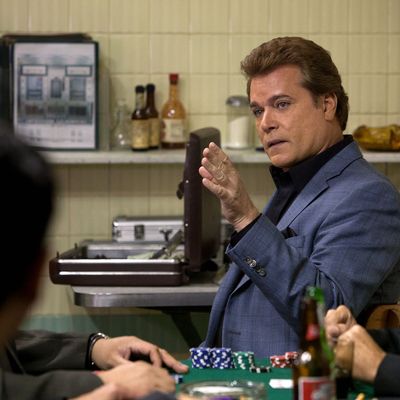 Photo: Melinda Sue Gordon/Cogan's Productions
This Weekend's Winners: With no new major studio releases, The Twilight Saga: Breaking Dawn Part 2 (No. 1 with $17.4 million), Skyfall (No. 2 with $17 million), and Lincoln (No. 3 with $13.5 million) all easily took a victory lap.
This Weekend's Losers: These Thanksgiving leftovers especially knocked the stuffing out of Brad Pitt thriller Killing Them Softly, a critical darling from The Assassination of Jesse James by the Coward Robert Ford director Andrew Dominik that audiences nevertheless found to be an unequivocal turkey: It got the rare 'F' CinemaScore, thanks to its cognitive dissonance — but more on that in a moment. 
Meanwhile, if new releases like Softly and slasher sequel The Collection failed to whet the appetites of most moviegoers, at least overall ardor for crowd-pleasers in their second or third weeks pushed the top dozen films overall box office to almost double what it was in the same weekend last year. 
How It All Went Down: Even though it's just taking a distribution fee (instead of having actual skin-in-the-game on the film), the Weinstein Company clearly wasn't hoping for one of Brad Pitt's worst openings ever when it gave a wide release to Killing Them Softly.
Weinstein distribution capo Erik Lomis defended both the picture ("a daring and bold film") and the decision to open it in over 2,400 theaters: "We thought it deserved a wide release," said Lomis, adding, "we are proud of the film and Andrew Dominik but obviously disappointed."
"This time of year, audiences need a movie they can connect with and one whose concept is understandable," opined one senior production executive at a rival studio, adding, "Neither of which was the case with Killing Them Softly."
In short, a film with such a darkly bleak worldview released around the holidays was always going to be a challenge, but the violently disagreeable reaction against the film by audiences that did go (only eight films in history have received such low marks) serves to underscore the perils of going against the grain of one's genre: Softly is a thriller somewhat light on thrills, one that's often talky, if macabrely funny, where one would expect there to be more straight-edged, hard-boiled action.
It's worth pointing out that Softly co-star, Scoot McNairy, suffered the same fate recently in 2010's Monsters, the excellently nuanced sci-fi/drama genre-bender by Gareth Edwards: Monsters looked like an alien invasion movie, but was actually a sweet little road movie about an unlikely and doomed romance between two deeply unhappy and flawed people — set in the midst of an alien invasion. As such, sci-fi purists left Monsters annoyed, while the cineaste sophisticates who probably would have loved it never showed.
So, as with Monsters, word of mouth will likely kill Softly quickly, but the backlash does raise an interesting warning flag for those of us who love movies: The next time someone tells you they hear word of mouth is terrible on a film, consider first asking the question, 'Whose mouth?'