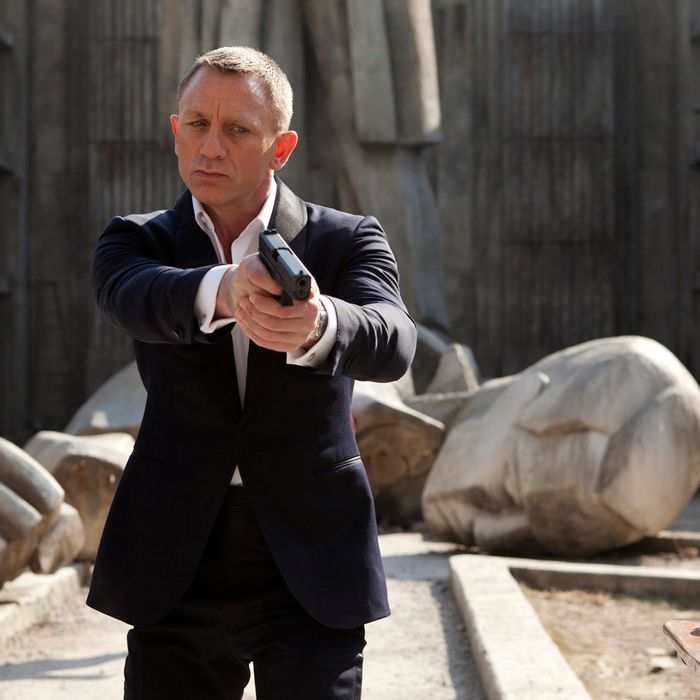 Daniel Craig in Skyfall
Photo: Francois Duhamel/United Artists Corporation, Columbia Pictures Industries
This Weekend's Winners: MGM's Skyfall (No. 1 with $11 million) vaulted from second to first place in its fifth week of release — only the second time that's happened to a film in this decade. Also, Lincoln (No. 4 with $9.1 million), which, like Skyfall, lost only a third of its audience.
This Weekend's Losers: FilmDistrict's romantic comedy Playing for Keeps neither played nor was kept, opening in sixth place to just $6 million. Meanwhile, Hyde Park on Hudson barely registered a vote: It took in just $83,300 at four theaters this weekend, an anemic per theater average that is certainly cause for a great depression at Focus Features.
How It All Went Down: Thanks in no small measure to Skyfall, Sony Pictures is having the biggest year the studio has ever had in North America. Why? Informed insiders' opinions vary.
"Because the script for this Bond is genius," explains one rival studio chief, "in that it brings in younger actors in key roles, but the ultimate message is that the old ways can still be the best ways. The end of the movie is like an episode of MacGyver on steroids. But it actually acknowledges that getting older is a reality and an annoying one at that, but that there is no substitute for experience. It's a message that makes older audiences swoon. So both ends of the audience spectrum are served."
(That they were: The movie is on track to very nearly double the domestic gross of the previous Bond film, Quantum of Solace.)
Or perhaps it's that American audiences have been so Judd Apatow–ed into perma-pubesence and man-childishness that they're starved for some bare-knuckled virility. "We lack for good masculine characters," says one former studio marketing chief, "so when a good version with one comes along, people respond to it."
It's also worth noting that Skyfall is not encumbered by a heritage of Ian Fleming's previously published Cold War novels, a fact that a second studio head noted worked substantially to its credit. "There's a modern psychological aspect to it that can attract more than average Bond fans," noted this chief, "You don't just 'watch' it, but you become involved in the psycho-dynamics of Bond and Javier [Bardem]'s relationship to Judy Dench."
What's more, it must be pointed out that Skyfall was greatly helped by the lack of serious competition at the box office — most notably in the form of the disastrously badly reviewed Playing for Keeps this weekend. "Quality always wins," said our former studio marketing chief, adding, "Especially when it is accessible and the competition is light." (And with Chasing Mavericks now only topping out at $5.8 million, Gerard Butler is proving the very definition of light competition.)
Along the same lines, Abraham Lincoln once famously said, "Whatever you are — be a good one."  It's proven true for his biopic, which is about as critically beloved as any film in release this holiday season. "Lincoln will cross $100 million this week," our first studio chief remarked incredulously, "Lincoln. A movie with everything you aren't supposed to put in a movie: Layered, dense dialogue, mutton chops, horses, dust, oil lamps."
But our second studio capo sees the success of both Skyfall and Lincoln as simply inevitable given their broad appeal. "It's the easiest choice for the whole family," says this honcho, "I think Lincoln's success is due to this fact (among others), too: After Bond, there's no better choice for a diverse group to see — or even a couple. Twilight is too 'girl,' Pi is elusive, exotic; Guardians is pure 'family.' And Silver Linings isn't wide enough."