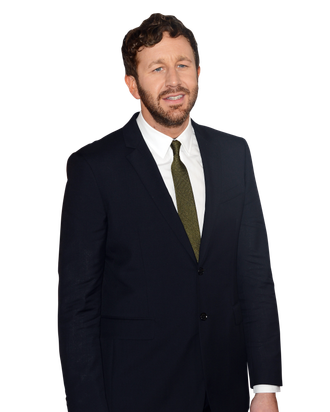 Chris O'Dowd.
Photo: Jason Merritt/Getty Images
Judd Apatow often likes to work with actors he's used before, and that's a habit that's never been more evident than in his new film, This Is 40: In addition to bringing back Paul Rudd and Leslie Mann from Knocked Up, Apatow rehires some actors who've recently gotten their big break from him, like Melissa McCarthy, Lena Dunham, and Irish actor Chris O'Dowd, who broke out as the male lead opposite Kristen Wiig in the Apatow-produced Bridesmaids. We recently rang up the charming O'Dowd to talk 40 with him, but we also touched on two big projects he has coming up with HBO: The second season of Dunham's Girls, and an improvised comedy series with Best in Show titan Christopher Guest.
Let's discuss your This Is 40 co-star Paul Rudd. Now, I don't know if it's somewhat different for you because you weren't born here, but ever since Clueless, Paul Rudd has been an ageless treasure that all men and women in this country would marry.
Um, not only in this country! [Laughs] He's an ageless, classic beauty, like the grandson of Humphrey Bogart or something. I guess we came to him a little bit later: Clueless was big, but I remember him for Friends and the early Judd stuff. He's just always so good. He's one of the few people who can play the straight man and the funniest guy in the scene equally well.
Your character spends most of the film's third act battling Jason Segel to woo Megan Fox.
There wasn't even any dialogue in the script for those scenes! I guess it came to Judd pretty late: "You know what would be funny? If you and Jason tried to pick up Megan." I think that was it, and then we just riffed on it. It happens really organically: "It would be really funny if you were both in the pool with her." Those circumstances are great when you're working with Jason, who just cracks me up anyway, and it was a good triumvirate. You want to impress someone like Megan in real life, as you do with her character.
Between you and Jason, was there a foregone conclusion of who was going to win her affections? Or did Judd just let you two cut loose and decide the victor?
It wasn't totally decided before! But as soon as we started improvising, and my character said he was the least socially capable person in the world, it was then a foregone conclusion that Jason would win. Jason's got game! I know that from firsthand experience, and it's something to behold.
Let's talk about the stars-and-stripes tank top you wear in the third act of the film. Is this the sort of item we might find in your closet?
That's the kind of thing you would find in any store in Silver Lake, so it felt very appropriate for him to be wearing: He's the foreigner coming in and accustoming himself to the ecclesiastical world of hipsterdom in Silver Lake. That was right in my wheelhouse. I mean, I've done karaoke at the Dresden, and everyone over there is just drowning in irony. It's like there's a hipster religion: They fear the same God as the hipsters in East London.
So did your appearance on Girls come out of working with Lena Dunham on This Is 40?
It did, the Girls thing came after this. It was right after we'd done some stuff together, and she asked me to come play on her show. It's always fun when things work out like that.
Were you surprised that your character ended up getting married in the season finale?
I was very surprised! She asked me to come in and do that one episode where I try to have a threesome with the girls, and it went well, so she asked me to come back, but I didn't realize it would be to marry one of them! I couldn't imagine. Only on a show like this, where that character is so unsuccessful in seduction, could he come back and marry one of the girls. I was as shocked as anybody.
It's a very revealing show … Do they have you doing anything out-there or embarrassing this season?
Not hugely, but I do have to pose semi-nude for a painting at some stage, wearing a hat at a jaunty angle.
You've also appeared nude in the miniseries The Crimson Petal and the White. Is that something that happens very often in your career, that you're asked to take your clothes off?
Not as often as I'd like. People are genuinely unimpressed by my flabby physique, so they don't want to turn people off the show.
It doesn't bother you that someone can easily google "Chris O'Dowd naked" and see all you have to offer?
They probably can, but why would anybody do that? I'm like a human car crash!
What's the status of this comedy series you're making with Christopher Guest for HBO?
We've shot half of it already, and we're going to shoot another four episodes in January. It's going pretty well! It's totally improvised: Essentially, you go into each scene with a paragraph of story, but there's no dialogue written down. It's very exciting, but it's hard, I'm not gonna lie. It's a tricky skill to improvise while also getting all that story across, but I'm enjoying it. I have to say, I'm really excited for January because we're bringing in some of the guys who've been in his troupe for so long. It's been all English people up till now, but Fred Willard, Ed Begley Jr., and Chris Guest himself come into the show in January, so I can't wait for that.
How have you enjoyed working with Harvey Weinstein on your upcoming film The Sapphires? Any good Harvey stories?
Um … [Laughs] You know what? I really like Harvey. The film industry, particularly in Britain, can be a bit dour, so I like his rampant enthusiasm for a project. He gave us this great pep talk in Cannes, and it was so exciting. It was like a scene out of Top Gun!