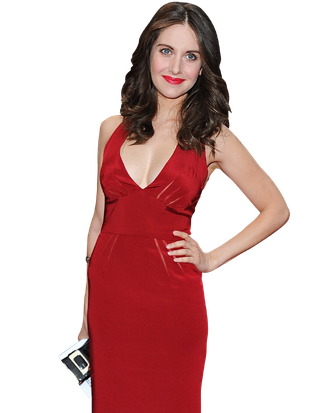 Allison Brie.
Photo: Getty Images
Alison Brie plays Lizzy Caplan's sister in Save the Date, an atypical rom-com in which one character plans her wedding (with Martin Starr) while the other rejects a marriage proposal and tries to figure out what she wants. For Brie, it was a chance to spend time with Caplan ("She has the ability to bust your balls, and be crazy supportive at the same time") and explore an even more haphazard way of shooting than she gets to do on Mad Men or Community, the fourth season of which she just wrapped. Brie chatted with Vulture about grabbing takes between red lights, animal co-stars, and why a relationship with Abed isn't in the cards.
Community's Annie and your Save the Date character Beth are both Type-A. They're both perfectionists.
That's a through-line in a lot of the characters I tend to play! I tend to play responsible and practical and perfectionist, even though I'm not. I think when Beth comes into the movie, she's already a Bridezilla, but there's that one scene at the beginning where they're just hanging out and smoking and drinking and having a fun time. That's when you get the one glimpse: See, Beth is cool! Normally, she's fine!
Did Save the Date feel like a Party Down/Mad Men reunion? Was Geoffrey's wife and your Mad Men co-star Christina Hendricks on set?
She wasn't really on set as much as she was all over the place with us. Did you hear about what our process shooting was like? It was very rogue, all over Los Angeles. I'm sure we had permits — I'm not trying to out anyone — but we would all be just driving around and catching takes in between traffic, so it was pretty nutty. Like that scene in front of the bridal shop, where I'm yelling at Lizzy and it's all emotional? We didn't have permits to stop traffic on Wilshire Boulevard, so we'd have to wait for the red lights and then we'd be like, "Go! Act now!" And we'd have to grab the scene before traffic started again.
You know who was stealing scenes? That cat, Ferdinand, who was omnipresent during all the sex scenes. I'm assuming you're a cat person from your Twitter photo with the cutest of kittens.
Between Ferdinand the cat and the dog that was with Lizzy during her pregnancy test, the animals steal this movie. Unfortunately, I didn't have a lot of scenes with Miss Kitty, who played Ferdinand, but she was incredible. The cat in that photo, by the way, is a guest actor on Community — spoiler alert! [Laughs] I didn't realize my level of cat-loving until we were shooting this scene where they brought in a box of seven tiny kittens, and I just went crazy. I was so giddy. I was crying with joy! They give us these little treats, and then they abuse us, and then they give us some more treats. I'm kidding about the abuse!
Still, it's got to be hard, sometimes not knowing when the show will be back on, like the false alarm you had about October 19, which became February 7. It's as if the network has commitment issues, to put it in the context of your movie.
You know, that October 19 video, about October 19 being whenever you want it to be? That was Gillian [Jacobs]' idea. At this point, we feel worse for the fans than we do for ourselves about the changing time slots — getting strung along like that, and then finding out it's another three months, or only thirteen episodes. It was harder last year, though. That was a dark time. Talk about the darkest timeline! And now that we've been through that, what else is new? NBC is in love with us, but they're not sure it's forever! [Laughs] They want to marry us, until they meet someone new, and then they're wooed by monkeys.
Although you do share the same monkey: Crystal was on both Animal Practice and Community. And now that Animal Practice is canceled, she has more time to be Annie's Boobs.
Don't worry, she'll be back on our show. She's going to be fine. Crystal is very popular. I'm a little jealous of her. Sometimes I'll sneak into her dressing room and cut holes in her clothes, but it's like the mean girls — even if their clothes had holes in them, it would become the new thing, and everyone would want to do it. [Laughs]
You share a trailer with Danny Pudi.
I do. It's helped us become super-close. We try to add this whole Annie-and-Abed backstory, but it's all unspoken; secret handshakes and stuff. It all just happens naturally, because when you talk to someone when you're peeing — our bathrooms are separated by a very thin wall — you get really close. Don't knock it until you try it.
Annie and Abed made out in season two. Do you think they could have a full-fledged romance?
I think of him as a brother! I don't know if I see them together romantically. I do sometimes feel sorry for Annie on the love front, because I do want her to have a love interest. But the thing is, no one knows what Abed's taste in girls is. We've had hints that he has a lot of confidence in that area, so I would be interested in seeing more romance with him. And actually, we do in this upcoming season. Abed gets a new love interest, who is more Abed-like. I can't say who.
You've said before that you wanted Community to spoof horror movies more.
And we do this year. Although our Halloween episode is very much like an episode of Scooby-Doo — it's pretty goofy. And of course it won't be airing anywhere near Halloween now, but we didn't find out the airdate until we were shooting, so we tried some lines in it like, "This will be great whenever you see it!" Our Christmas episode is going to air in April. It'll be great! I think it's a nice way for fans to celebrate Christmas all over again. Everybody loves the holidays, right?
It's not a national holiday the same way, but you have a big birthday coming up: the big 3-0 on December 29.
What do you mean my birthday's not a national holiday? I thought everyone was going to celebrate it this year? [Laughs] I'm actually going to keep it small this time. I'm planning a trip to Napa for some wine-tasting with some close friends. I thought I'd go more intimate for the big birthday, instead of going all crazy and running off to Vegas. That's not my style. I'm much more prone to sending a quick text: "Hey, are you free this day? It's my birthday, I hope you can make it! If not, that's cool. This is where I'm going to be. Love ya!"