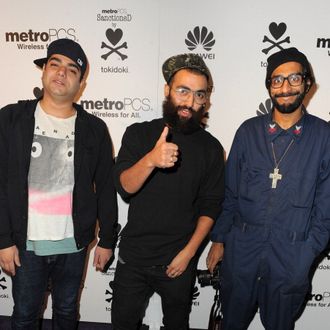 Heems, Kool A.D., Dapwell.
Well, that was a fun few years. Performing solo at a German festival originally slated to feature Das Racist, Himanshu Suri blew through the following announcement with a grin on his face: "You guys wanna know the secret? Alright, so I'm gonna do some Das Racist songs, but Das Racist is breaking up and we're not a band anymore." The other rapping half of the trio, Victor Vazquez a.k.a. Kool A.D. a.k.a. second Latin rapper to like the Beatles, tweeted, "for the record i quit das racist 2 months ago and was asked by our manager not to announce it yet. apparently @himanshu wanted to do it tho."
Vazquez assured concerned fans that, despite that one song's refrain designed for this moment — "we're not joking / just joking / we are joking / just joking / we're not joking" — it's not a joke. Hypeman/laugh-soloist Ashok Kondabolu a.k.a. Dapwell tells Spin the group had planned to break up last spring. "We had just signed this record deal and we were going to put out one proper album and then go on a farewell tour, release a proper breaking up statement that could have been really funny, maybe a weird, stupid video. Now, all of that has gone to shit." He says the split feels like "a huge opportunity squandered."
Heems and Kool A.D. each released two mixtapes in 2012, so it's probably reasonable to expect more music in some fashion.