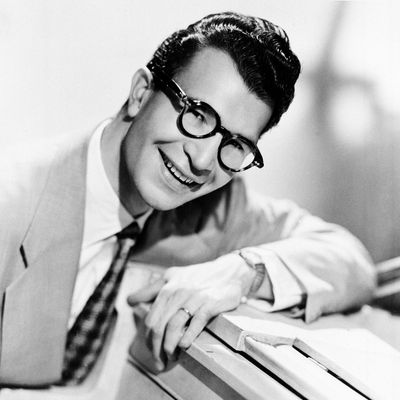 This 1956 file photo shows American composer, pianist and jazz musician Dave Brubeck. Brubeck, a pioneering jazz composer and pianist died Wednesday, Dec. 5, 2012 of heart failure, after being stricken while on his way to a cardiology appointment with his son. He would have turned 92 on Thursday.
Photo: Corbis
The jazz pianist Dave Brubeck died this morning, a day short of his 92nd birthday — one of the last living titans from jazz's greatest era. Brubeck will be remembered for his decades of consistently excellent playing, but most of all, he'll be remembered for one album: Time Out.
Brubeck's Time Out was the most popular jazz album of 1959, no small feat considering that 1959 is usually considered recorded jazz's greatest year — it produced Miles Davis's Kind of Blue, Ornette Coleman's Shape of Jazz to Come, John Coltrane's Giant Steps, and Charles Mingus's Mingus Ah Um. Looking back, it's hard to fathom Time Out's popularity. It wasn't just that a jazz album reached number No. 2 on the Billboard pop charts decades after jazz was popular music, but that the album that did it made almost clinical sport out of turning uncommon time signatures into comfortable, elegant melodies. The album's biggest single, "Take 5" — which reached No. 25 on the Billboard Hot 100 — was a music-school-worthy exercise in 5/4 and somehow also an infectiously hummable tune.
Time Out was perched on the precipice of two very different approaches to jazz. The music sprouted from the technical wizardry of bop and post-bop — which elevated the music to high art, while also reducing its audience — but it used that complex musical DNA to create an album that can sometimes sound like elevated cocktail music. Time Out's popularity — like that of Ahmad Jamal's surprise crossover hit Live at the Pershing, a year before — was a kind of aural slight of hand. Brubeck and Jamal were playing sophisticated modern jazz, but convinced most listeners it was middlebrow background music, the kind of thing future generations would buy at Starbucks. It's not for nothing that Brubeck was the second jazz musician on the cover of Time magazine. Louis Armstrong had been the first and had managed a similar feat of uniting innovation and entertainment.
Musicians, though, saw through all the trappings. They knew that Brubeck was hip. And as Brubeck's pop stardom of 1959 faded, he settled into the role of elder statesman and genuinely excellent pianist, touring as a nonagenarian and selling out concert halls.