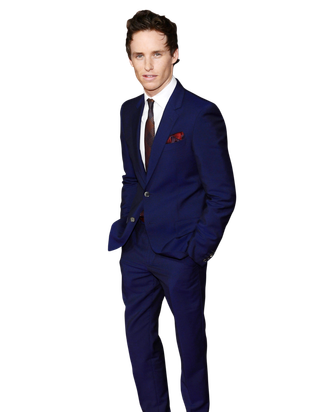 Eddie Redmayne.
Photo: Larry Busacca/Getty Images
There's plenty of buzz about surefire Oscar nominees Anne Hathaway and Hugh Jackman in Tom Hooper's big-screen rendition of Les Misérables, but there's another performance in the film that has really got Hollywood excited: Eddie Redmayne as the young romantic hero Marius, who's caught up in a love triangle with Cosette (Amanda Seyfried) and Eponine (Samantha Barks). The sweetly sung role, with its centerpiece performance of "Empty Chairs and Empty Tables," has casting directors taking a new look at the 30-year-old Brit; it's no wonder that since Les Miz started screening, Redmayne has begun turning up on actor shortlists for big blockbusters like the Spider-Man sequel. Last month in Los Angeles, Redmayne sat down with Vulture to discuss how he had to transform himself for the role, even if there was one coveted part in the musical that no amount of transformation could win him.
People are always surprised to hear their own speaking voice, but what is it like for you when you hear your singing voice on a huge screen in a big theater?
It's really odd! I mean, I'll be honest with you, I sort of worked hard on this. When I got the job, I was given this amazing singing teacher who was really hard-core, and it was like working out for a film to change your body type. I had to literally change all this muscle stuff, and I had never done anything like it. You would exercise your tongue — hold it and go "ee-ee-ee-ee," like that — so that your tongue muscle becomes stronger in the back, and reforms the shape of your mouth.

So your singing teacher was like a drill sergeant, basically?
Yeah, it was full-on. They didn't like that I talked back here [in my throat], they wanted it to be more youthful and out front. So the answer was it's very odd to hear your voice, but my singing teacher sort of made it a part of the process. It's kind of the same with dialect coaching, that when you do dialect work, the dialect coach can be going like, "No, it's that vowel sound." You go, "That's what I'm doing!" They go, "No, it's not." And then you hear it recorded back and you go, "Oh, no, you're absolutely right." What you hear inside versus what you hear outside is really very different.
Are you aware of all the obsessed Les Miz fans who've dug up recordings of you singing in college?
Actually, my niece sent me a YouTube video of me singing in the choir, and I was like, "I hate the Internet!" I thought I managed to hide that from my past, but, nope, there it is.
So I take it that you didn't even bother to go online to find out what people were saying about you when you got cast?
When I got cast, no. Les Miz fans … they're like Twilight fans in [their passion], but I'm one of them! Everyone involved with this movie had gone through a similarly rigorous audition process, and everyone has a similar story about their 9-year-old self going to see it. It felt like a passion project, but on an epic scale. The only thing that I can say with regards to whether the fans enjoy the movie or not, is that everyone went in with that same fandom-like expectations. So I understand that rigor of people questioning it.
Tell me how you came to the role.
I was making a film in North Carolina with Chloë Moretz, and I had heard they were making a film of Les Misérables. I had been to see the show when I was 7, and I had wanted to be Gavroche, the child — I thought that he was a hero! I generally haven't hunted stuff down in my career, but I just sat in my trailer in this field in the middle of the night, and on my iPhone I put down an a capella version of "Empty Chairs at Empty Tables" to send to my agents to go, "I want to see if we can pursue this, it's probably impossible," but also to show them that I enjoyed singing. And my agent here in L.A. e-mailed back going, "I just sent it to the head of Working Title." So that's where it sort of started, and then I did an audition with Tom, who I'd worked with before, who's a friend, and the casting director, Nina Gold, and then a few more. And then it became this … well how can I can describe it? It was like X Factor or American Idol. It was this last audition for Tom and Nina, and then sat behind a panel were Cameron Mackintosh, Eric Fellner, and Tim Bevan of Working Title, the composer Claude-Michel Schonberg, the lyricist Alain Boubil. I now have so much respect for people who do what they do on those talent shows, because they're doing what I had to do in that audition, but being shown to 8 million people at the same time.
Most of the actors in the film are consigned to their own subplots, but you have a scene with almost everyone. Who were you most surprised by?
The person who did one of the most astounding jobs is Amanda in a part that, on stage, is so thinly sketched. Often, I think you go, "Wait Marius, choose Eponine! She's sexy, she's sort of mysterious. What are you thinking?" And yet, Amanda brings this lightness to Cosette, this sort of wonderful fresh quality, whilst also having steel to her.
There is a long sequence in this film where … well, let's not mince words. You're essentially covered in shit, and Hugh Jackman carries you around for ten minutes in the sewers. Did you let your stand-in do most of that sequence?
Unfortunately not. I was told it was made of clay. My makeup artist was like, "It's probably really good for your skin." I'm like, "I don't care! As far as I'm concerned, I'm swimming in a ton of shit." [Laughs]
What was the hardest day for you?
It probably was "Empty Chairs," just because, as I'm sure Sam and Annie and Hugh would say, it comes with the weight of expectation. If you loved this musical when you were a kid and you've listened to the records, you know that between the beginning of this shoot day and the end of this shoot day, it's going to be set, and there's nothing that you can do about it after that. The stakes just felt incredibly high. But at the same time, Tom was so sensitive to that, and it was closed-set, it was small, it was intimate. And we just kept running takes. Take after take after take, we'd finish one and jump straight into the next one.
Did you have a moment where you were like, "I think I just nailed that take, that one's going to be the one?"
No, I never have that, unfortunately! After seven takes, Tom was like, "I think we got it." And I was like, "No Tom, we have to keep going! We have to!" When I watch a film, I'm never happy with what I've done, and I knew with this one that I had to bleed for it, so that when I came back and wasn't happy with my performance, I knew I'd given it my best shot. And what's interesting is that Tom told me yesterday that he used the last take. So it was the 23rd take or something, that was it.
Admit it: Were you still a little bit jealous of the kid that got to play Gavroche?
[Laughs] I love it! I genuinely, genuinely adore him. Daniel Huttlestone, for me he almost steals the movie.