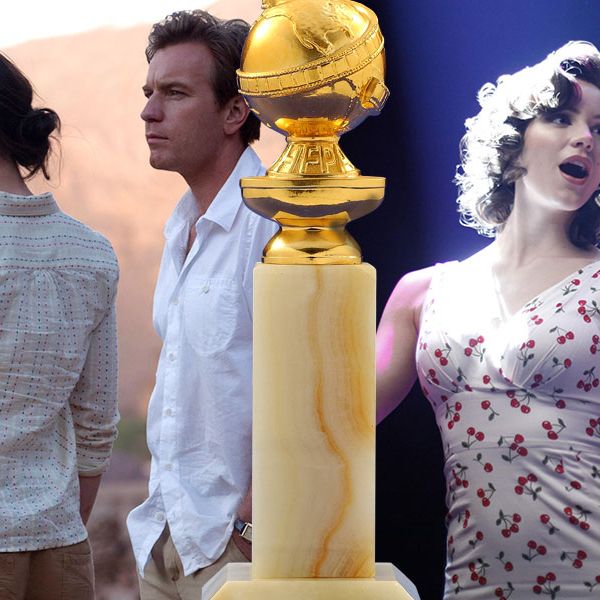 Photo: CBS Films, NBC, Getty Images
NBC likes to tout the Golden Globes as a wild party where anything can happen, and fittingly, the nominations follow suit: Even jaded award watchers have a hard time predicting what the Hollywood Foreign Press will select, simply because the voting body is so oddball. This year, the HFPA continued to deliver in spades by packing most categories so full of good stuff (like awards-approved Lincoln, Breaking Bad, Zero Dark Thirty, Girls) that the head-scratching, out-of-left-field picks stood out all the more. Which nominations had us buzzing, and which likely contenders were shut out? Read on for our analysis.
Best Picture, Drama:
Argo
Django Unchained
Life of Pi
Lincoln
Zero Dark Thirty
Snubs: Beasts of the Southern Wild, The Master, The Impossible, and Flight were all left out in the cold.
Surprises: It's a little odd to see Django Unchained in the Drama category, if only because it's got way more outrageous laughs than anything that made the cut for Comedy.

Best Picture, Musical or Comedy:
The Best Exotic Marigold Hotel
Les Misérables
Moonrise Kindgom
Salmon Fishing in the Yemen
Silver Linings Playbook
Snubs: None, really, since the Musical/Comedy category is usually so thin that it ensures surprise picks like …
Surprises: Salmon Fishing in the Yemen! Well, all right. This long-gone, gentle dramedy from the beginning of the year must have put on a hell of a HFPA event.
Best Director:
Ben Affleck, Argo
Kathryn Bigelow, Zero Dark Thirty
Ang Lee, Life of Pi
Steven Spielberg, Lincoln
Quentin Tarantino, Django Unchained
Snubs: Both Tom Hooper (Les Misérables) and David O. Russell (Silver Linings Playbook) were shut out, though Oscar will likely be kinder.
Surprises: The biggest surprise was that the HFPA had two strong contenders from the Comedy/Musical category, yet still ignored them and selected the same nominees picked for Best Drama.
Best Actor, Musical or Comedy:
Jack Black, Bernie
Bradley Cooper, Silver Linings Playbook
Hugh Jackman, Les Miserables
Ewan McGregor, Salmon Fishing in the Yemen
Bill Murray, Hyde Park on Hudson
Snubs: Very few, though if Meryl Streep earned a nod for Hope Springs, we suppose Tommy Lee Jones could have shown up here as her counterpart.
Surprises: Salmon. Fishing. In. The Yemen. Sure!
Best Actress, Musical or Comedy:
Emily Blunt, Salmon Fishing in the Yemen
Judi Dench, The Best Exotic Marigold Hotel
Jennifer Lawrence, Silver Linings Playbook
Maggie Smith, Quartet
Meryl Streep, Hope Springs
Snubs: The Guilt Trip's Barbra Streisand and This is 40's Leslie Mann found no traction here, in a category nominated by classy Brits.
Surprises: Let's just say that if Emily Blunt claims she slept through the announcement of the nominations this morning … well, we'll believe her just this once.
Best Actress, Drama:
Jessica Chastain, Zero Dark Thirty
Marion Cotillard, Rust and Bone
Helen Mirren, Hitchcock
Naomi Watts, The Impossible
Rachel Weisz, The Deep Blue Sea
Snubs: The SAG nominations shut out Beasts of the Southern Wild favorite Quvenzhane Wallis and Amour's Emmanuelle Riva, and now the Globes have followed suit.
Surprises: Is Rachel Weisz beginning to get some awards traction for the little-seen The Deep Blue Sea? Certainly, her buzz (hastened by end-of-the-year critics' awards) is building at the exact right time.
Best Actor, Drama:
Daniel Day-Lewis, Lincoln
Richard Gere, Arbitrage
John Hawkes, The Sessions
Joaquin Phoenix, The Master
Denzel Washington, Flight
Snubs: The Django Unchained train left lead Jamie Foxx back at the station. And though Helen Mirren scored a nod for Hitchcock, Anthony Hopkins didn't rate.
Surprises: Good to see Richard Gere in the mix for a career-best performance that's likely to get creamed by the Oscars.
Best Supporting Actress: 
Amy Adams, The Master
Sally Field, Lincoln
Anne Hathaway, Les Miserables
Helen Hunt, The Sessions
Nicole Kidman, The Paperboy
Snubs: When you consider the Globes love for Best Exotic Marigold Hotel, it's a surprise that Maggie Smith couldn't make the cut here.
Surprises: Another day of high-profile award nominations, another nod for Nicole Kidman in The Paperboy! If anyone's gonna pee on him be this category's dark horse, it's gonna be her!
Best Supporting Actor:
Alan Arkin, Argo
Leonardo DiCaprio, Django Unchained
Philip Seymour Hoffman, The Master
Tommy Lee Jones, Lincoln
Christoph Waltz, Django Unchained
Snubs: Probable Oscar nominee Robert De Niro was shut out, but this year, the Globes clearly favored drama over his comedy Silver Linings Playbook. Alas, Matthew McConaughey's Magic Mike work went ignored, too.
Surprises: Django Unchained has three very strong supporting performances, but after the SAG shutout yesterday, it's a surprise to see two of them make the cut here. (Sorry, Samuel L. Jackson.)
TV Drama:
Breaking Bad
Boardwalk Empire
Downton Abbey
Homeland
The Newsroom
Snubs: Mad Men, obviously. Game of Thrones was nominated last year, and could easily have made the cut this year, too.
Surprises: The Newsroom. Seriously? Over Mad Men?
TV Comedy or Musical:
The Big Bang Theory
Episodes
Girls
Modern Family
Smash
Snubs: Everything. Community, Louie, 30 Rock, Parks and Recreation, New Girl, Portlandia, and Veep especially. (Suburgatory was a long shot, but let hope never die.)
Surprises: SMASH. Again: Smash. Smash! Are we watching the same show? The Golden Globes like loopy, but this is really pushing it.
Best Actress, TV Drama:
Connie Britton, Nashville
Glenn Close, Damages
Claire Danes, Homeland
Michelle Dockery, Downton Abbey
Juliana Margulies, The Good Wife

Snubs: Christina Hendricks and Elisabeth Moss. Moss was nominated last year in this category, and Hendricks was nominated in supporting, but they both should have been nominated this year.
Surprises: Glenn Close. Tens of people watched the final season of Damages.
Best Actor, TV Drama:
Steve Buscemi, Boardwalk Empire
Bryan Cranston, Breaking Bad
Jeff Daniels, The Newsroom
Jon Hamm, Mad Men
Damien Lewis, Homeland
Snubs: Eh, this is about right.
Surprises: Eh, this is about right. Except maybe for Jeff Daniels. Best Actor is not the same thing as Most Shouty.
Best Actress, Television Comedy or Musical:
Tina Fey, 30 Rock
Zooey Deschanel, New Girl
Lena Dunham, Girls
Julia Louis-Dreyfus, Veep
Amy Poehler, Parks and Recreation

Snubs: Martha Plimpton for Raising Hope.
Surprises: None. But both hosts are nominated, which could make for a fun segment.
Best Actor, Television Comedy or Musical:
Alec Baldwin, 30 Rock
Don Cheadle, House of Lies
Louis C.K., Louie
Matt LeBlanc, Episodes
Jim Parsons, The Big Bang Theory

Snubs: Johnny Galecki is at least as good as Jim Parsons on Big Bang Theory.
Surprises: People are still watching Episodes?
Best Supporting Actress, Television:
Hayden Panettiere, Nashville
Archie Panjabi, The Good Wife
Sarah Paulson, American Horror Story: Asylum
Maggie Smith, Downton Abbey
Sofia Vergara, Modern Family
Snubs: Oh man, the list goes on and on. The Globes combine drama, comedy, and miniseries or movie for the supporting category, which makes it even more prone to snubs. Anna Gunn on Breaking Bad and Jane Krakowski on 30 Rock are but the most glaring omissions.
Surprises: Hayden Panettiere is fine as Evil Taylor Swift, but not award-worthy fine.
Best Supporting Actor, Television:
Max Greenfield, New Girl
Ed Harris, Game Change
Danny Huston, Magic City
Mandy Patinkin, Homeland
Eric Stonestreet, Modern Family

Snubs: Again, the list goes on and on. No one from Mad Men? No Aaron Paul? Damon Wayans Jr? Peter Dinklage?
Surprises: Danny Huston. (Who?)