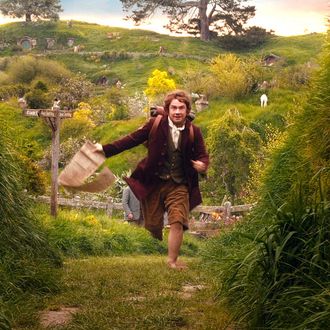 MARTIN FREEMAN as the Hobbit Bilbo Baggins in the fantasy adventure "THE HOBBIT: AN UNEXPECTED JOURNEY," a production of New Line Cinema and Metro-Goldwyn-Mayer Pictures (MGM), released by Warner Bros. Pictures and MGM.
Photo: Courtesy Warner Bros. Pictures/Warner Bros
Peter Jackson's The Hobbit: An Unexpected Journey may not have earned universal praise from the Vulture staff, but it is off to a roaring start at the box office, earning $85 million domestically (nearly half from IMAX theaters) and $223 million globally. That makes it the largest December opener ever. (It even beat out all three Lord of the Rings movies.) The holiday heroes from Rise of the Guardians took second place, followed by Steven Spielberg's Lincoln, which crossed the $100 million mark on Thursday. Skyfall pulled up in fourth with $7 million in ticket sales, but still trails Breaking Dawn — Part 2's $277 million total. Meanwhile, Ang Lee's Life of Pi was sandwiched between the two blockbusters in fifth place.