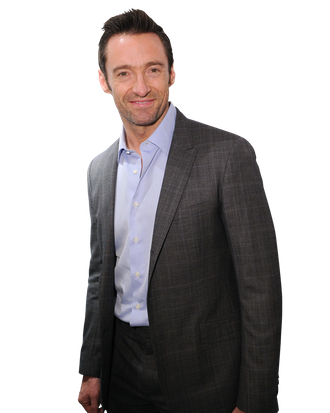 Hugh Jackman.
Photo: Craig Barritt/Getty Images
Hugh Jackman is best known as the action star of several X-Men movies, but his affinity for musical theater is so well-known — he won a Tony for The Boy From Oz and had his dichotomy of talents spoofed in a recurring Saturday Night Live sketch — that it's a surprise he'd never done a movie musical before Tom Hooper's splashy film version of Les Misérables. Still, holding out to play Jean Valjean was probably worth the wait, if the movie's big box office and Oscar buzz are anything to judge by. Vulture caught up with Jackman a few weeks ago in Los Angeles to get his take on how it all came together.
Tell me about the first time you saw the film.
I went to a private screening with about ten people and my wife. I remember I was holding my wife's hand, and she goes, 'Baby, my hand is really hurting.' I was gripping that hard! I kind of couldn't believe what I was seeing. I knew enough about movies to know what a risk it was, but as it was shooting, I was like, 'What is everyone thinking? This is kind of crazy.' So I was really happy and relieved to watch it.
Tom Hooper shot the film in a very distinctive manner: lots of close-ups, lots of long takes. Is that an approach he'd articulated to you beforehand?
I don't think it hit me what Tom was doing, but when I saw the movie, I thought it was incredibly theatrical. He's giving you the ticket you can't buy in the theater. I didn't know he was not going to cut in some of these moments, and I don't think he knew either, because he was always running three or four cameras so we could control the rhythm of the scene. There was always a close camera, but there would also be a moving dolly somewhere else.
I remember that when reports circulated that you were interested in playing Valjean, it was going to conflict with the Wolverine sequel you were supposed to shoot then. I'm surprised you were actually able to delay the X-Men movie to do it.
It's funny you mention it, because sometimes people will thank their agents in a perfunctory way, but this one wouldn't have happened without them. It just wouldn't have. You know how big the Wolverine train can be, so that took a lot of maneuvering. So I'm thrilled with the way it worked out. I had waited a long time to do a movie musical, so when this one came up, I was like, 'Oh, I hadn't even thought of that one!' I don't really know why, but I suppose it had just been around for so long that no one had ever talked about the possibility.
I had never thought of Valjean as a particularly physical role until I saw this film. It looked arduous.
Weirdly, this was almost more physical in a way than an X-Men movie! I was spending even longer in the gym — like three hours in the gym — because I needed to be as emaciated as possible, but still keep some muscle on for Jean Valjean. He's actually written as an ox of a man, so I had to eat seven times a day with no carbohydrates, but then you had the exercise. I'd wake up and do 45 minutes of card on an empty stomach, eat something, go to the gym, do a vocal warm-up, and then after lunch I'd go back to the gym again. Otherwise, I'd just become skin and bones.
Had you ever thought about playing Javert instead of Valjean?
Cameron asked me twice to do it! Both times I was not available, and when I rang him for the movie and said I wanted to go for Jean Valjean, he said, "Dude, you can't sing that." We had done Oklahoma together, and back then, I couldn't have sung that bit. I've been working about eight or nine years with a vocal coach, though, and although I thought I was a straight baritone, it turns out that I'm a high baritone and could expand my range by about an octave. So I said to Cameron, "I know you think that, but let me come in to audition. I want to show you what I can do now."
Speaking of musicals, I was checking out an online video from early in your career where you played Gaston in a stage production of Beauty and the Beast.
You did?! On YouTube, someone videoed it? Wow, that was 1995 or something. Holy mackerel!
What do you remember about that?
Actually, to audition for that, I sang "Stars" from Les Miz! I was just out of theater school, I had literally just graduated, and I was doing this TV series straight out of drama school. When my agent said, "You should go out for this musical," I kind of thought she was on drugs at the time! I said, "You know, I did the theater thing in school, not the musical theater thing." But I went on the audition and sang that song, "Stars," and the guy asked me, "Why would you sing that to audition for Beauty and the Beast?" I said, "Sorry, mate, I don't know what to do at these things, and it's the only song I have the music to." And he said, "Well, let us give you some advice: Throw that song away, because you'll never be singing that again." A little part of me, after I got cast in Les Miz, wanted to find that guy! Although I'm sure he would say, "Yeah, but you didn't get cast as Javert, did you?"