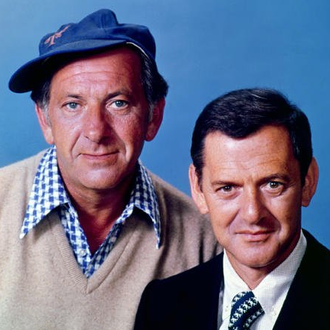 Jack Klugman, with Tony Randall, in The Odd Couple
If you are sitting down to Christmas dinner, raise a glass of eggnog to the memory of two of the most recognizable character actors of the 1970s and '80s who both passed on Monday: Jack Klugman and Charles Durning. (If not celebrating Christmas, a glass of anything will do, as respect must be paid.) Klugman, who passed away at his Northridge, CA home at the age of 90, famously played Oscar Madison, the slovenly, cigar-smoking half of TV's The Odd Couple, from 1970 to 1975. (He won two Emmys for the role. He won another in 1964 for a guest role on The Defenders.) He then went on to star for eight seasons in the procedural series Quincy, M.E. as the titular coroner, who studied corpses for murder clues.  In the late 1980s his voice was reduced to a rasp after a fight with throat cancer, but he still continued to act, reuniting with his good friend and  Odd Couple partner, Tony Randall, for a reunion TV-movie, The Odd Couple: Together Again, as well as on stage for revivals of Neil Simon's The Sunshine Boys and Simon's original stage version of The Odd Couple.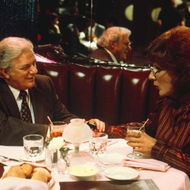 Charles Durning, an instantly recognizable rotund figure who worked constantly in TV, movies, and theater throughout the 70s, 80s and 90s, also died Monday in New York, of natural causes at the age of 89. He could play a sympathetic father (as in Tootsie, where he appeared as Jessica Lange's dad) or a comically stymied villain (To Be or Not to Be, or The Muppet Movie, where he played Doc Hopper), but — like other omnipresent character-actor peers Jack Warden and Dabney Coleman — he was always a sign that a supporting sidekick or villain role was in very good hands. He was nominated for two Oscars and nine Emmys, won a Tony for a 1990 revival of Cat on a Hot Tin Roof (where he played Big Daddy), and in 2008 was given a Lifetime Achievement Award by the Screen Actors Guild.