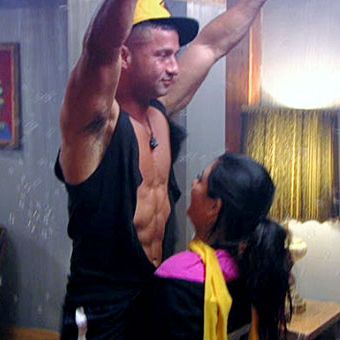 And then we came to the end, my little Joshua Ferrises. Well, almost. Tis the penultimate episode of Jersey Shore.
The self-described "sober, clear-headed, and extremely good looking" Mike ran into trouble when he humped a lady in front of kooky Paula, who had specially dressed like a sexy Duggar Halloween costume to catch his eye. Pauly "got it in" with a woman who really seemed to get him. Snooki and Deena, the Michael Phelps and Ryan Lochte of drunkenly pulling Ugg fur out of hair extensions, held a Meatball Olympics and Convention. Ron and Sam discussed cohabitation.
Then came the biggest record-scratch moment of the season. "I was a stripper through college," admitted Mike. I know: Mike went to fucking college?
Most Prepared for the Real World: Mike
I'm not even going to make that joke about how Ron is going to be flipping burgers someplace, because the only time huge reality stars do that is when they're making a paid appearance opening a Times Square club called "Johnny Rockets: Nights" for a minimum of five figures. But Mike used to be a stripper to pay his way through college. Massages were ten, lap dances were twenty. He may not be a ninja, but Mike is a triple threat: dancer, grinder, TV star. This kind of wide-ranging performance talent makes him the Zooey Deschanel of the pole.
Best Fake Villain: J-Woww
Last season it was Mike who the producers made the show bad guy, and now apparently the task falls to someone whose sobriety they can't conscionably threaten. I'm not sure how Jionni is supposed to be around all the time when he's just trying to juggle a thriving ATM business while dating a person contractually obligated to summer in New Jersey. He's only one man, Jennifer. Attention must be paid.
Least Valuable Player - Pauly
Paul used to be a reliable laugh, a veritable dancing mall fountain of stiff hair and T-shirt-ready catchphrases. Now when he sits on the couch, silent, occasionally spouting a half-hearted "OH YEAHHHHH," it seems less out of joy and more like an aged Kool-Aid man suffering from dementia.
Second Least Valuable Player: The Guy Who Sends Out the Dress Code Memo at Karma
Poor Paula! She did not know it was casual night. I'm sure she would have worn something tastefully low key, like Cate Blanchett at an afternoon luncheon to celebrate the achievements of female war correspondents.
Most Enthusiastic: Pauly's Girl
"I hate to bother you because you're because I know you're busy, but you're hot though," said Pauly, summoning all of his usual goth-teen-in-gym-class enthusiasm for the enterprise. This girl threw back her head and belly-laughed like she was at the Algonquin Round Table. "Oh, that was good," she chuckled from a place deep within. "That was fucking good." Proportionate. Proportionate response.
The Mark Twain Award for Humor: Deena
"I guess something's getting hammered upstairs," joked Dee. Lena Dunham is expecting your spec.
Least Likely to Get a Spinoff: The Faux Meatballs
Using Jenni's straightener, sassing Vinny … I don't think we'll be seeing more of meat substitutes Olivia, Scotland, or the Other One anytime soon.
Most Likely to Get a Spinoff: Vito Dorado
The last Sunday dinner would have been a sad affair without a visit from Mike's stripper alter-ego, who incidentally is named "Vito Dorado." I do not believe for a second that this name came from his first pet and the street he grew up on. In the Shore world, you pick your stripper name by your favorite Bam Margera relative and fish dish. (That's why mine is Phil Mahi Mahi.)
What did you guys think of Mike's twerking? How's the weather where you live? Everybody have fun plans for the weekend? I mean, it's Friday, so there's that. Have a great seventh night of Hanukkah and I'll see you all next week.