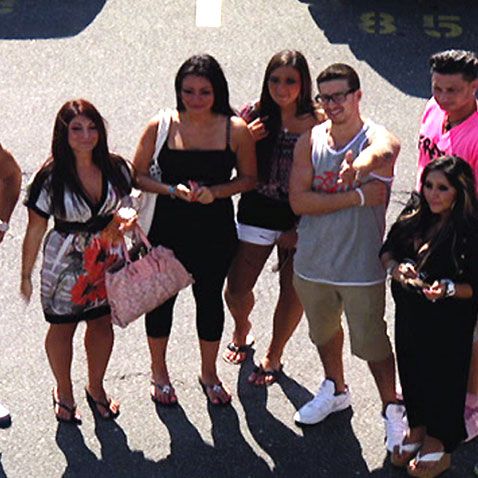 And just like that, it was over.
Everybody gathered for a good-bye bonfire on the beach, mostly so Vinny and Pauly could gather wood and use it to craft one last extended metaphor about having intercourse with one another. The gang worked their "last" day at the Shore Store.
The Prank War Champions got one last one in by deflating Sam's air mattress, and by proxy, Ron's spirit. Speaking of pranks, Mike and Pauly ate a cake that Paula had let somebody put his balls on. Some brilliant, beleaguered producer made the editorial decision to juxtapose the photo of the balls on the cake next to footage of Mike and Pauly eating the cake, which made for the best split screen moment of the show, or any show, perhaps ever.
The cast enjoyed a few last meals together, and spoke of the experience as if it was the body of a hitchhiker they'd struck with a car, then mutually agreed to bury in secrecy. And, just as quickly as it began, it ended.
On a serious note: Too many times, we treat our television finales with all the gravity and fanfare of a national tragedy. This one was incredibly tasteful, considering.
Alas, it's time to give out one last round of awards. But instead of giving out individual achievements, let's congratulate everyone on nicely growing into themselves, and being the best versions of themselves they can possibly be.
Vinny
Vinny has been so much to the house. Gentle prankster, mental health advocate, lesbian charmer. Hope you find peace in this life, Vin. And if you and Pauly ever do kiss, please take pictures.
Ron and Sam
They've had their ups and downs and their periods of maddening latency. But on the final episode, they treated us to one last Ron and Sam fight. Ultimately, he was pushing her away to pull her even closer, or something. Anyhow, they seem like they're one real mattress away from lasting happiness. Good luck, you crazy kids.
Deena
Proving once again that she's the most reasonable person in the house, Deena spent the finale being even-keeled, dispensing sage like advice, and gently ribbing her co-stars. She even took eating the ball cake in stride. You'll go far in this life, Dee. Godspeed.
Pauly
Sweet, simple Pauly found time for a few last mixed metaphors. (I defy anyone to not sigh when he uttered, "He's staring at Sam with the kiss of death.") Then he said some poignant things about how the cast mates will always be his family, even when his blowout is old and grey. Even the most mousse-hardened heart could not help but be a little moved.
Jenni
Jennifer got a giant bouquet from her giant boyfriend. "My life is perfect because of being here," she proclaims. Well, okay, then J-Woww, we are very happy for you. Enjoy your spinoff.
Nicole
Nicole seems to be well en route to domestic bliss. She and her son and fiancé's pee pee seem destined to be happy together for an extended period of time. Nicole thinks she's the same person she was when she first came to Seaside, "just more older." None of us could have put it eloquenter.
Mike
Looking good. Feeling good. Mike reiterated about a thousand times that he's in the best shape of his life and enjoying a sober birthday. He even took the testicle pastry incident somewhat in stride. Well, good for you, Mike. One day at a time. 
And then, after one last family breakfast, there you were, safe in your own bedroom. Perhaps you wondered if the whole adventure had been some kind of strange dream.
Clutching your doll, you looked in the mirror and saw them. Ronnie, Pauly, Sam, Deena, Vinny, and Nicole.
"I don't know why," you say slowly, "but every now and again my life, for no reason at all … I need you."
"Well why didn't you say so?" shouts Pauly.
You turn, and suddenly they're all there, with you, your bedroom transformed a sultry ultra lounge with white leather accents. The club music swells as you and your guido friends do shots, flash your genitalia, and "Jersey Turnpike" until the dawn. Everybody is DTF and there are no grenades. You gulp Ron Ron juice with abandon, knowing that later, there's an air mattress waiting for you. And, like your heart, it is filled to capacity.
Outside, Mike Sorrentino watches in the form of an owl and, inevitably, flies away.