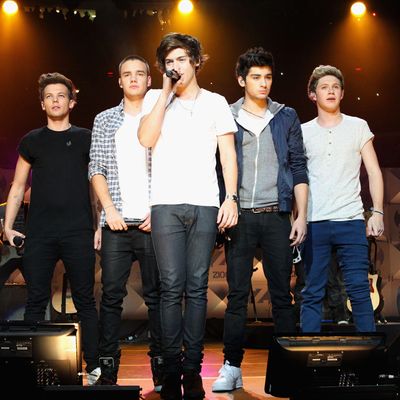 Photo: Kevin Kane/Getty Images
My first Jingle Ball — a holiday pop extravaganza hosted by the Top 40 station in most major radio markets — was actually a "Deck the Hall Ball" held in Atlanta in 1998. Barenaked Ladies headlined, and the Cardigans were trotted out to play that one song that every girl knew from the Romeo + Juliet soundtrack. (No regrets. "Lovefool" forever.) My second Jingle Ball was last Friday at Madison Square Garden, where the Holy Trinity of 2012 pop stars — One Direction, Taylor Swift, and Justin Bieber — played to a stadium full of highly vocal tristate-area teens and a few wannabe teens looking to recapture that first Jingle Ball magic. I, being very much a part of the second demographic, was lucky enough to find myself seated next to the real thing: A thoughtful 14-year-old girl, who came to Z100's Jingle Ball all by herself, asked me to make sure nothing bad happened to her and then proceeded to document the entire show with her iPhone, iPad, and super-intimidating long-lens camera. This was her second concert (she'd seen One Direction the previous Monday; Niall's her favorite), and she was kind enough to answer all my annoying questions about the experience. Here is what I learned from her.
We should take fun. more seriously.
Despite her One Direction allegiance, fun. was my new friend's favorite set of the night, and she was not alone — even the wandering lemonade guy joined in on the "We Are Young" sing-along. (He was conducting, too. I really liked him.) Fun. was obviously going to shine in this setting — those songs can fill an arena, unlike, say, One Direction's "One Thing," and they are a real band who can play instruments — but I underestimated the effect they could have on a teen who otherwise only listens to straight bubblegum. Fun.'s sound is "unique" and "classier" than most pop music, according to my neighbor, which was her endearing way of saying that she recognized something different and more accomplished in their songs. Fun. is a gateway band. We (I) should be kinder to them.

Whatever swaggy is, Justin Bieber still has it.
My neighbor was pretty iffy on Justin Bieber: She had two of his songs one her iPod ("Baby" and "Pray"), but had never really felt connected to him one way or the other. That changed after his performance. "It's different when you see him in person," she admitted. That is especially true when you take into account that Justin Bieber is basically stripping during his concerts now. He ripped off his tank top halfway through "Baby" and just ran around the stage in a pair of drop-crotch spandex. The audience lost its collective mind. Please know that I was uncomfortable.

Ed Sheeran is happening, and you can't stop it.
Allow me to describe what Ed Sheeran, a redheaded British singer-songwriter, chose to wear for his big moment at Madison Square Garden: an oversize short-sleeved black T-shirt over a long-sleeved lime green T-shirt, baggy jeans, and a Santa hat. Then he proceeded to play a tiny guitar and coo in falsetto for what felt like an hour. I was deeply concerned about the fact that a generation of women seemed ready to accept this slovenliness as crush-worthy, and turned to my wise neighbor, sure that she would agree. "I love Ed Sheeran. He wrote a song for One Direction, and he came out and sang it with them at their concert. He's really great." Oh.

French Montana has not broken through with the under-18 set.
B.O.B. played around twelve seconds of "Pop That" for some reason, and though certain adults who may or may not have been me were very excited about this dance break, our teen spirit guide — and, really, most of the teens in the section — did not seem to recognize the song. This is probably a good thing.

Neither has Cher Lloyd.
Blank stares from all generations on that one.

Lindsay Lohan has good taste.
My official date for the evening was a grown-up friend who spent the majority of the Wanted set haranguing me about how Max (the recent object of Lindsay Lohan's affections) is clearly ten times hotter than Siva. I want it on the record that Siva is attractive and Max was wearing a novelty T-shirt that read "You Mad Bro?" but I lost this fight. My teen source picked Max. I think I am too old to argue.