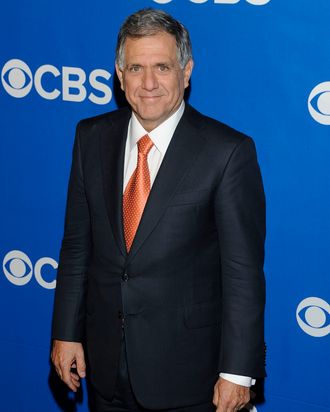 Les Moonves attends the CBS Upfront 2012 at The Tent at Lincoln Center on May 16, 2012 in New York City.
Photo: Eugene Gologursky/Getty Images
Can we send the CBS brass and everyone from Two and a Half Men to some kind of family therapy for a few sessions? CBS CEO Les Moonves weighed in on the Angus T. Jones flap today, which began when Jones went on a religious conspiracy theory web series and called Two and a Half Men "filth," which it plainly is. "I don't know what our status is with him," Moonves said at a Q&A today, according to Forbes. "We took this boy, who started with us when he was eight years old, and it seems to be what happens with child stars over the course of time. He is now making over $300,000 per week, which is not a bad salary for a 19 year old kid," Moonves said. "By the way, he's still collecting his $300,000 per week." (Moonves himself made $70 million last year, so he knows from bad salaries.) But the boss man has weathered worse. "After going through what we went through with Charlie Sheen, it's been a piece of cake," he said. Argh, all of you, go do a ropes course and trust falls and have a sharing circle and get back to a point of honesty and directness with each other. It doesn't have to be like this!