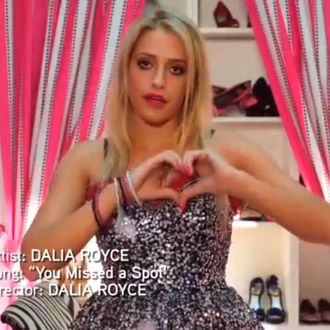 As we near the two-year anniversary of Rebecca Black's "Friday," attention must be paid to Suburgatory's loving if belated tribute to the addictive, soul-crushing meme, which debuted during last night's Christmas episode. Not only is "You Missed a Spot" a hell of a lot catchier than "Friday" "writer" Patrice Wilson's follow-up, "It's Thanksgiving" (and several million of you have watched that, for shame), it's a study on how to do such things correctly.
Dalia (the brilliantly deadpan Carly Chaikin) quite rightly won back the Royces' housemaid Carmen with lots of Auto-Tune and a recap of life without her (I washed my silk shirt. That hurt. The tag said to dry clean it, but without you I didn't read it). Series showrunner Emily Kapnek told Vulture the music video was 28 episodes in the making. She recalled the fateful day one of her bosses alerted her to Rebecca Black. "On March 18, 2011, I received an e-mail from [Warner Bros. executive vice-president Susan Rovner]. Subject line: OH MY GOD. It said, essentially, 'Holy shit, you have to see this rich girl singing this terrible song that her mom subsidized.'" Kapnek vowed to re-create its crazy genius and a year later it dawned on her that Dallas could be that mom! She wrote the song about Dalia's many laundry problems with series composer Jared Faber. "Stylistically, we tried to bring in a little touch of 'Gangnam Style' with a splash of Britney's 'Toxic,'" she said.
Made with so much heart heart heart-heart heart-heart.