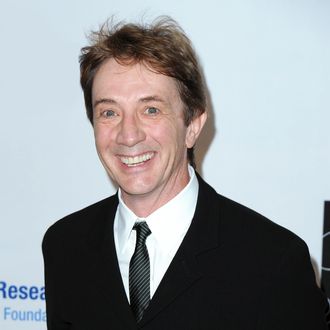 It's Sunday afternoon — your last chance to read all that stuff you meant to read last week before Monday brings a new deluge of things you will want to read. Below, some of our recommendations:
"The Cat's Meow" by David Kamp (Vanity Fair): Exploring the enduring greatness — and possibly genuine niceness — of Martin Short. 
"Twelve Gigs on a Boat" by Laura Barton (Intelligent Life): For the last year, a boat balanced on top of a building has been one of London's premier concert venues, because who wouldn't want to perform on a boat balanced on top of a building? 
"Inside the Greatest Writers Room You've Never Heard Of" by Nell Scovell (Splitsider): Recalling shortest-lived late-night network show of all time: The Wilton North Report. 
"A Soap Opera on the High Seas" by Charles Homans (New York Times Magazine): On the reality TV empire of Thom Beers, creator of Deadliest Catch,  Ice Road Truckers, Ax Men, Motorcycle Mania, Storage Wars, and some other shows featuring tough dudes. 
"When Bram Met Walt" by Meredith Hindley (Humanities): Get excited, English majors: Walt Whitman and Bram Stoker were pen-pals. 
For more in-depth weekend readings, visit our friends at Longreads.