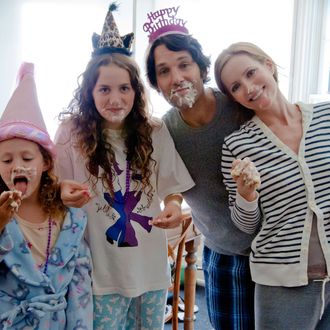 (L to R) Charlotte (IRIS APATOW), Sadie (MAUDE APATOW), Pete (PAUL RUDD) and Debbie (LESLIE MANN) in "This Is 40", an original comedy from writer/director/producer Judd Apatow. The film expands upon the story of Pete and Debbie from the blockbuster hit "Knocked Up" as we see first-hand how they are dealing with their current state of life.
Photo: Suzanne Hanover/Universal Studios
"It's called 'So What?', and it's a goof on a Disney-style pop song," proud father Judd Apatow tells Pitchfork. "I said to Maude [his 14-year-old daughter], "Write a song — I bet you can do it." She wrote this hilarious song which goes, "So what if I like boys? / So what! / So what if I like girls? / So what!" Apatow also tells Pitchfork that he loves Coldplay, and that the whole family is into the Fun. album. Remember what we learned about Fun., everyone.