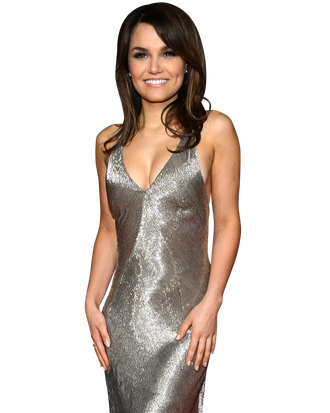 Samantha Barks.
Photo: Getty Images
Samantha Barks isn't afraid of much — her Les Misérables costar Eddie Redmayne says she's "one of the most fearless human beings alive" — but when I met up with her last month at a spacious room in Hollywood's storied Chateau Marmont, she was having a goosebumps moment. "It's spooky!" she said of the daunting hotel. I piled on, telling her about the celebrities who've died there, and the rumors of hauntings. "Oh gosh, oh wow. My God, stop," she said, giggling. It was her first time at the celeb-packed Chateau, but it surely won't be her last: Barks has the star-making role of Eponine in Tom Hooper's film version of Les Miz, and she gets to belt out "On My Own," a musical theater ballad so powerful that only "I Dreamed a Dream," from the same show, can trump it. She sat down with me to discuss her auspicious leap from the stage to the screen.
The first trailer for this movie was such an event. Do you remember when it came out?
The trailer was so exciting for us, because were actually still filming when the very first teaser trailer came out! This is such a different style of Les Miz with all the live vocals, and a style that no one's used to, and we didn't know how it was going to come over. So for us, we were all on set when we saw that teaser trailer, and it was a really nice, reassuring feeling that we were going to be a part of something special. Just as a Les Miz fan — and I've been one all my life — I had to sit back and go, "Wow." And then to be a part of it, that was an added layer of excitement!
How many times did you go in for the role?
Gosh! I was in and out over fifteen weeks. I'd go in, go back a week later, go back and sing with Eddie, go back and sing with Eddie and Amanda [Seyfried] … it was a quite public audition process, but since I'm an unknown actress, I wasn't involved in that media whirlwind of who was being seen for the role, which was lovely.
Did you keep tabs on all the articles revealing your big-name competition for the role? Taylor Swift, Lea Michele, Scarlett Johansson …
I tried not to read them. A lot of times, the media thought the role had been cast, but I knew I was auditioning for it tomorrow, you know? A lot of it's rumor, but if there is truth in it, then you don't want to know about it! All that matters is that you're in the room and you're doing the best you could do. With every role you go for, or every role you get, you're never going to be the only person considered for it. Ever! So I think ignorance is bliss.
There's a video of producer Cameron Mackintosh walking out during the curtain call for Oliver, where you were playing Nancy, to announce that you'd been cast as Eponine in the Les Miz movie. Had you found out only moments before?
That was the first time I heard! That's genuine! We were taking our bows, and Cameron walked onstage, and it's not unusual for him to come and make a speech or something. I didn't know he was coming, and when he started talking about the Les Miz film, nothing in my mind was twigging because this had been going on for weeks and I wasn't expecting any sort of decision, to be honest. And then he said, "Eponine," and still my mind wasn't going, because that was the last place you expected to hear casting news, but I do remember my heart thudding. And then they announced it, and that's pretty much the place where I don't remember anything afterwards. It's good for me to have that video as evidence that the moment actually existed.
What was it like to see the movie set where you'd be singing "On My Own"? You'd played this role before on stage, but I'd imagine the film was another thing entirely.
It's funny: When you're on stage, you make up a picture in your mind of what this world looks like, so I think I'm walking on a Parisian street singing "On My Own," but I'm actually, essentially in a black box. Your mind is having to do that work, but when you walk on to a film set, it's all there! I absolutely freaked out. It allowed me to be more intimate and to live in the moment as opposed to having to create it.
Were you curious to see which of your takes of "On My Own" would eventually make it into the movie?
We didn't know it was going to be a single take! That was never the exact plan, and I don't think it was something Tom set out to do. In the end, he was so happy with the single takes and he felt like they honored the performances of these epic, theatrical numbers. He didn't want to cut away from that emotion, and that was so exciting, because you never think you're going to have a moment like that in a film! You don't get those moments anymore, so it felt so thrilling to explore a full emotional arc to its maximum potential.
You got your start on a reality competition show called I'd Do Anything, where you and a bunch of other girls were auditioning, American Idol–style, to play Nancy in Oliver. I was reading about it on Wikipedia, and I'm kind of obsessed with the way the loser is dispatched at the end of each episode.
Oh yeah, they pull the locket off your neck! It's brutal. [Laughs] I was 17, little ol' me from the Isle of Man, grew up in this tiny, beautiful place, and I decided, "I'm going to go be an actress." So I moved into London on my own at 16, and kind of went for the show fearlessly, throwing myself at it. Had I not been so young, it would have been a lot more scary, and apparently I was supposed to be scared by it! But I had nothing to lose because I had no career at that stage. I was just like, "Wow! That's Andrew Lloyd Weber! We get to sing with Liza Minnelli? Aaaahh!"
Even though you did eventually play Nancy in Oliver, you came in third place on the show. Is there a tiny part of you that wants to go, "Third place, huh? Guess what, I'm in a movie now!"
You know, it was a competition, but there was no part of me that looked at the other girls and went, "Fall over!" You really wanted these girls to shine, and you wanted to shine yourself, and everyone's been so nice and supportive to each other since. I think to come in third at 17, and to get so many life experiences from it, I feel so lucky. And look how my career's gone since! I think it was meant to be.