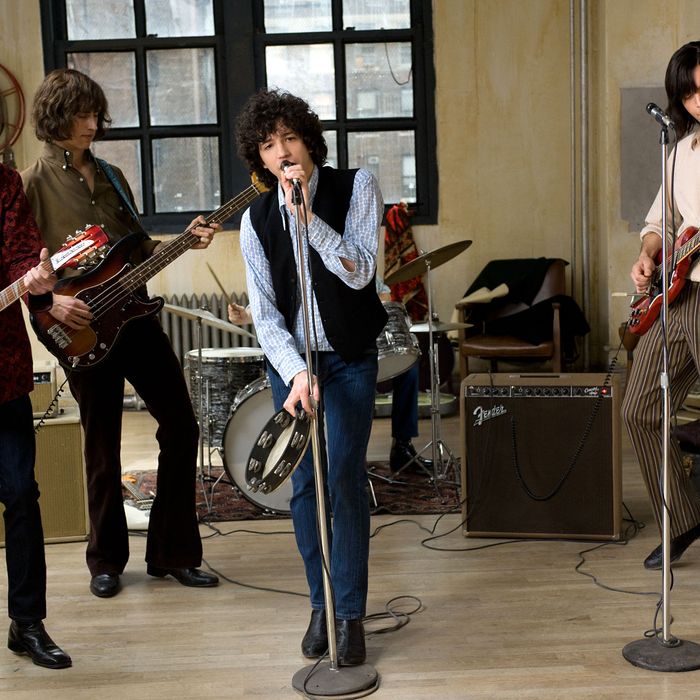 Photo: Barry Wetcher/Paramount Vantage
David Chase's semi-autobiographical reminiscence of life in suburban New Jersey in the mid-sixties, Not Fade Away, is a glancing, disjointed little movie that captures as well as any film I've seen the mind-expanding mojo of rock and roll at the dawn of the counterculture — particularly rhythm-and-blues-oriented rock, particularly the Rolling Stones, the group that synthesized R&B and made it commercial.
The protagonist is a schnooky Italian-American teenager kid named Douglas (John Magaro), who grows his hair into a curly mane like Dylan's, takes up the drums, and is suddenly handsome. With three friends of differing abilities and personality disorders, he forms the Twylight Zones, named for his favorite TV show, which carries the message, he says, that nothing you think is true is true. Their first gigs in smoke-filled basements full of beer-swilling teens are rough (they only do covers), and colored by Douglas's intense longing for a tall drink of water named Grace Dietz (Bella Heathcote), whom he watches neck with other boys. But when he takes over the vocals from the swellheaded bellower Eugene (Jack Huston), Grace is impressed and the band finds its groove. So does the movie, for a spell.

At this year's New York Film Festival, Chase (who created The Sopranos) was asked if he'd considered doing Not Fade Away as an HBO or other network series, and he said the thought hadn't occurred to him. That makes sense. The Sopranos was tightly plotted, with an epic structure. Not Fade Away is a mood piece. It's a dream of the sixties sustained by music, both the Twylights' gigs and numbers on TV by the Stones, Bo Diddley, James Brown, and others. The soundtrack features Robert Johnson and Leadbelly. Steven Van Zandt is an executive producer and put the actors through their paces with their instruments. They convinced me they were a band. They also convinced me they needed to put in a lot more time to be great one.

The structure is odd. Not Fade Away is bookended by a dramatization (in black and white) of Mick and Keith meeting on a train and an infectious frug by Douglas's little sister, played by the adorably gawky Meg Guzulescu. (She narrates the overture and epilogue.) These bits are wonderful but don't click into place, and Chase jumps from year to year with no preamble, the syncopation leaving too many gaps. But I didn't care much. Magaro is thoroughly winning; James Gandolfini has several affecting scenes as Douglas's brutish father, who is suddenly fragile and infused with regrets; and Will Brill is vividly weird as a rich boy alternately engaging and backstabbing. Dominique McElligott carves out a small, tantalizing space as Joy's sister — the free-spirit, druggie, thief, artist who probably didn't survive the era.

The film ends abruptly, with a shrug, in L.A. at the start of another era, both for the country and Douglas. Time to catch another wave. But Chase has captured this one for all time. He delivers on the movie's title.