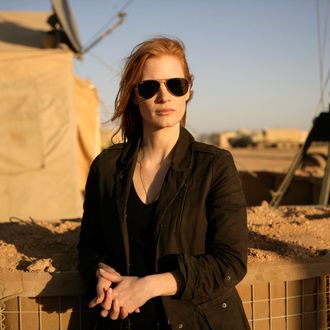 "I'm the motherfucker who won Best Actress" - Jessica Chastain.
Photo: Jonathan Olley/Columbia Pictures
Duck season. Rabbit season. Duck season. Rabbit season. Award season! Seriously, this thing is in full swing. After Monday's announcement of the New York Film Critics Circle Awards, today was the National Board of Review's turn. And like the NYFCC, Zero Dark Thirty was the big winner, winning Best Picture, Best Director (Kathryn Bigelow), and surprisingly Best Actress for Jessica Chastain. Though Jennifer Lawrence didn't win, her co-star Bradley Cooper did get the nod for Best Actor in Silver Linings Playbook, which also won for Best Adapted Screenplay. Read the full list of winners below, including what Les Miserables won for.
Best Film:  ZERO DARK THIRTY
Best Director: Kathryn Bigelow, ZERO DARK THIRTY
Best Actor: Bradley Cooper, SILVER LININGS PLAYBOOK
Best Actress: Jessica Chastain, ZERO DARK THIRTY
Best Supporting Actor: Leonardo DiCaprio, DJANGO UNCHAINED
Best Supporting Actress: Ann Dowd, COMPLIANCE
Best Original Screenplay: Rian Johnson, LOOPER
Best Adapted Screenplay: David O. Russell, SILVER LININGS PLAYBOOK
Best Animated Feature: WRECK-IT RALPH
Special Achievement in Filmmaking: Ben Affleck, ARGO
Breakthrough Actor: Tom Holland, THE IMPOSSIBLE
Breakthrough Actress: Quvenzhané Wallis,  BEASTS OF THE SOUTHERN WILD
Best Directorial Debut: Benh Zeitlin, BEASTS OF THE SOUTHERN WILD
Best Foreign Language Film:  AMOUR
Best Documentary: SEARCHING FOR SUGARMAN
William K. Everson Film History Award: 50 YEARS OF BOND FILMS
Best Ensemble: LES MISÉRABLES
Spotlight Award: John Goodman (ARGO, FLIGHT, PARANORMAN, TROUBLE WITH THE CURVE)
NBR Freedom of Expression Award: CENTRAL PARK FIVE
NBR Freedom of Expression Award: PROMISED LAND
Top Films
(in alphabetical order)
 
ARGO
BEASTS OF THE SOUTHERN WILD
DJANGO UNCHAINED
LES MISÉRABLES
LINCOLN
LOOPER
THE PERKS OF BEING A WALLFLOWER
PROMISED LAND
SILVER LININGS PLAYBOOK
 
Top 5 Foreign Language Films
(In Alphabetical Order)
 
BARBARA
THE INTOUCHABLES
THE KID WITH A BIKE
NO
WAR WITCH
 
Top 5 Documentaries
(In Alphabetical Order)
 
AI WEIWEI: NEVER SORRY
DETROPIA
THE GATEKEEPERS
THE INVISIBLE WAR
ONLY THE YOUNG
 
Top 10 Independent Films
(In Alphabetical Order)
 
ARBITRAGE
BERNIE
COMPLIANCE
END OF WATCH
HELLO I MUST BE GOING
LITTLE BIRDS
MOONRISE KINGDOM
ON THE ROAD
QUARTET
SLEEPWALK WITH ME