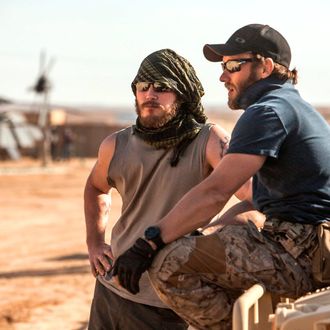 Every week between now and January 10, when the nominations are announced, movies and stars will help themselves — or sometimes, hurt themselves — in the Oscar race. Vulture's Oscar Futures will listen for insider gossip, comb the blogs, and out-and-out guess when necessary to track who's up, who's down, and who's currently leading the race for a coveted nomination.
Let's check out this week's chart:
Best Picture
Zero Dark Thirty
Talk about momentum: Zero came on strong last week after its first few screenings, but this week, it took the top prizes from both the New York Film Critics Circle and the National Board of Review. (Our own David Edelstein ranked it as 2012's #1, too.) Could a definitive critical consensus emerge in the weeks to come?
Les Miserables
And meanwhile, December's buzz monster Les Miz failed to place with either critics group and was hit with some notably mixed reviews, to boot. Populist success at the box office will put gas back into the film's tank, but it won't open in the U.S. until Christmas.
Current Predix
Amour; Argo; Beasts of the Southern Wild; Les Miserables; Life of Pi; Lincoln; Silver Linings Playbook; Zero Dark Thirty
Best Director

Kathryn Bigelow (Zero Dark Thirty)
In the director categories, Bigelow managed the same NYFCC/NBR twofer as her film. Not bad for a helmer that many Oscar pundits had left off their lists just a month ago.
Quentin Tarantino (Django Unchained).
The directors' branch will always love QT, but in this tough year, the sprawling Django (which has just begun screening) marks him as a dark horse to be nominated, at best.
Current Predix
Ben Affleck (Argo); Kathryn Bigelow (Zero Dark Thirty); Tom Hooper (Les Miserables); Ang Lee (Life of Pi); Steven Spielberg (Lincoln)
Best Actor
Bradley Cooper (Silver Linings Playbook)
Cooper has watched his Silver Linings costar Jennifer Lawrence pick up the lion's share of awards buzz, but he eked out an important early win with the NBR this week.
John Hawkes (The Sessions)
We're starting to worry about John Hawkes. We don't want this to be another Michael Shannon/Take Shelter situation. But if critics groups don't start rewarding this delicate performance soon …
Current Predix
Daniel Day-Lewis (Lincoln); John Hawkes (The Sessions); Hugh Jackman (Les Miserables); Joaquin Phoenix (The Master); Denzel Washington (Flight)
Best Actress
Rachel Weisz (The Deep Blue Sea)
Earlier this year, this was a much easier group to break into, but things are still unsettled enough in the distaff categories that if more critics' groups like the NYFCC go for Weisz and her underseen performance – which we praised this week, too – she could have a shot.

Jennifer Lawrence (Silver Linings Playbook).
She's perceived as the frontrunner in this category. Critics adored her. So why was she snubbed by both the NYFCC and NBR?
Current Predix
Jessica Chastain (Zero Dark Thirty); Marion Cotillard (Rust and Bone); Jennifer Lawrence (Silver Linings Playbook); Emmanuelle Riva (Amour); Quvenzhane Wallis (Beasts of the Southern Wild)
Best Supporting Actor

Matthew McConaughey (Magic Mike).
No one is happier than we are that the NYFCC flipped for McConaughey's delightful Magic Mike performance. We still have the same worry for him, though, that we have for Les Miz gainer Eddie Redmayne: For either man to slip into Supporting Actor, which of the five locks listed below would you lose?
Ian McKellen (The Hobbit: An Unexpected Journey)
Perhaps you've forgotten, but McKellen was actually Oscar-nominated for his first stint playing Gandalf in Lord of the Rings: The Fellowship of the Ring. With the new Hobbit installment garnering only mixed-positive reviews, though, don't expect a repeat.
Current Predix
Alan Arkin (Argo); Robert De Niro (Silver Linings Playbook); Leonardo DiCaprio (Django Unchained); Philip Seymour Hoffman (The Master); Tommy Lee Jones (Lincoln)
Best Supporting Actress
Ann Dowd (Compliance)
We're still a little confused as to how the first-billed lead of the movie could be rewarded as a supporting actress, but hey, if that NBR win means that more people check out Dowd and Compliance, we'll hold our tongues.
Anne Hathaway (Les Miserables)
Hathaway is supposed to be this year's Mo'Nique – the closest thing to a mortal lock for Oscar that this race can supply – but NYFCC and NBR left her empty-handed. Girl oughta call up Jennifer Lawrence to commiserate over brunch.
Current Predix
Amy Adams (The Master); Samantha Barks (Les Miserables); Sally Field (Lincoln); Anne Hathaway (Les Miserables); Helen Hunt (The Sessions)