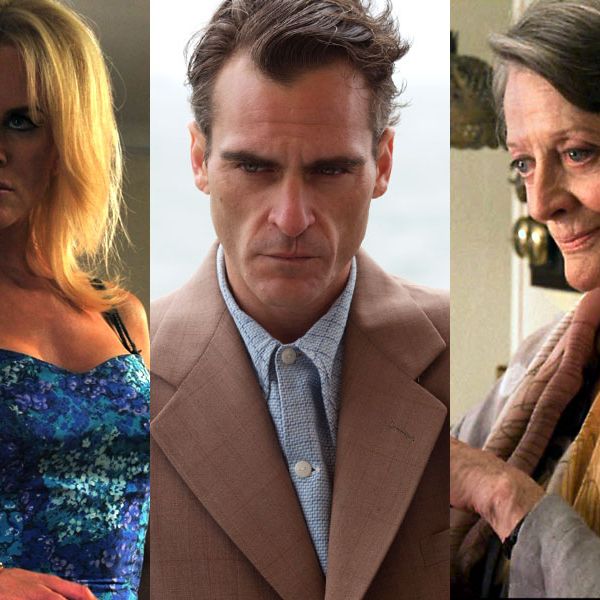 Photo: Lee Daniels Entertainment, The Weinstein Company, Twentieth Century Fox
Forget all those other precursors and critics' groups, and don't be swayed by tomorrow's Golden Globes reveal: The Screen Actors Guild nominations, announced today, did more to clarify this year's Oscar race than any other awards season laurel ever could. Actors make up the Academy's largest voting branch, and in the four major acting categories last year, the SAG nominations matched up five-for-five with Oscar for Supporting Actress and four-for-five in Best Actor, Best Actress, and Best Supporting Actor. While that leaves room for a late contender to sneak into the Oscar categories, the emphasis here is on "late": Last year, Rooney Mara, Gary Oldman, and Max von Sydow earned Oscar nods after their SAG snubs, but all three performances came from films released at the very end of 2011. Who does that stat spell doom for? Let's read the tea leaves in each category and figure out which SAG nominees are likeliest to go on to Oscar, which SAG nods were the most surprising, and who got left out and should be considered an Oscar dark horse.
BEST ACTOR
Likeliest to be Oscar-nominated:
Daniel Day-Lewis, Lincoln
Hugh Jackman, Les Miserables
Denzel Washington, Flight
John Hawkes, The Sessions


SAG surprise:
Bradley Cooper, Silver Linings Playbook
Dark horses:
Joaquin Phoenix, The Master
Jean-Louis Trintignant, Amour
Many pundits were shocked that SAG passed over Joaquin Phoenix today, but his awards antipathy isn't to blame for this snub. Voters simply haven't warmed to The Master, which had plenty of critical momentum back in September but ultimately proved too obtuse for mass audiences, and today's snub suggests that Phoenix peaked too early to get back into the Oscar game. At this point, I'd wager that the strong SAG nods in this category will match up with Oscar five-for-five, but if there's any latecomer who could surprise, it's Jean-Louis Trintignant for the yet-to-be-released Amour.
BEST ACTRESS
Likeliest to be Oscar-nominated:
Jennifer Lawrence, Silver Linings Playbook
Jessica Chastain, Zero Dark Thirty
Marion Cotillard, Rust and Bone

SAG surprises:
Helen Mirren, Hitchcock
Naomi Watts, The Impossible

Dark horses:
Quvenzhane Wallis, Beasts of the Southern Wild
Emmanuelle Riva, Amour
Lawrence and Chastain are mortal locks to be nominated for Oscar, so their SAG inclusion is no surprise, and former Oscar winner Cotillard fortifies herself with a SAG nod here. Past that? Anything could happen! Beasts of the Southern Wild wasn't eligible for SAG nominations, so this doesn't exactly qualify as a snub for Wallis, who is still likely to become the youngest Oscar nominee ever in this category. It looks, then, like Mirren and Watts will be fighting it out with Riva for that fifth spot, and both Watts and Riva have the latecomer's advantage.
BEST SUPPORTING ACTOR
Likeliest to be Oscar-nominated:
Tommy Lee Jones, Lincoln
Alan Arkin, Argo
Robert De Niro, Silver Linings Playbook
Philip Seymour Hoffman, The Master
SAG surprises:
Javier Bardem, Skyfall
Dark horses:
Leonardo DiCaprio, Samuel L. Jackson, Christoph Waltz, Django Unchained
Eddie Redmayne, Les Miserables
Once upon a time, Philip Seymour Hoffman was considered the frontrunner in this category, but does his fast-fading film reveal him as the weak sister of this group? (And if so, does that mean Jones or De Niro is in the lead for Oscar?) Bardem is the most vulnerable SAG nominee, and he could get knocked out by any of the three flashy performances from the late-screening Django Unchained, though now that Waltz has dropped back into Supporting after a brief flirtation with the Lead Actor category, all three Django performances could split the votes for what's already going to be a polarizing film. That could open up a path to Oscar for dark horse Eddie Redmayne, whose star-making performance in Les Miz is earning big buzz.
BEST SUPPORTING ACTRESS
Likeliest to be Oscar-nominated:
Anne Hathaway, Les Miserables
Sally Field, Lincoln
Helen Hunt, The Sessions
SAG surprises:
Nicole Kidman, The Paperboy

Maggie Smith, The Best Exotic Marigold Hotel
Dark horses:
Amy Adams, The Master
Samantha Barks, Les Miserables
Ann Dowd, Compliance

Hathaway, Field, and Hunt are the lockiest Oscar locks who ever locked, so let's move on to the positively delicious news that Nicole Kidman wormed her way into a Supporting Actress SAG nod. Kidman has been flogging the movie hard over the last month and it still may prove a hard sell for Oscar, but boy, would we love to see Academy recognition for a performance whose centerpiece line goes, "If anyone's gonna pee on him, it's gonna be me." SAG also surprised some award watchers with its inclusion of Maggie Smith and not Amy Adams, but again, it helps to come from a movie that people love (The Best Exotic Marigold Hotel) and not one they feel wildly mixed about (The Master). That will hurt critical favorite Ann Dowd, whose Compliance inspired walkouts at Sundance, and may boost Samantha Barks, who gets big play in the populist Les Miz.