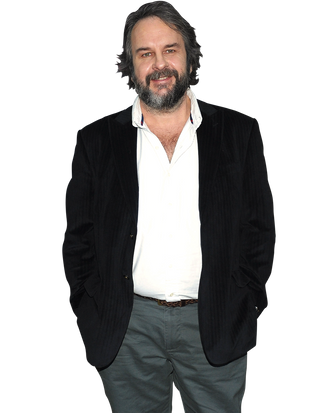 Peter Jackson.
Photo: Getty Images
A little over a year ago, following three Paradise Lost films and much public pressure, the West Memphis Three — Damien Echols, Jason Baldwin, and Jessie Misskelley — were released from prison after serving eighteen years for the murders of three young boys by submitting Alford pleas, in which they plead guilty to the crimes for which they were accused but also got to assert their innocence. This wouldn't have happened if it weren't for the behind-the-scenes help from some of their more famous supporters, most notably Peter Jackson and his partner Fran Walsh, who provided emotional and financial support to Echols while he was on death row. The level of their involvement and what they found to aid his defense is depicted in the new documentary film West of Memphis, which they also produced. Fresh from The Hobbit press tour, a weary Jackson was very generous with his time prior to a Peggy Siegal Company–hosted premiere of the doc in New York, and gave Vulture the lowdown about appearing in both films.
You must be exhausted.
I was exhausted, getting The Hobbit finished a day before the premiere, but just when you want to go lie on a beach in Fiji or something, you're here [in New York], getting swept into all the press, so I haven't recovered from the film yet. [Laughs]
Before you were ever even involved in the Lord of the Rings series and now The Hobbit, Damien was in prison.
Fran [Walsh] and I were shooting Heavenly Creatures when he was arrested, which just feels like another lifetime ago to me. I don't remember, but Fran remembers reading about the case at the time, about these three little boys killed in Arkansas, how it was Satanic, cult, ritual mutilation, all those things. And she remembers thinking, Oh, that's absolutely horrible. So it's interesting, in 1993, she had no idea how involved she was going to get.
Since Heavenly Creatures was based on a real-life murder case, did this ever interest the two of you as a potential feature or documentary film material? How did you get involved?
Fran and I saw Paradise Lost in New Zealand in 2004, 2005, and we didn't know anything about the case, although Fran did remember reading about it. You look at that movie and you see justice derailing, a train wreck happening right in front of your eyes. So we were interested in the outcome, and we looked it up and saw that the guys were still in jail. Nothing had happened. So we contacted [Echols's wife] Lorri Davis and we just sent her a donation, as many thousands of people have sent donations, and in some respects, that could very easily have been the end of it. Lorri wrote back, and Fran and Lorri struck up a really amazing friendship, and then Fran became very involved with Lorri on the investigative side of the case.
There must have been thousands of e-mails between them over the years — I'm not exaggerating. Fran would come back at the end of a day of shooting King Kong or The Lovely Bones, and she would be up for hours sending information to Lorri: "Why don't we interview this person? Why don't we get this DNA?" It was relentless. It was just gradual gathering, testing the DNA, hiring forensic pathologists to review the wounds in the autopsy reports, getting an ex-FBI guy to look at the evidence. We just wanted to tackle it with expertise and science and facts, and we interviewed a lot of people, got a lot of affidavits. And during this time, we sort of got embedded in Damien's defense team, so Fran and I would take weekly conference calls with the lawyers: "What are we doing now? What have we uncovered?" And this entire period, this three or four years, there was no talk of a film. We weren't there to exploit the story; we were there to help. And it became personal and emotional, because Lorri's husband was in a position of extreme danger. We were trying to help her save his life. It was as simple as that.
Then at what point did your involvement with the investigation turn into producing a documentary?
At the end of 2007, after three or four years of this, we had compelling evidence, we thought: the evidence of both Damien's innocence and the potential guilt of someone else [Terry Hobbs]. That evidence was presented to the original judge [David Burnett] and he threw it all out: "I don't buy any of it, sorry. Go away." All we were asking him for was an evidentiary hearing, not a retrial, but he wouldn't even agree to that. And so at that point, we said to the lawyers, "You know what? If we can't get this in court, at least it's a way of providing the information to the public." We always thought of the film as the evidentiary hearing that was denied.
All of that evidence must have cost a lot of money, considering the investigations, the experts, the lawyers involved.
Oh, yeah.
Did The Lord of the Rings, then, help fund that?
It did! I mean, we funded the movie ourselves. Fran and I funded every single cent. [Laughs] It's interesting — you're the first person to have said that, because we always thought that every single person who buys a ticket to The Lord of the Rings or King Kong or The Lovely Bones is contributing to Damien's defense. Yeah, we joked about that from time to time.
Now that Damien's out of prison, courtesy of all your efforts, you get to concentrate on finishing up The Hobbit films.
I've just finished editing the second one. We've shot it, we've cut it, and we just need to refine it. And we're going to be writing some more in the new year. We haven't started the trailer for The Desolation of Smaug yet, so there probably won't be one until the middle of next year.
And then we'll presumably get to hear, not just see Smaug? How much did Benedict Cumberbatch's pairing with Martin Freeman on Sherlock help you decide casting them together?
It wasn't because he was with Martin on Sherlock, although that's how we became aware of him — it certainly helped. We love the Sherlock show. And Benedict's an actor we absolutely love. He's got a terrific voice. He's got a resonance like a young Christopher Lee, so we really thought he'd do a terrific job.
How do you feel about your own turn in the film? You've got a cameo.
[Laughs] I'm very difficult to spot in The Hobbit. I'm well-disguised. And I would never call myself an actor. I'm a ham! A terrible ham. I don't have a clue how to act, but cameos are fun.