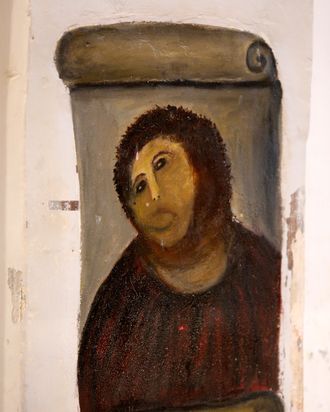 View of the deteriorated version of "Ecce Homo" by 19th-century painter Elias Garcia Martinez, at the Borja Church in Zaragoza on August 28, 2012. An elderly woman's catastrophic attempt to "restore" a century-old oil painting of Christ in a Spanish church has provoked popular uproar, and amusement. Titled "Ecce Homo" (Behold the Man), the original was no masterpiece, painted in two hours in 1910 by a certain Elias Garcia Martinez directly on a column in the church at Borja, northeastern Spain. The well-intentioned but ham-fisted amateur artist, in her 80s, took it upon herself to fill in the patches and paint over the original work, which depicted Christ crowned with thorns, his sorrowful gaze lifted to heaven.
Photo: CESAR MANSO/AFP/Getty Images
Cecilia Giménez, the 80-year-old Spanish woman whose unusual fresco restoration became the Most Delightful Art Story of 2012, sold her first painting on eBay this week. "Las Bodegas de Borja," which sadly does not feature any potatoes, monkeys, or Jesus-like figures, sold for $1400; the proceeds will be donated to a local charity. Congrats and a belated thank-you to Cecilia, on behalf of a Potato Jesus–loving public.