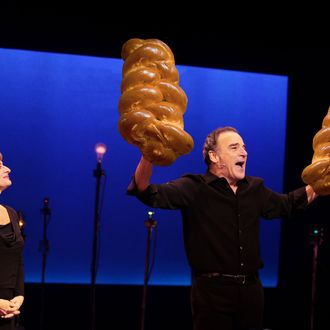 Photo: Walter McBride/WM Photography/? Corbis.
Last week, we asked you for your predictions of what would happen on the Homeland finale. While nobody guessed all of the divisive twists and reveals, some of you got pretty darn close! The prize was a picture of the winner's face with Saul's awesome beard of gravitas photoshopped on it, as well as a challah (for "Mandy Patinkin, holla/challah!" role-playing), and the ultimate victor is Glorie_, with this theory:
As the preview suggests, something explodes on the VP's funeral and Estes, Finn and probably some high ranking government people (Wouldn't the president be attending de VP's funeral?) get killed.
Saul, Carrie and Brody are obviously unharmed…
 
Saul tells Carrie about Quinn's plan and together, pull some strings to get both her and Brody new identities … or maybe to get Quinn to to back off (at least temporarily), they manage to fake Brodie's death among the chaos caused by the Bomb ( maybe that's why the family cries on the preview)
 
So C&B run away… maybe to another country… and have happy cabin sex again
 
In the meantime, what's left of Nazir's cell release, either:
 
a) Brody's original suicide tape  
 
b) Nazir's posthumous suicide tape, where he takes responsibility for the Walden assassination, and the killings at the funeral… maybe also explain Brody's role in the whole event… Unmasking him to the public
"why kill a man, when you can kill an idea?"
 
c) Brody's new Tape… Where HE explains what he did… Now that he's safe outside the country and/or is supposedly dead …
 
Enter the Nussbaum theory, that says that Brody was faking it all along, handling Carrie and everyone else, Becoming Nazir's ultimate super secret weapon… That explains why we didn't get to see what really happened those 8 hours Brodie was with Nazir.
Because Glorie graciously declined the challah part of the prize, we're picking an honorable mention to receive the bread of triumph. This runner-up's theory may have been way off, but it painted a fantasy world we'd like to see. Congratulations, MM3!
Also: Carrie wakes up in the middle of the night laying in bed. She turns the light on to reveal red hair & wakes up the person sleeping next to her, telling him she had the craziest dream. He turns over, revealing himself to be Jordan Catalano & she tells him all about how she had the weirdest dream where she was a CIA agent & nothing made any sense! She was bipolar, but working for the CIA; she was in love with a terrorist & they were going to run away together; her boss was Inigo Montoya (holla)! She starts to make her cry face & Jordan looks up slowly.. reaches over.. & grabs her hand.
 
Everyone under 40 rejoices; everyone over 40 is confused.
Here's to a fun off-season of wild speculation.