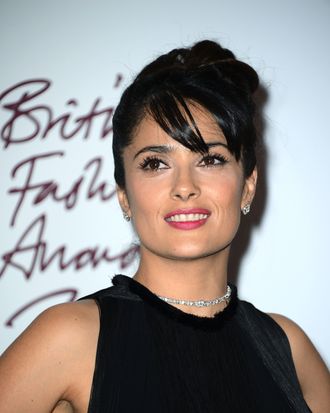 Salma Hayek poses in the awards room at the British Fashion Awards 2012 at The Savoy Hotel on November 27, 2012 in London, England.
Photo: Ian Gavan/Getty Images
Some of the creative forces behind Ugly Betty are reteaming for another ABC dramedy. Deadline reports that Salma Hayek and Silvio Horta are working on a show called Bastards, about a Cuban-American family who's shocked to discover that the dad fathered a child with the family maid many years ago. (So Spitzer is to The Good Wife what Schwarzenegger is to Bastards?) Megaproducer Mark Gordon is also on board, which makes this seem even more likely to move forward. If they could just get everyone wonderful from Ugly Betty to star in this, Bastards could really be in business.