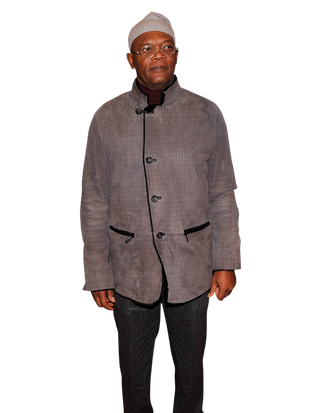 Samuel L. Jackson.
Photo: Stephen Lovekin/Getty Images
Ever since his turn as an Ezekiel-spewing thug in Pulp Fiction, Samuel L. Jackson has perfected the art of playing irritable, outspoken types, frequently of moral ambiguity. He's now a bona fide bad guy in Quentin Tarantino's latest, the slave-revenge fantasy Django Unchained, this time playing a very different alpha-male role: manipulative house slave. The actor, once a civil-rights activist, sat down with Vulture to discuss everything from molding his most despicable character ever, to being forced to wear Bill Cosby's sweaters. And obviously he drops an M-bomb along the way.
[Jackson is watching the Giants-Falcons game when Vulture walks in to interview him.] Do you think your Falcons are going to the Super Bowl?
I would hope so. I know better than to have high hopes. But I've been a Falcons fan since I was in college, when I worked in the Atlanta stadium.
What did you do there?
Selling shit. That's what you do at a stadium — you sell stuff: "Popcorn! Peanuts!" And now when the Falcon games start, I'm actually on the Jumbotron. I do this big speech with a gospel choir behind me. They play it each week when the team comes on the field. I'm sorta part of the Falcon family.

After your SNL appearance this week, you had to clarify that you never actually cussed on live TV. Is it a blessing or a curse to always be associated with having a potty mouth?
It's a blessing. At least I'm known for something. People just stop me on the street and go, "Call me motherfucker!" Really?
It's amazing to think you were an usher at Martin Luther King, Jr.'s funeral.
[Shrugs, smiling] I just happened to be at a particular place at a particular time.
Django sort of represents the opposite of his value system …
Well, this time last year I was playing Dr. King on Broadway [in The Mountaintop]. I realized when I finished the play that I was going to go from being one of the most beloved men in African-American history to playing one of the most hated Negroes in cinematic history. I was kind of looking forward to that.
Why is your character, Stephen, so eager to rat out fellow slaves?
Product of his environment. He was born on that plantation, his grandfather had that job, his father had that job. He raised Calvin [the plantation owner played by Leonardo DiCaprio]. Calvin is essentially his son; Calvin is essentially a reflection of Stephen.
There's also this idea in the movie of African-Americans acting out their roles as slaves.
Yeah, it's born of survival. You can't appear intelligent. You can't appear arrogant. You had to hide those things. You weren't supposed to look white people in the face. You definitely didn't appear smart.
Did Quentin ever pick your brain, given your past in civil rights?
No, he wrote the script and sent it to me. Told me I was playing Stephen. When we started rehearsal things kind of fell together. Like, one day I was just fooling around and every time Leo said something, I would say the last word he said, "Mmhm, that's right." Quentin fell in love with it, and it stayed in the movie. There are times at the dinner table where Leo's sitting there, and I'm at the table behind him — and we look like this two-headed monster, doing things in tandem.
We're not used to seeing Leo as a villain.
He's definitely prepared — he's brave. That's a harsh base to step into, to embody that kind of character with that type of honesty and belief that he had to bring to it. I mean that's a horrific speech that he makes, to make you believe it. I believe he's worth every dime that people give him.
After getting into character, was it alarming to look in the mirror and see someone so old looking back?
It was great. I like going into character — I had him older than that. When I started to figure out who Stephen was, I was on the Avengers set. I had my makeup artist with me. So on days I wasn't doing anything, we would experiment with things that I wanted Stephen to be: I wanted him to be old, dark, and kind of like a totem, an African carving that's been there forever.
Do you think a black filmmaker could've gotten this film made?
A black filmmaker could have made it, but he couldn't have gotten it financed. But I don't know. Right after this, the next slavery movie is Twelve Years a Slave. Steve McQueen, who does these great art films [like Shame], directed it. It'll have a different kind of cachet even from this film in terms of it being a slave narrative of … [whispers] serious nature.
Django is sparking quite a dialogue. Is there nothing in this film that shocked you?
Not really. I'm used to the way Quentin writes, and I accept the voice of the times. There was no other name to call us. That's who we were.
What about the brutal scene where two slaves fight to the death?
That's what happened. It still happens every week on TV. It's called MMA. [laughs]
Your next film, a remake of Oldboy, also contains a fair amount of torture. Is it as violent as the original Korean film?
I think so. I think it's as violent and kind of out there.
What were you subjected to?
Me? Not much. [Causally pulls out his phone to show us a gruesome photo of his neck stitched up] That's not bad — just a little nick [cackles].
You're filming Captain America 2 soon. But when is Nick Fury getting his own movie?
I don't know. That would be nice. Nobody has said anything about that. I've done about six [films, of a nine-picture deal] — they count those little fuckers.
While we're on the topic of cameos, how did you end up in Public Enemy's "911 Is a Joke" video back in 1990?
A friend was directing the video. She asked me if I would do it. I was like, "Well … really?" She was like, "Yeah, I'm going to be Flavor Flav's mom. I want you to be his dad." And I liked the song. I think I was shooting Do the Right Thing at the time. We went up to Harlem one night, and shot all night. We just sat around drinking, smoking weed, doing the video.
Was Flav as nutty in real life as he seemed?
He was that night.
What do you remember about being a stand-in for Bill Cosby on The Cosby Show for a few years?
I was the right height, and I was the right skin tone. We did the blocking, while they did the camera choreography because it was a three-camera show. For two to three years, they would put his crazy sweaters on me.
Did you keep any?
[Bemused] No!