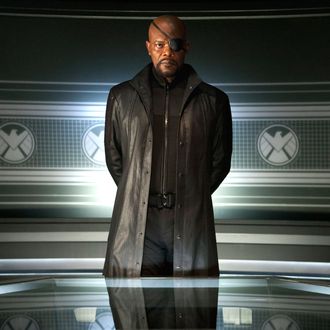 Samuel L. Jackson is Nick furious at A.O. Scott.
Photo: Zade Rosenthal/Marvel
In conversation with the Huffington Post, Samuel L. Jackson told the interviewer, "Unlike other actors, I don't lie and I don't bullshit people." He was referring to a Twitter feud he had with the New York Times' A.O. Scott over the critic's review of The Avengers. He explained: "I read shit about me. I read everything I can about me. And if you say something bad about me and I agree with it, I'll be OK with it. But if you say something that's fucked-up about a piece of bullshit pop culture that really is good — The Avengers is a fucking great movie; Joss did an awesome job — if you don't get it, then just say, 'I don't get it.' In general, you don't compare that shit to a John Wayne movie. And you don't call me a game-show host and get away with that shit." This same lack of bullshit was applied to his Unbreakable director M. Night Shyamalan, who the actor asserted "hasn't made a really good movie since then." There goes Jackson coming to the Lady in the Water–themed birthday party we're throwing for A.O. Scott.