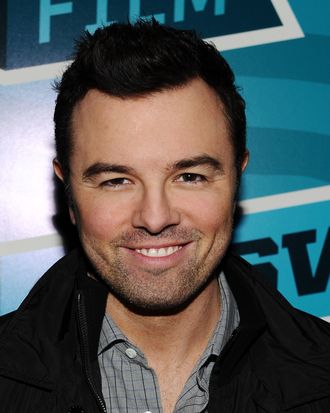 Director Seth MacFarlane attends "A Conversation with Seth MacFarlane" Panel during the 2012 SXSW Music, Film + Interactive Festival at Austin Convention Center on March 11, 2012 in Austin, Texas.
Photo: Michael Buckner/Getty Images
The 2013 Oscars are fast approaching — February 24; it's closer than you think — but beyond what and who will and won't get nominated, the major lingering question is how host Seth MacFarlane will fare. What is he planning? Whom will he ridicule? How much dancing will there be? He gave Rolling Stone a glimpse of his vision. "There's a moment on Family Guy that's just Gene Kelly dancing with Stewie — that's what we have to achieve, a dance between the traditional and the new." MacFarlane said. Gene Kelly dancing with Stewie. Something to look forward to!